Bhujodi weaves from Gujarat innovated by textile
designer Bheda to make fabric softer and lighter
FAST FACTS :
Prominent institutes: NID, NIFT, Pearl Academy of Fashion, Shristi, JJ School of Arts;
Programmes: UG, PG;
Selection for UG: Studio & written tests + interview;
Aptitude: Interest in textiles and crafts, creativity, drawing skills;
Who is hiring:Fabric retailers, export houses, buying houses, textile mills, handloom cooperatives, fashion designers, design studios and buying agencies.

CHANDRASHEKHAR Bheda's first brush with textiles was in Class 7, when his mother suggested he stop whiling away his vacation time and lend a hand in the local cloth shop. Here in his hometown Sangamner (Maharashtra), located in the belt of handloom weavers, he had to sell everything from materials and sarees to shirts, to people who came from the neighbouring villages. In retrospect, he feels the experience sowed the seeds for his future career path.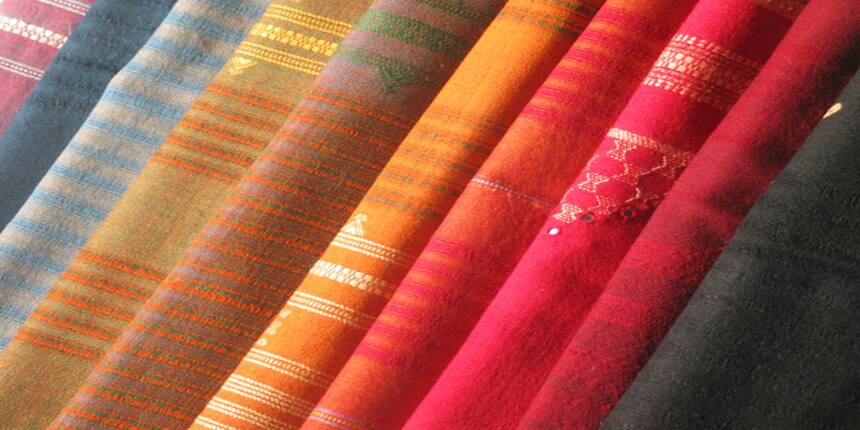 However, it was the 1970s, and design was an unheard of vocation in most households! But he was already winning art competitions in school and saw applied arts as an outlet for his talent as well as a way to earn money. So he pursued an undergrad diploma in textile design (TD) at the Sir JJ School of Arts, Mumbai, followed by PG in TD at the coveted National Institute of Design in Ahmedabad. And his love for textiles is evident. Seema Mahajan is also passionate about textiles. "Fabric is so versatile," explains the HoD of Pearl Academy of Fashion's textile design department. For one, it is the raw material used not only to create garments and accessories like jewellery, footwear and handbags but also soft home furnishings like curtains, table linen, bed covers and kitchen linen.
The latter are used in residences, and in large quantities in sectors like hospitality and the medical field. Technical textiles with specific properties are used in fields such as defence and transportation. Designer Poorvi Mathur who pursued a PG in Textile Design at NID, assisted an architect during her final year project. "I designed a false ceiling of fabric for a cardiac rehabilitation centre (to improve acoustics)," she recalls. Hence, the challenge for any textile designer is to understand the end function and designing fabric, accordingly.
KA Narayan
President – HR, Raymond Limited
Q.
Give us a snapshot of a textile designer's job profile at Raymond.
A. A Textile Designer at Raymond is responsible for all-round development of fabric. From understanding market requirements through feedback on existing products and new product ideas, to collating fashion trends on display at trade fairs, and forecasting trends for the coming season, the textile designer dons the role of a design analyst. Taking these inputs to finalising design and the colour story for various collections through the seasons and developing new products, makes our designers, key players in the product development and marketing life cycle.
Q. Will the demand for textile designers go up in the future?
A. It could be said that Textile designers are at an all-time high demand now on account of strong domestic and increasing outsourcing needs from foreign countries for quality products from India.
Q. What do you seek in a new recruit?
A.We especially look for candidates with an innate interest to innovate.
In textile paradise
India, home to five basic fibres – silk, wool, jute, cotton and linen – is a mass producer of textiles. Within silk alone, India produces not one but six varieties including mulberry, tasar, eri and muga. Homegrown techniques like weaving, dyeing, printing and embroidery can be used to treat raw fibres in myriad ways to give them a complete facelift. This variety makes the canvas for Indian textile designers pretty exciting, and if you are willing to travel even more so.
 On the move
This is because though corporate offices and designer studios are located in cities, the real action happens in factories, handloom and handicraft hubs, located in industrial hubs like Karur, Panipat and Kannur and villages or towns with a craft tradition. Chandrashekhar fondly recalls the 13-odd days he spent with Ikat weavers in Koyyalagudem village in Andhra Pradesh, for a craft-oriented project by Oxfam Fair Trade Company UK. He ate what the weavers ate, and has no complaints about the lack of electricity in the village. In the end, the home furnishings collection he created with the weavers sold for five consecutive years, abroad!!
Making a career
A textile design programme will train you in the technical and creative aspects of design, and a young pass-out from a textile design programme from a prominent institute can earn between Rs 20-30,000 in their first job. A fresher from a polytechnic can earn up to Rs 8,000 in an organisation such as an export house. Work-wise, the textile industry has come a long way from the 1980s. Back then one either worked for a small design studio, which supplied to textile mills or you worked in the mill, itself. Chandrashekhar recalls his first job with a design studio, where speedily 'churning out designs' was the need of the hour! The challenge ended at creating a paper drawing of the design, not knowing the fate of it in the final product. "Sometimes I would recognise some illustrations made by me on handkerchiefs meant for children at Crawford Market!" Chandrashekhar remembers with a chuckle. Today, designers use computer software such as TexCad and Textronic, which have been specifically created for this purpose.
Handpainted silk stoles by Mithila craftsmen from
Madhubani District in Bihar
Full-time jobs
Today, textile design graduates can work full-time as designers or fabric managers for export houses, buying houses, textile mills, handloom cooperatives, with fashion designers, design studios and buying agencies. Poorvi's first job was with Synergy lifestyles, a home furnishings export house in Mumbai, where she had to make product samples for buyers according to seasons, as well as their requirements/style. "We had to source fabrics from local markets, design weaves, embroidery and print patterns to go with the collection and make well-styled products," recalls Poorvi, who doubled up as photographer and clicked pictures for the company catalogue.
Many export houses also present designers with an opportunity to visit design events, exhibitions in India and abroad. One can also work for corporates such as prominent fabric and fashion retailer Raymond. KA Narayan, President – HR, Raymond Limited offers a positive forecast for the job market on account of a strong domestic and increasing outsourcing need from foreign countries for quality products from India.

Prominent companies: Arvind Mills, Raymond, Indian Terrain, Grasim Industries Ltd., Madura Brands, Fab India, Synergy Lifestyles, Mafatlal Industries, Nahar Industries, Shingora International, Ambadi Enterprises, Crew BOS, Mahajan Overseas, Himmatsingka Seide, Abhishek Industries, Welspun India, Shades of India, Linenscapes (India), Textrade International, Mura Collective, Portico, Creative Mobus Fabrics, Rateria Exports, Triburg, Bharat Silks, Third World Exports, The Shop
 
Textile Art mural for Suzlon by Bheda
Calling the shots
As a textile designer one can also turn entrepreneur like NIDian Vaishali Sinha whose design studio hires textile designers and focuses on both international and a few Indian clients. With a set-up of around 20-25 people, her company focuses on designing fabrics and soft home furnishings, though every now and then they get a unique project from abroad through their website. Like the one by glassware and dishware brand Corelle asking them to design prints for their dinnerware. "Crockery is somewhere connected to table linen. And our exposure for a very long time to world trends and our understanding of the technicalities of what prints can or cannot be done, is strong. So, they took us up," she elaborates.

Besides focusing on design, being driven and getting savvy in areas like marketing and management, is inevitable for an entrepreneur. One can also be an independent design professionals like Chandrashekhar who realised a long time a ago that a full-time job was not his cup of tea. "For me, the approach is very important. The freedom to be creative yet be relevant to the market place, and to be able to bring influences like cultural heritage, crafts or regional sensibilities, to name a few," he shares. His projects range from creating home textile design collections for domestic retail stores to working with architects and interior designers to do all the home furnishings in a household.
In harmony with artisans
Working with craft artisans is another aspect of any textile designer's lot, though many find it difficult to communicate. "It should be looked at as problem-solving opportunity, the onus is on you to provide market intelligence to them. If you don't take challenges, design profession is not for you," says Chandrashekar, who even uses social media to keep in touch there after! "Sometimes I chat with my Facebook friend Aziz Khatri, an artisan from Bhadali Nakhatrana in Kutch. He interacts in Kutchi using English script and then uploads a picture to show me his latest tie-dye work!"  
Amole Singh Tomar
Final year UG student in Textile Design, NID
 
Research is king
The main aim of Amole's space design project was to redo a physical space using one's knowledge of textile techniques. But the project that was to be wrapped in six weeks, took him two and a half months! "We cannot come up with a conclusion if we don't do enough research," he explains, giving us a taste of the rigour of projects at NID. 
 
His challenge was to suggest ways to revive the Calico Dome, which collapsed in the 2001 earthquake and make the space functional again for the people. In its heyday the Dome served as a retail outlet for Calico Mills, which produced some of the best textiles in the country.
 
Amole suggested a textile installation in the open space below the dome, and the basement could be used for exhibitions. To give the installation a 3D effect, he suggested using a technique called origami tessellation (image below), that involves no cutting, stitches or glue. All it takes is one single piece of cloth and of course, some painstaking handiwork.The final output was a 46-page document, rich with sketches, research and photographs.
 
Welcome to the jury
Like all design students Amole had to present his project to a panel. Juries can be attended by anyone – juniors, seniors and classmates, and they can prove to be a nerve-wrecking experience. "Even today, the jury is scary as they can make you sweat," he shares. The challenge is to defend your project work without getting emotional. In the final semester the jury is a closed one.
Into the classroom
Textile design is offered as a four-year undergraduate programme by design institutes after Class 12. The selection procedure is through practical studio tests and an interview to gauge your level of aptitude, interest and motivation for a career in design. Some exposure to fabrics, crafts and related aspects is a must, so do your homework (
read our story on
design entrances
). You may also have to present a portfolio to showcase a creative aptitude.  
Typically, the first year is dedicated to foundation studies where students can explore all areas of specialisations along with basic design courses, common to all fields. At NID, students are allowed to choose a specialisation like textile design, where as at many other institutes they select the course during admissions. The curriculum is project-intensive and covers all areas of textiles such as weaving, printing, dyeing and fabric construction for myriad purposes.
Student exchange programmes is another value-addition. Amole, a final-year student at NID, had the opportunity to attend one semester as an exchange student at the Ecole Nationale Supérieure des Arts Décoratifs (ENSAD) in Paris, where he was exposed to transfer printing, knitting and other new techniques. He is now preparing to take on his final year diploma project in an upcoming area – automotive textiles, which involve designing the interiors of cars. "To bring in an Indian textile influence," he shares. 
The textile edge
One can pursue a PG programme, especially those from complementary streams to wish to gain knowledge of textiles. The eligibility at NID for its PG programme is BFA, design degree in Textile, Knitwear or Fashion, Home Science with textiles, Interior Design and Architecture. Engineers with a Textile technology specialisations may also want to pursue a PG as well as graduates from any discipline with one year relevant industry experience.


Alternative routes
One can also pursue a Bachelor in Fine Arts with a textile design specialisation, which focuses strongly on the technical skills. However, as the number of seats in design institutes and Fine Arts colleges is limited. Another route is a BSc in Home Science, which offers a textile component. For instance, Lady Irwin College offers Fabric and Apparel Science as part of BSc in Home Science, and an MSc Home Science in Fabric and Apparel Science. Unfortunately, Home Science courses accept only women. Polytechnics and craft institutes also offer programmes, and many textile designers and smaller studios do select students from these institutes as assistants, full-time or on a project-basis. Ultimately no matter which route you take, creativity, a passion for textiles and the drive to learn as much as you can, will give you the edge!  
 Select institutes and courses focusing on textile design
No 1

Institute

Course

No of seats

Duration (years)

Fee

1

National Institute of Design (Ahmedabad)

Graduate Diploma in Design

100 (projected)

4

2,10,800 (per year)

PG Diploma in Textile design

Not fixed

2½

2,55,800 (per year)

2

Sristi School of Art, Design and Communication, Bangalore

Professional Diploma Programme

60-100

2½

NA

3

NIFT (Bengaluru, Bhopal, Bhubaneswar, Chennai,
Gandhinagar, Hyderabad, Kangra, Kannur, Kolkata,
Mumbai, New Delhi campuses)

Bachelor of Design (Textile design)

330

4

Rs. 61,750 per semester

4

Pearl Academy of Fashion (Delhi, Jaipur)

BA (Hons) Textile Design

PG Diploma in Textile design

MA Design (Fashion & textiles)

60

4

NA

20

 

NA

20

 

NA

5

Sir JJ School of Arts, Mumbai

BFA Textile Design

15

4

Approx Rs 700 per term

6

Lady Irwin College, Delhi

BSc (Home Science)

144

3

NA

MSc (Fabric and Apparel Science)

48

2

NA

7

Sophia Polytechnic, Mumbai (women)

Diploma in Textile Design

25

2

NA

8

South Delhi Polytechnic for Women

Textile & Apparel design

NA

4

Appox 45,000 for full programme

9

Indian Institute of Crafts & Design, Jaipur

UG Diploma in Craft design

NA

4

NA

PG Diploma in Home Textiles

NA

2 ½

NA
 Illustration by Amole for a student project
Origami tessellation used in a shade to by Amole
Close-up of Origami tesselation by Amole