7 lesser known facts about Indian Fashion Industry
Beginning from 1980s, the Indian fashion industry has come a long way, and is continuing to make its presence felt globally. Everybody knows that it has created a strong foothold in the international market, but do you also know that India is a leading nation that also exports textiles round the globe? Aditya Birla is one of the leading fashion giants here. Were you aware that well-known 'Pantaloons' is one of its brands only? Careers360 presents here some fascinating facts and figures about Indian fashion industry that will definitely bowl you over.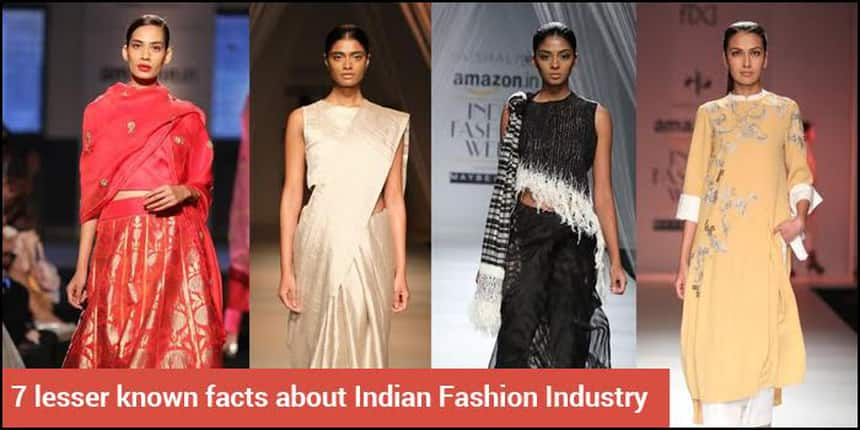 Fashion Industry Market Size- Current Indian textile industry is valued at Rs.10,800 crores. It is expected to reach Rs.22,300 crores by 2021. Moreover, employment in fashion industry is estimated to be around Rs.6 crores.

Indian Fashion Accessory Market- It is worth Rs.15,557 crores, which is growing at 18-19%. It is expected to touch Rs.25,306 crores by 2017 end. 60% of the total accessory market is ruled by bags, belts and wallets. 27% account for socks, hankies, scarves, caps, gloves, mufflers, etc., and as much as 13% of the market is acquired by hair accessories, tie pins, cuff links, etc.

Indian Gems & Jewellery Market- It is home to over 500,000 players, with majority being small players. During April-December 2016, gems and jewellery worth Rs.175,879,24 crores were exported. The Jewellery market is expected to flourish at a Compound Annual Growth Rate (CAGR) of 15.95% over the period 2014-2019.

Consumer Expenditure- As much as 6% of the total expenditure accounts for clothing and footwear in an Indian family.  

Import Export Market- Textiles, apparel and footwear worth Rs.586 crores are imported in India, while products valued at Rs.4,220 crores are exported around the world.

Importers from India- The long list includes US, UK, Spain, France, Germany, Italy, Turkey, UAE, China, Russia, Hong Kong, Bangladesh and Singapore.

The Fashion Giants- Aditya Birla Group with market value of Rs.250 crore is on the top. Big brands including Peter England, Louis Philippe, Pantaloons, People and Van Heusen come under this fashion brand. Vardhman Group having Rs.130 crore, Arvind Limited (Flying Machine, Arrow, Ruf & Tuf, U.S. Polo Assn.) with Rs.100 crore and Raymond (Parx, Park Avenue, ColorPlus) having Rs.62 crores as market value are the top fashion giants in India.
Indian fashion industry has carved a niche, and is continuing to prove its mettle in the market. Furthermore, it has a great potential to widen its scope in the near future for buyers, sellers as well as employers and employees. The statistics presented above make this quite evident.
Also Read:
Most lucrative specialisations in Fashion & Design
Life at NIFT Kolkata- Experience it with Nandita Banerjee
Keep design journal, work as an intern and value individuality, says Dr. Vijaya Deshmukh, Director, NIFT Jodhpur
Get real-time alerts on exam & colleges at your fingertips with Careers360 App!
Click Here to Install or Give a missed call on 08080944727 to get app link.
Stay tuned to design.careers360.com for latest updates, news and feature articles on Fashion & Design.