Polytechnics: Should you join one?
Design Dreams: South Delhi Polytechnic girls attending a class on illustrations and drawing
PRADEEP SINGH, who hails from Bijnor district of Uttar Pradesh, was a bright student in school, but felt constrained by his circumstances to opt for more job-oriented education after Class 10. Thankfully, while cutting short his school education, he found a way out of sacrificing his ambition to be an engineer. He enrolled for a diploma in Computer Science and Engineering at Gandhi Polytechnic in Muzaffarnagar, an adjoining district. This was in 2003. Today he manages a team of system administrators at Netcomm Labs. a Noida-based, leading website design company, and has reason to feel satisfied and secure in his career.

"My family's economic insecurity as well as the responsibility I had for my younger siblings ended my dream of joining an engineering college after completing higher secondary. But I still had the leeway to do an engineering diploma. That is what I did and got the job at Netcomm soon after getting through the course," he says as if underlining the important role polytechnics have been playing in India's current education system.

What are polytechnics?
As the name suggests, a 'polytechnic' has traditionally been an institution that offers education in many arts and sciences at the diploma level. Since most of them offer education to improve the practical and technical skills of the students, they have a clear vocational orientation. In India, polytechnics are set up and run by the State governments or are private institutions with varying degrees of government aid, offering diploma and certificate courses that can be done after Class 10. Other courses like fashion design, textile design, mass communication, interior design and hotel management can have a duration of one to four years, depending on course structure.

"Polytechnics play a crucial role in providing excellent education and training in all vocational programmes, especially when it comes to practical skills and hands on jobs," says Ashima Chaudhary, Director, of South Delhi Polytechnic for Women, New Delhi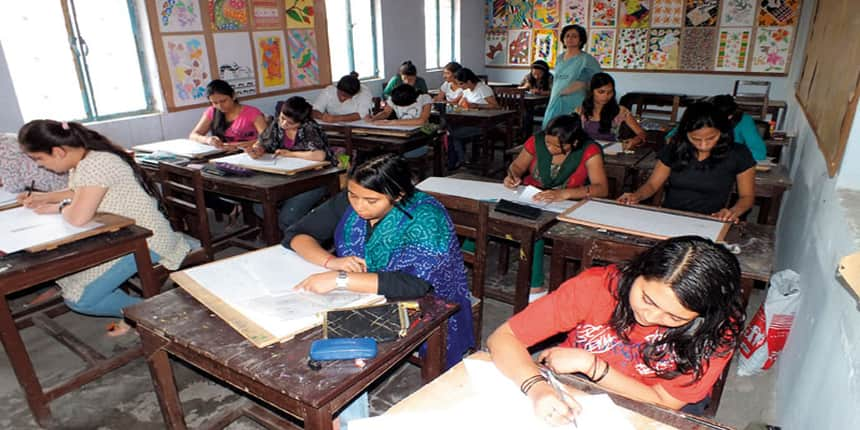 Fashion Fraternity: South Delhi polytechnic girls host a fashion show

How popular are they?
With about 10-12 percent seats in engineering degree courses remaining unfilled, according to the data published by All India Council for Technical Education (AICTE), and mushrooming of numerous institutes offering courses in journalism, fashion design and so on, it is rather difficult to appreciate the need for polytechnics.

That is, unless we appreciate the needs of youngsters like Pradeep Singh as well as that of the industry. Polytechnic graduates are responsible for executing the work as per the specifications and guidelines. For instance, a diploma-holding engineer might be placed on site for projects whereas a B.Tech holder would be involved in planning, analysing and designing. A B.Tech, who has made much larger investments of time and money in his education, might not be interested in the former.

As for the numbers, polytechnics claim that the uptake of their courses is on the rise. "In recent years, the number of students in our polytechnic has grown over previous years. That is in contrast to the decline in number of students in engineering colleges, especially in Uttar Pradesh. Majority of the students who join us belong to rural areas.

They cannot afford to go to an engineering college," says the Head of Department of Civil Engineering of a government-aided polytechnic in Lucknow.

At Pusa Polytechnic in Delhi, over 1000 students are currently enrolled for courses in Mechanical Engineering, Automobile Engineering, Civil Engineering, Electrical Engineering, Electronics & Communication Engineering, and Printing Technology. The polytechnic runs two shifts to accommodate all these students.

"There is just no question of decline owing to spurt in engineering colleges and other institutes. Polytechnics cater to a completely different socio-economic profile and will always be in demand," affirms S.B. Qureshi, Principal, Pusa Polytechnic. On the other hand, the South Delhi Polytechnic for Women, which has about 1000 students, admits to having experienced a decline in enrolment of about 10 percent over the last few years.


Courses offered
Engineering (Mech, Civil, Automobile, Electrical and Computer Science)

Aircraft Maintenance Engineering

Fashion Designing

Mass Communication

Interior Designing

Hotel Management

Commercial and Fine Art

Office Management &

Computer Application
Placement options
While Vaishali Sinha, who runs a textile designing studio, is herself a graduate of National Institute of Design (NID), she recruits her staff from polytechnics. Each of the seven designers who work for her Vaishali Design Studio is a polytechnic graduate. It has virtually become a matter of policy for her, challenging the received wisdom that employers in her industry have little choice beyond institutions like NID and National Institute of Fashion Technology (NIFT).

"We need to train all freshers for more than a year, irrespective of the institute they come from. They need practical knowledge of the sector," shares Vaishali. "A NIFT pass-out comes with a larger price tag, has certain inhibitions to learn and can leave the studio as soon as they get a more lucrative offer," she adds.  On the other hand, polytechnic pass-outs are recruited at lower remuneration, are willing to learn, and their chances of leaving early are minimal.

The case of Shilpi Gupta illustrates Vaishali's point rather well. Shilpi joined Vaishali Design Studio soon after graduating from South Delhi Polytechnic for Women and has since worked her way up from being a novice to lead designer in just seven years. However, not everyone is as lucky as Shilpi.

Rahul Rathra, for example, has been deeply dissatisfied by his experience of an education at a polytechnic. Having been compelled to shoulder responsibilities arising out of the ill health of his father, Rahul never had the time to complete his senior secondary education and found himself at a government-run polytechnic in New Delhi.

After earning  Diploma in Civil Engineering in 2009, he realised to his disappointment that none of his job options go beyond a starting salary of Rs. 10,000 per month. Rahul, who describes his family's economic profile as "upper middle class" ended up joining  a private university for a B.Tech in Civil Engineering, this year, though he did have the advantage of getting admission in the second year of the course. 
 
Weaving aspirations: South Delhi Polytechnic girls in a textile designing class

Many polytechnics claim that the best of employers visit their campuses. "The placements at Pusa Polytechnic are one of the best. Top 30-40 companies in the technical arena come for campus placement," asserts Pusa's Principal Qureshi. He cites Maruti, L&T, and Mahindra & Mahindram as examples. The South Delhi Polytechnic for Women claims that over 70 percent of its students are able to get employment and that percentage is increasing every year.

Faculty
Like any other educational institution, polytechnics also face the challenge of recruiting teachers. They need to do so from a limited supply of qualified and competent candidates. They also need to retain the best of them and also focus on professional development of the faculty. AICTE has responded to this challenge by introducing Quality Improvement Programme, which allows polytechnic teachers to do Master's (such as M.E/M.Tech and PhD programmes) in various disciplines in some selected technical institutions.
Polytechnic teachers, however, face heavy odds. Their salaries are much lower than their university counterparts and it has been a struggle even to get the Sixth Pay Commission recommendations implemented in the matter of their compensation. "We do not get AICTE pay scales.

There is no benefit commensurate to extra qualifications like M.Tech or PhD. We only hope that the things would be smoothened out in future," says a faculty member of the Civil Engineering department at the government-aided polytechnic in Lucknow. Needless to say teachers who believe they are underpaid or unfairly compensated are unlikely to achieve a satisfactory level of teaching quality. It's only natural that students will suffer because of this. 

"A NIFT pass-out comes with a bigger price tag. Polytechnic pass-outs demand less remuneration and are more
willing to learn"
Vaishali Sinha
MD, Vaishali Design Studio

Current Situation
The inherent biases in Indian education system have ensured that while BE, BSc, BCom, BBA, LLB and such other degrees have acquired prestige, vocationally-designed courses tend to get associated with less desirable work and economically disadvantaged section of the society. Such a perception hinders the development of India's massive labour force into productive workers and entrepreneurs through vocational education and training.

The status and quality of the polytechnics is a reflection of this state of affairs. "Polytechnics  began with a mandate to provide skilled workforce to a nation. However, obsolete equipment, poor funding, and lack of autonomy to introduce new industry-sponsored programmes have denied the polytechnics the status they should have enjoyed," says Ramesh Chourasia, Director, Aegion, a manpower consultancy firm.

While private institutions have stepped into the breach, providing skills in multi-media, fashion, hotel management and many other areas, people belonging to the lower and middle income groups find it difficult to afford private education and training. Private institutions also tend to provide courses that can be 'mass produced' and don't require very elaborate infrastructure. That takes us back to the important role assigned to the polytechnics.

Way forward
"The need of the hour is a significantly closer partnership between industry and polytechnics. Skill-oriented education has very little value unless it dovetails with the needs of the industry," adds Chourasia. It looks like the State governments, which run polytechnics in India, have their task cut out. An active drive to improve the polytechnic education is the need of the