Best Tablets for Graphic Design in 2023: Digital Illustrations, Photo Retouching
Best Tablets for Design in 2023: Looking for the best tablets for graphic design? Designers often use drawing tablets for digital illustration or photo retouching work, which is easier and more fun than using a mouse. Finding the best tablet for graphic design needs is definitely not easy because there are so many options on the market.
Latest Updates for NIFT Entrance Exam
Stay up-to date with NIFT Entrance Exam News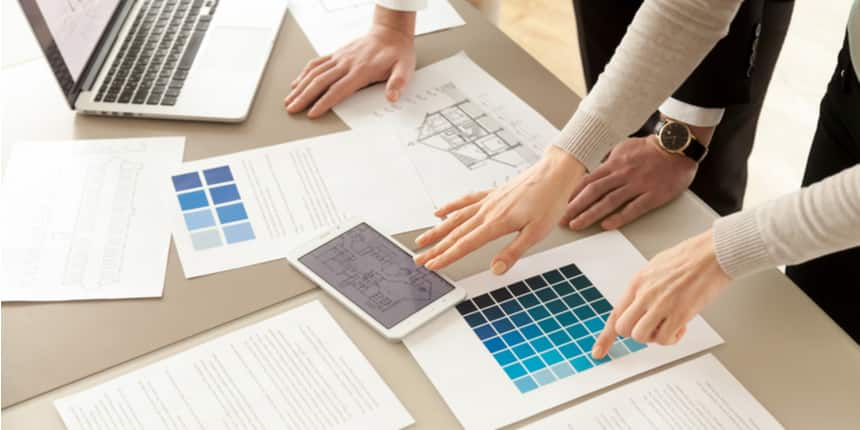 Tablets for Graphic Designers
Having the best drawing tablet will make your life as a designer much easier and more enjoyable. Many creators, be they illustrators, artists, or graphic designers, are increasingly using tablets these days to complete their projects anywhere, anytime - even outside the office.
In this guide, we have included a range of the best tablets for design from all major manufacturers including Wacom, Apple, Xencelabs, Huion, XP-Pen, and many more.
Also Read
What's the best tablet for graphic design in 2023?
We have tested various brands from exclusive ones like Wacom to versatile options like iPad Pro and Galaxy Tabs, and very affordable ones like XP-Pen and Huion. Every graphic designer will have different requirements, so we made sure to have a variety of top drawing tablets you can buy in 2023.
If one of your goals for 2023 is to draw more then the best drawing tablets are the perfect investment. Provides a light, simple, responsive, and electronic option for a good tablet artist to get projects done, even when they are not in the office.
Although everyone has different needs, these are the best drawing tablets for graphic designers in 2023.
Top Design Entrance Exam
Best Drawing Tablets for Graphic Designers in 2023
Apple iPad Pro - Best Apple iOS tablet

XP-Pen Artist 15.6 Pen Display - Best budget tablet with a screen

Wacom Cintiq 16 - Best drawing tablet overall with a screen

Wacom Intuos Pro (Medium) - The best drawing tablet overall with no screen

Wacom Intuos Pro (Small) - A best small tablet

Samsung Galaxy Tab S4 - Cost-effective Android tablet

Microsoft Surface Book 3 (13.5 inches) - Best Windows tablet

Huion H430P - The most economical tablet available

Wacom Intuos Pro (Large) - Best tablet for artists and illustrators

Wacom Cintiq 22 - Best large drawing tablet

Huion Inspiroy H640P - The best affordable tablet

XP-Pen Innovator 16 - Best mid-range tablet with amazing value

Wacom One - Best value drawing tablet

XP-Pen Deco 03 - Best slim tablet

Huion Kamvas Pro 24 - Best Huion tablet

Huion H610 Pro V2 - Best budget tablet with no screen

Wacom MobileStudio Pro 13 - Best with Windows

Xencelabs Pen Tablet - Best value pen tablet bundle

One by Wacom Student - Best tablet for students

GAOMON PD1560 - The best widescreen tablet
Once you get your tablet, be sure to grab the tablet keyboard as well. If you like the stylus pen to support your tablet, you may be interested in our excellent Apple Pencil alternatives feature.
Top 3 Best Graphic Design Tablets in 2023 - Comparison
| | | | |
| --- | --- | --- | --- |
| Features | Best Large Tablet | Best For iOS | Best Budget |
| Best Tablets for Graphic Design in 2023 | | | |
| Tablet Name | Wacom Cintiq Pro 16 Creative Pen & Touch Display | Apple iPad Air | XP - Pen Artist 15.6 Pro |
| Active Drawing Area | 13.58" x 7.64" | 10.9 inches | 13.54 x 7.62 inches |
| Resolution | 5080 LPI | 1640 x 2360 pixels | 1,920 x 1,080 |
| Pen Pressure Sensitivity | 8192 Levels | Not specified (requires optional Apple Pencil) | 8,192 levels |
| Connections | Micro USB, Bluetooth | USB Type-C; magnetic connector | USB-C |
| OS | Windows or Mac OS | iPadOS 14.1 | Windows or mac OS |
| Sim type | - | GSM/ HSPA/ LTE | - |
| Price | Rs 1,98,105 | Rs 49,900 | Rs 25,968 |
Also Read:
How do you choose the best graphics tablet?
Despite the comparable benefits of each tablet, not all tablets are created equal - so which tablet is better for drawing and art? The price of a drawing tablet varies greatly - flat tablets (without a screen) are much cheaper than a display.
In addition, some of them are very precise and with large drawing areas, while others are small and have basic specifications. So the first choice you have to make is to decide whether you want a simple graphics tablet (without a screen) or a pen display (with a screen) or a tablet computer (iPad Pro or Galaxy Tab).
Once you have made this decision, the next step is to focus on the key features and functions you are looking for. As a graphic designer, there are various things to keep in mind when buying your first tablet, but the important ones are:
Active area

Pressure sensitivity

Features

Resolution

Hotkeys

Model type

Stylus

Scrollers

Connection (Wireless or corded)
Top College in India Offering Design
Type of Drawing Tablets: Graphics tablets vs Tablet computers vs Pen displays
For many artists, the choice of tablet usually resulted in a graphics tablet or pen display. With the advances in tablets like the Apple iPad and the Samsung Galaxy Tab, they have provided another way for artists to create amazing works. Let's look at each tablet option in more detail.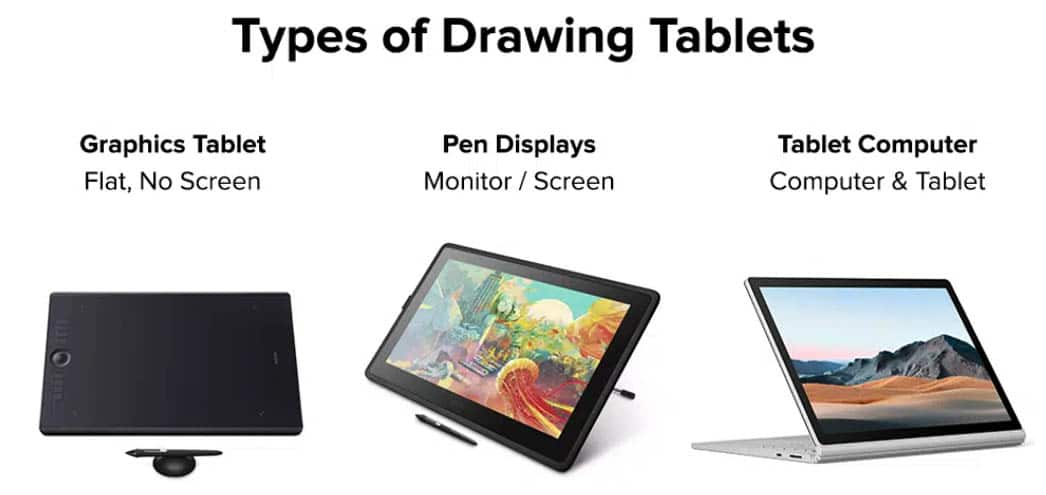 Best Tablets for Graphics Design in 2023
A graphics tablet has a flat, bare surface on which you use the stylus to draw, and the image is displayed on your computer monitor. While these are the best budget-friendly option, their drawback is that they can provide a user with a disconnected feel between the tablet and the monitor, although many will get used to it very easily.
Pen Displays
The pen display is a flat-screen monitor that has a pressure-sensitive surface that you can draw on using a stylus. Unlike graphics tablets, users do not experience disconnection. They are also superior in portability and relatively inexpensive. There will be more cables between the display and the monitor than a graphics tablet, and for some, the pen display will not give the same impression that a graphics tablet gives.
Tablet Computers
A tablet computer like the Apple iPad Pro or Samsung Galaxy Tab does things the other two options do not. With a tablet computer, you do not need to connect to an external monitor or use another computer. Download the art app you like and start creating. Prices can range from affordable to very expensive, they are small and the best combination of features of the other two options.
Do graphic designers need a tablet?
Not every designer needs a graphics tablet, which is definitely an option, not a necessity. However, many artists, illustrators, and graphic designers generally began to use tablets to complete their projects quickly and easily.
Also Read:
With all the tablet choices available, it can be difficult to decide which one is best for you. In the list above, whether you are a beginner or a professional graphic designer, you will find something for everyone.
Any artist needs to have the right tools, when it comes to tablets - this is the device you want to use every day. With the various choices we have highlighted in the list above, you can find something for yourself and take your graphic design career to the next level.
Browse Top Fashion Design Colleges by Location
Frequently Asked Question (FAQs) - Best Tablets for Graphic Design in 2023: Digital Illustrations, Photo Retouching
Question: Is the iPad suitable for drawing?
Answer:
Yes, the iPad is a great choice for any job, be it drawing, designing or editing.
Question: What is the best drawing tablet for animation?
Answer:
Apple iPad Air is the best drawing tablet for animation. It features Apple's new M1 chip, which produces 40% faster graphics than previous versions of the iPad and has a 12.9-inch liquid retina XDR display with flash.
Question: What is the difference between a graphic tablet and a drawing tablet?
Answer:
To use a graphic tablet, you need to attach it to the screen to see your work. The drawing tablet does not need this, as you can draw directly on the display.
Question: What tablet do most graphic designers use?
Answer:
Wacom Intuos Pro (PTH660) is a widely used tablet by graphic designers.
Question: What is the best graphic tablet for beginners?
Answer:
The Wacom Intuos S is a beginner's graphic tablet. This is Wacom's most affordable, entry-level tablet that will last for many years.
Questions related to NIFT Entrance Exam
Showing 1809 out of 1809 Questions
National Institute of Fashion Technology Entrance Examination (NIFT Entrance Exam)