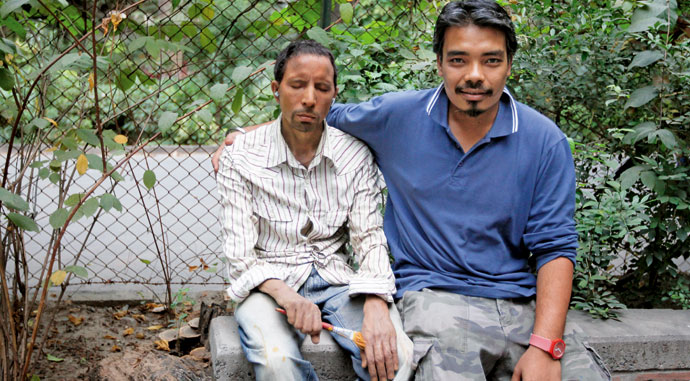 Rajiv Subba with his hyper realistic silicon mannequin 'friend' at the National Design Business Incubator at National Institute of Design, Ahmedabad

About The Incubator: National Design Business Incubator (NDBI) , National Institute of Design Ahmedabad, http://www.ndbiindia.org,
Established: 2004,
Current Incubatee: 37 (including 17 virtual),
Graduated: 16,
Offerings: Open for all, attractive as it is supported by Dept. of Science and Technology, GoI; seed funding, internships, office space, PCs, internet etc; design vision centre, visualisation lab, PACE Lab, Rapid Product Development Lab, Laser cutting. Also assistance in IPR consultancy, networking etc
Residency: Two years extendable by a year,
Exit Policy: On completion of incubation period; raising investment for Rs. 3 crores or more; when employee strength exceeds 20; when annual revenues exceeds Rs. 2 crores / PBT is Rs. 50 Lakhs; is acquired/ merged etc.
Compare Colleges
College Comparison based on Courses, Placement, Rank, Fee
Compare Now
READING about impeccable structures crafted with Silicon is as incomplete as speaking about chocolates without tasting it. The incubatee that just moved out of NDBI at NID Ahmedabad is today bustling with novel ideas as the team of six persons creates translucent and touchable skin, real hair, expressive eyes and such finer details, giving you a sense of a living creature's presence.


"It all started when we were still pursuing our PG Diploma with specialization in Ceramic & Glass design at NID, and a Delhi-based designer (an alumnus) required a hyper realistic silicon mannequin which was not made in India. It took us two-and-a-half years to get one good quality mannequin and this resulted in bagging an order of 18 such mannequins for Sadhu Vaswani Museum at Pune," says Rajiv Subba, the CEO of Dirty Hands. Son of an army officer, Subba established Dirty Hands in 2008. The hyper realistic Silicone (HRS) figures are now being used for designing displays for museums and galleries. Another promising area is Bollywood – as Rajeev adds, "One day I was looking at my mannequins and it struck me why not use them in movies? So I met AnuragKashyap and we did Gangs of Wasseypur Part 1 and Part 2. Then 'Raaz 3' happened and recently we completed 'Ugly' and 'Michael'. Now we are working on 'Finding Fanny' starring Naseeruddin Shah, Dimple Kapadia, PankajKapur, ArjunKapoor and DeepikaPadukone and some more projects from the film industry in South India."
Team Dirty HANDS posing with the man who acted as model for mannequin
The Innovation Path
When the first project came, the mannequins were being made from latex and all were aware of wax statues, particularly those at the Madame Tussauds Museum in London. "When we started with Silicone as the key raw material, it was expensive and had to be imported. Since we were the only one in India experimenting with HRS mannequins, the entire team had to do a thorough research. We found that using Silicone the colouring of the exposed skin could be done permanently, and unlike wax which is stored in a controlled temperature for fear of being melted, and should not be touched, the HRS sculptures can be washed, wiped, pinched or even rubbed," says Subba who did his graduation from Chandigarh Art College. The colour and texture of the sculptures are very similar to human skin and hair and can be stored at a temperature that varies between -20 degrees and 60 degrees. "The process is very skill-intensive as one has to manually perfect the art in terms of shape, texture and bring out the Indian skin tone by making use of the offered material. For instance, in making HRS figures, we would need a very good painter, a person who is a master in portrait making, a technically sound person who understands texture, mould making etc. It is quite an expensive proposition – putting up a good team in place and also sourcing Silicone from the US, colours from Canada and needles and grafting tools from the Netherlands. The challenge, however, is in acceptance since the HRS figures are still very scary," he quips. The team has also collaborated with Ahmedabad-based robotics startup firm Gridbots Technologies for robotics solutions and such future projects in the bio-mechatronics area.
Mahesh Krovvidi,
chief executive officer,
NDBI, Ahmedabad


The uniqueness attached to Dirty Hands is thatin Medical Prosthetics, every body part (e.g. limb) by its very nature will have to be crafted as per the patient's specifications. The challenge will be on the issue of scalability
Expanding horizons
"We are focused on movies these days but are also planning to gradually move to medical prosthetics and contribute to medical tourism though there are challenges in terms of need of additional funds and resources", says Rajeev. MamtaGautam (co-founder), also a NID student and an architect from the School of Planning and Architecture New Delhi, explores applications of HRS in structural space, climate responsive architecture, interiors, lifestyle products, installations etc., but is keen on medical prosthetics as is another core member and fellow NIDian, ZubyJohal (Managing Director). Emphasizing on the business in medical domain, Rajeev explains, "While prosthetic limbs like 'Jaipur foot' exist in the Indian market, the benefits of HRS limbs and other body parts by Dirty Hands will be in providing greater comfort and aesthetically superior product." 
Challenges ahead
The start-up which now has a core team comprising six friends (including Harpreet, Gurpreet and Rakesh) and 20 members has set up a new company, Sarathi Life Aids, again being incubated at NID. The company had to be new for it to receive funding (Rs 7 lakhs) from NDBI Venture Ready Fund (NVRF) as per NDBI norms. According to Mahesh Krovvidi, CEO, NDBI, "The uniqueness attached to Dirty Hands is that in Medical Prosthetics, every body part (e.g. limb) by its very nature will have to be crafted as per the patient's specifications. So, skill and finesse will be integral to customisation, however due to lack of trained people, challenge will be scalability." Zuby says this is  being sorted, "We have a few people being trained to scale up. Also, we are proposing to the government to provide us with a good team of doctors so we could enter this promising area," she adds.