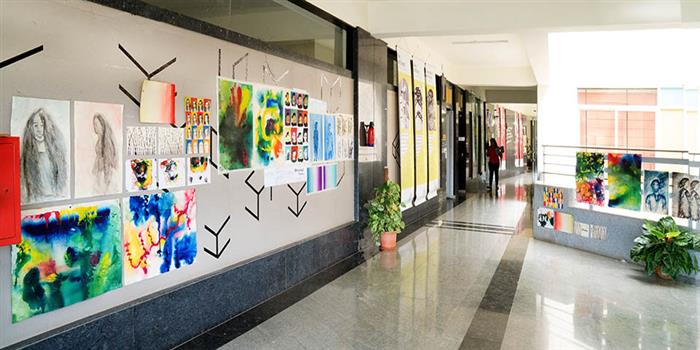 When Aishwarya Kaura was exploring a project for an NGO promoting bamboo as a tool for creating livelihoods, the Bachelor of Design (B.Des.) student saw a world of opportunity. Kaura, who studies public space design, went on to design an outdoor structure with bamboos for tourist resorts that gave visitors a brush with the nature and the local community a chance to earn their livelihoods. 
Compare Colleges
College Comparison based on Courses, Placement, Rank, Fee
Compare Now
Karman Nanda, another B.Des. public space design student, saw an opportunity to address the challenge of e-waste in the electronics city of Bangalore while developing an awareness platform using the city metro service. The result was a map, which functions as an installation where live data of active recycling of e-waste in all the 198 wards of Bangalore are shown live.
Both Kaura and Nanda are students of the Srishti Institute of Art, Design and Technology, Bangalore, which has emerged as a leading global player in design education. The institute, spread over five campuses in Yelahanka New Town, integrates art, science and environment into its education to design new solutions and innovations for the local and global society.
The global leader in education focuses on innovation, cutting-edge design, sustainability and commitment to socio-economic and environmental issues.
Srishti's journey
Founded in 1996, the institute offers undergraduate, postgraduate and doctoral programmes. The undergraduate programme consists of a four-year B.Des. and Bachelor of Creative Arts (B.Cr.A). There is also a three-year Bachelor of Vocation (B.Voc.), an industry-focused programme to prepare its graduates for skill-based careers in the creative industry. 
The two-year postgraduate programme consists of a Master of Design (M.Des.), Master of Creative Arts (M.Cr.A) and Master of Planning (M.Plan). There is also a two-year postgraduate programme in arts for Master of Arts. The research programme, which started six years ago, will witness the completion of doctoral work by five students soon. 
Courses and admission process
The institute conducts its own entrance test and there are no cut-off marks for eligibility. There are currently 1,300 students at the institute, which sees itself at the intersection of arts and science. The four-year B.Des. courses consists of Business Services and System Design, Creative Education, Human Centered Design, Industrial Arts and Design Practices, Information Arts and Information Design Practices, Public Space Design, and Visual Communication and Strategic Branding. The four-year B.Cr.A consists of Contemporary Art Practice, Creative Writing, Digital Media Arts, Experimental Media Arts, Film, and Film from Srishti Films.
The two-year M.Des. consists of Design-Led Innovation, Earth Education and Communication, Heritage Design, Planning and Management, Human Centered Design, Industrial Arts and Design Practices, Information Arts and Information Design Practices, Public Space Design, and Strategic Design and Brand Leadership. The two-year M.Cr.A consists of Contemporary Art Practice, Creative Documentry, Digital Media Arts, Experimental Media Art Practices, and Public Pedagogy and Art Practice. 
The Master of Planning course consists of Urban Design, Sustainability and Conservation. Another Master of Arts professional practice course consists of Design in Education, Experience Design, Impact Entrepreneurship, Oral History and Visual Communication Design. The degrees are awarded by the University of Mysore. The doctoral degrees would be awarded by the Manipal Academy of Higher Education.
The institute also has a Doctoral Programme in Art and Design, besides a Ph.D in Art & Design, and Integrated M.A and Ph.D (by research). 
Contemporary projects
The centres and labs at the institute include a UNESCO Chair in Culture, Habitat and Sustainable Development, and the Kabir Project. The Kabir Project, launched in 2003, consists of many ongoing journeys exploring contemporary resonances of bhakti, sufi and baul poetry through songs, images and conversations. Three years ago, a 2-week design charette for students of Srishti to create wall art and graffiti with the poetry of Kabir led to evocative wall artworks in public spaces in the city of Bangalore, creating moments of urban pause, reflection and poetic irony. In 2005, one institute semester was even called Kabir Lab.
At this year's Interim starting in the second half of December, one of the events will be a Festival of Stories at the metro station at Cubbon Park. "For our students, their final projects are informed by these works," says Wari, a well-known curator in the country. "We tell the students that you are no longer a student, you are an artist." 
Programmes at Srishti Institute of Art, Design and Technology, Bangalore
B.Des. (4 years) in Business Services and System Design, Creative Education, Human Centered Design, Industrial Arts and Design Practices, Information Arts and Information Design Practices, Public Space Design, and Visual Communication and Strategic Branding 
B.Cr.A (four years) in Contemporary Art Practice, Creative Writing, Digital Media Arts, Experimental Media Arts, Film, and Film from Srishti Films 
Bachelor of Vocation (B.Voc.) 
M.Des. (2 years) in Design-Led Innovation, Earth Education and Communication, Heritage Design, Planning and Management, Human Centered Design, Industrial Arts and Design Practices, Information Arts and Information Design Practices, Public Space Design, and Strategic Design and Brand Leadership
M.Cr.A (2 years) in Contemporary Art Practice, Creative Documentary, Digital Media Arts, Experimental Media Art Practices, and Public Pedagogy and Art Practice. Master of Planning (two years) in Urban Design, Sustainability and Conservation. Master of Arts (two years) - professional practice - in Design in Education, Experience Design, Impact Entrepreneurship, Oral History and Visual Communication Design
Doctoral Programme in Art and Design; Ph.D in Art & Design, and Integrated M.A and Ph.D (by research)
Eligibility: Class XII (B.Des, B.Cr.A, B.Voc); Four-year undergraduate degree (universities) or four-year undergraduate diploma in design (design institutes) or five-year undergraduate degree (professional institutes); Doctoral programme: Master's degree in art or design or a related discipline from a recognized University in India or abroad or a five-year professional Bachelor's degree
Selection Process: Own entrance test
Website: www.srishti.ac.in
More like Srishti Institute of Art Design and Technology, Bangalore
Questions related to Srishti Institute of Art Design and Technology, Bangalore