Design Internship Experience: How Amity School of Design student Abhilasha learnt to manage client expectations
What an actual industrial experience can teach a design student is far more real and vital than what books can instruct. Apart from learning the basics of the domain, interns learn how to interact with clients, work as per their requirements, manage time, and a lot more. Careers360 brings an exclusive Design Internship Experience series of popular design school students and their Internship experiences.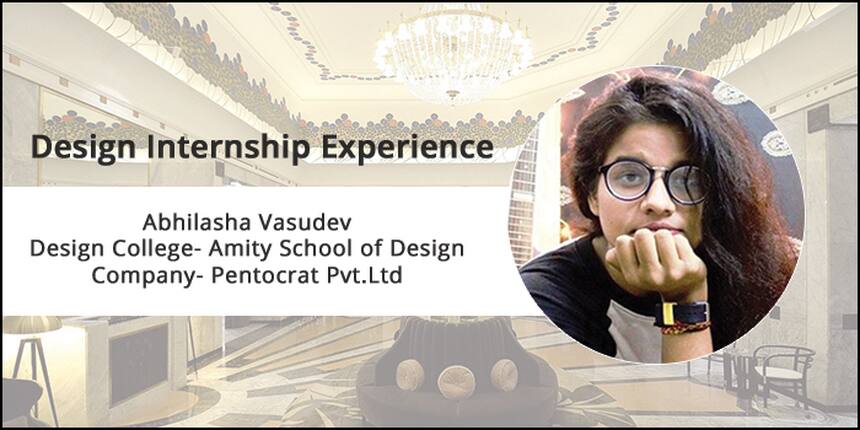 Abhilasha Vasudev, a student of interior design at Amity School of Design, did her internship at a design firm named Pentocrat Pvt.Ltd., engaged in designing sets. She shares her experience while working there. She learned that the most crucial responsibility of a designer is to understand the requirements of clients deeply and serve them with the best.
Read her interview below:
Careers360: Where did you complete your design internship from? What was the size of the organization and duration of your training period?
Abhilasha: I interned at a design firm named Pentocrat Pvt.Ltd., known for exhibition and set designs, apart from other areas as well. It's a start-up that is in existence from last six years. It has a strength of 20 employees, and everyone is interactive there. My internship duration was six months in which I learned a lot. 
Careers360: In which semester do the students opt for an internship? Is that compulsory for everyone?
Abhilasha: Students go for an internship generally during summer break after the second year. The internship ranges from four to six weeks to get practical experience of what all we have learnt in the past.
An internship is compulsory for everyone. It is 1-credit course wherein we have portfolio submission and viva-voce. It carries a total of 100 marks.
Careers360: What was your thought process before participating in the internship process? Did you focus on any particular domain?
Abhilasha: I am fond of designing sets. So, when I sent my CV and portfolio for the internship programme, I was focused on the set design domain in particular. My idea of working in a firm was to learn how does the industry works in general, which indeed is a lot different from what one learns in college. I was involved in one to one interaction with clients, site visits, market surveys, going on window shopping with clients to understand their perspective on what they want, and a lot more.
Careers360: Please share the details of your project and your role in it.
Abhilasha: Initially, when I started as an intern, I was on-site understanding how everything works. After two weeks, I was asked to assist the senior designer for a tea brand stall design. My role was of a conceptualizer, and I had to work on the conceptual drawings for the set. I had to prepare the initial sketches, CAD drawings and 3D views. There were few things that got altered, but, the final outcome was really nice.
Careers360: What were the key challenges you faced during your internship?
Abhilasha: When you are working in a firm where you have a dedicated clientele, you get to learn a lot. During my six-week internship, I worked on four different kinds of projects. These included working on varied concepts, market surveys, site visits, digital drawings, and finally the execution. Everything is time-bound; one has to work mentally and physically to complete tasks on time. For me, that was the biggest challenge that I learned to overcome during the industrial exposure. 
Careers360: What was your key learning and achievements after completing the internship?
Abhilasha: For me, the biggest learning was to understand the working of the design industry. It is nothing same to what we are taught in the school; it's a lot more than regular concept sheets and CAD drawings. When I was working in an actual workplace, I understood about the expectations of clients, expert inputs of the professionals in the field, availability of materials, cost involved, stats, and most important, the final implementation. 
Careers360: How did your mentor help you execute the project?
Abhilasha: My mentor, Ms Prachi, is working in the Industry from the past five years. While we were working on a PVR project, she helped me understand the terms and conditions of the constructional design of a PVR space which I was unaware of. Initially, I hesitated from working on such a large-scale project but she boosted my morale. I went for the site visits with her to understand in-depth design aesthetics. The final outcome was fantastic. I am glad that I had an amazing guide like her.
Careers360: How was your interaction with other employees during your internship period? Would you like to go back to the same place for a job?
Abhilasha: I was fortunate enough to work across different departments in the firm. The seniors were helpful. The work environment was quite friendly and interactive hence, I had one to one interaction with everyone. I am still connected with them.
I would definitely love to work there again, but I would like to undergo internship in other architectural firms as well like Archom, Studio Lotus, etc., to learn more. In the end, it's all about growing by having diverse industrial exposure.
Careers360:: Did you get any monthly stipend during the design internship period?
Abhilasha: I didn't receive any stipend as I had no professional qualification, but I have been working as a freelance designer ever since I completed my internship. I do get paid sometimes. Having the experience to work in an actual design company is the most important of all.
Careers360: Is it important for a student to do an internship? What values can be gained?
Abhilasha: One should not hesitate from working as an intern. When you are in a professional field where your work speaks for you, you should gain as much experience as you can. College helps us gain more of bookish knowledge but a professional experience helps to grow as an expert in the field. This will help you in improving the quality of your design portfolio as well. One can learn about the actual work culture, time management, dealing with the clients and vendors, and a lot more while undergoing an internship. 
Careers360: Share a memorable incident from your internship days.
Abhilasha: My first interaction with the client is the most memorable experience for me. I was unsure at first but understanding their idea of what they want in their space was quite a different experience altogether. In college, we make a hypothetical client brief as per our own design ideas. But the academic client briefs are a lot different from actually dealing with the clients. During my internship period, I learn that client's opinion matters the most.
Also Read:
Life at Amity School of Design- Experience it with Abhilasha Vasudev
Know all about Fashion Management
Innovative ideas, patience keys to success in Design: Prof. Nidhip Mehta, Head, School of Design, Pearl Academy
Amity School of Fashion Technology, Noida Updates and Articles
Amity School of Design Admission 2020 - Know all about the adm...
07 Mar 2020
Campus Life at Amity School of Design - Experience the Amity S...
13 Jun 2018
Questions related to Amity School of Fashion Technology, Noida
Showing 111 out of 111 Questions