Design Internship Experience: How NIFT Bengaluru student Jasmine Shah learnt nitty-gritty of merchandising
An internship equips a fashion student with different designing skills. It makes you apply the theory and learn how to handle competition and challenges of the dynamic world of vogue. Careers360 brings Design Internship Experience series wherein students of top design schools share their learning and outcomes from their internship.

Jasmine Shah, a design student of NIFT Bengaluru completed her internship from Shah Safari Inc. She explains how the work culture in a buying house teaches the essence of merchandising to an intern.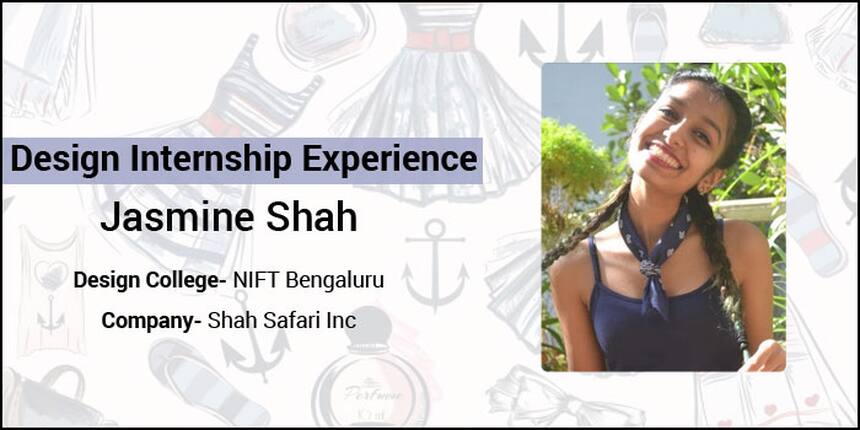 Read her interview below:
Careers360: From where did you complete your fashion internship? What was the duration of your training period?
Jasmine: I did my internship from Shah Safari Inc., which is a buying house. The duration was two months.
Careers360: In which semester do the students have to go for internship? Is that compulsory for everyone?
Jasmine: Students have to go for an internship at the end of third year. It is mandatory for everyone.
Careers360: Please share the details of your project and your role in it.
Jasmine: I was involved in various tasks including a print development project for S/S 18 menswear for an international brand, merchandising for a global womenswear brand, and design collection for menswear as part of the college curriculum.
Careers360: What were the key challenges you faced during your internship?
Jasmine: For me, the key challenges included communication, correspondence and lack of industry knowledge. But with the passage of time, I inevitably acquired skills to cope up with the situations.
Careers360: What was your key learning after completing the internship?
Jasmine: I had a rich industrial experience during the internship. I got to know about the nitty-gritty of the fashion world. The most important thing I learnt was that as a designer, it is essential to understand the limitations that the industry and manufacturing unit has.
Careers360: How did your mentor help you in executing the project?
Jasmine: My mentor was approachable, and very keen on extending her extensive industrial knowledge. She took out time to educate me about the basics. Her genuine support, knowledge and understanding of the industry gave me the much needed push to perform better.
Careers360: How was your interaction with other employees during the internship period? Would you like to go back to the same place for a job?
Jasmine: The staff members were welcoming and encouraging. But my core interest lies in designing, not in merchandising or buying. So, I will be looking for some other option. 
Careers360: Did you get any monthly stipend during the fashion internship period?
Jasmine: Yes, I did.
Careers360: Is it important for a student to do an internship? What values can be gained?
Jasmine: It is crucial for a student to do an internship, and if possible he/she should not wait till the third year. You can never get enough of industrial experience through internships. Learn as much as you can.
Careers360: Share a memorable incident from your internship days.
Jasmine: Receiving appreciation from head designer of the brand for creating new and interesting prints was a memorable incident for me. Her encouragement meant a lot to me, and that motivated me to give my best.
Get real-time alerts on exam & colleges at your fingertips with Careers360 App!
Click Here to Install or Give a missed call on 08080944727 to get app link.
Also Read:
Life at NIFT Bengaluru- Experience it with Radhika Gupta
Frequently Asked Questions on NIFT Campus Placement
Top Recruiters for Fashion Designers
Stay tuned to design.careers360.com for more Design Internship Experiences.
National Institute of Fashion Technology, Bangalore Updates and Articles
Life at NIFT Bengaluru- As part of Life at Campus series, Care...
19 Jun 2017