Design Internship Experience: How NIFT Kannur student Rishabh Nayak learned to apply theory into practice


A fashion internship offers real-life experiences and industry exposure to a student. It gives you an opportunity to learn more about yourself along with getting connected and developing your professional network. Careers360 brings Design Internship Experience series wherein students of top design schools share their learning and outcomes from the internship.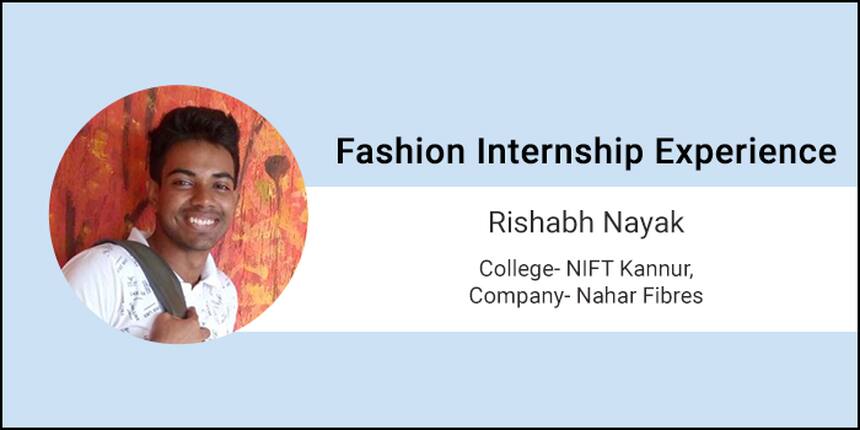 Rishabh Nayak, a B.F.Tech student of NIFT Kannur, completed his internship from Nahar Fibres, Ludhiana. He shares how he learned the basics of spinning, weaving, knitting, and a lot more.
Read his interview below:
Careers360- Where did you complete your fashion internship from? What was the size of the organization and duration of your training period?
Rishabh- I did my internship from Nahar Fibres, Punjab for a period of 15 days. Its plant has four units.
Careers360- In which semester the students have to go for an internship? Is that compulsory for everyone?
Rishabh- They can go in any semester. It becomes compulsory after the fourth semester for at least a 15 days textile internship in spinning, weaving or knitting.
Careers360- Did you focus on any particular domain during the internship process?
Rishabh- At that time, I was focusing more on spinning the production department. I was trying to learn all the nitty-gritty of this particular domain.
Careers360- Please share the details of your project and your role in it.
Rishabh- My project was related to the production of different blended threads like cotton polyester, cotton, lycra, etc. I worked in the capacity of Supervisor in unit number three in production department of the plant.
Careers360- What were the key challenges you faced during your internship?
Rishabh- Extreme heat was a major problem there. I had to work under high temperatures, and that was the biggest challenge for me.
Careers360- What was your key learning after completing the internship?
Rishabh- While interning there, I worked with people with different mindsets. So, I was able to understand how to manage people with dissimilar psychologies. This helped me in getting things done smoothly.
Careers360- How did your mentor help you with your project?
Rishabh- My mentor trusted my capabilities and made me Supervisor on my second day there. He wanted me to experience everything by taking all the responsibilities.
Careers360- How was your interaction with other employees during your internship period?
Rishabh- The employees were good at their work. Also, they were very helpful. I had a friendly relation with them.
Careers360- Did you get any monthly stipend during the fashion internship period?
Rishabh- No, I got nothing other than extremely valuable experience during the internship period.
Careers360- What values can be gained during the internship period?
Rishabh- Going for an internship is the only way one would get to use his/her theoretical knowledge and apply it practically. During this time period, you will also get to deal with different problems and crisis, which will make you ready for future professional life.
Careers360- Pleaseshare a memorable incident from your internship days.
Rishabh- The time spent during lunch break was the most memorable for me. My mentor also used to join me that time, and we enjoyed sharing some light moments together, laughing and mocking. Also, I relished the time sharing my NIFT stories with the colleagues.
Also Read:
Know all about Accessory Design
Stay tuned to design.careers360.com for more Design Internship Experiences.
National Institute of Fashion Technology, Kannur Updates and Articles
Life at NIFT Kannur - Mayank Singh Bani, who is pursuing Fashi...
26 Apr 2017