Design Internship Experience: How NIFT Patna student Zoya Kant learnt to integrate theory and practice
Industrial exposure via internship teaches fashion students about the basics of the field. Interns learn how to interact with customers, manage inventory, operate store on daily basis, and a lot more. Careers360 brings Design Internship Experience series wherein students of top design schools share their learning and outcomes from the internship.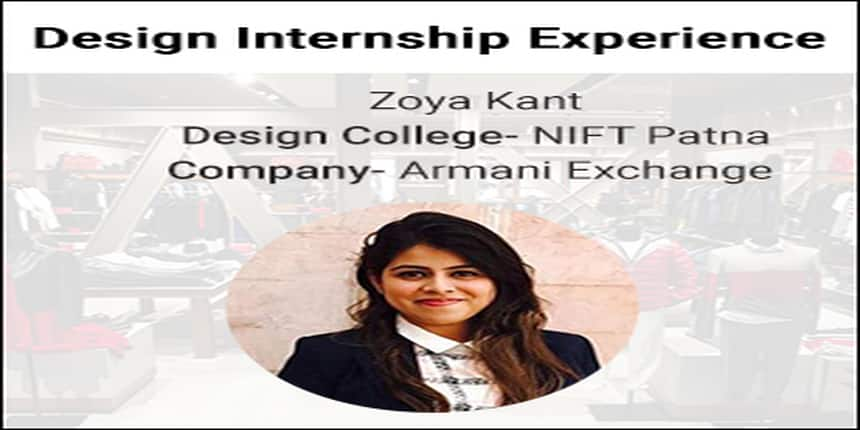 Zoya Kant, a Masters of Fashion Management (MFM) student of NIFT Patna, completed her internship from Armani Exchange. She shares how she overcame the problem of facing difficulty in communicating with customers, implementing basics of visual merchandising, etc. during the early days of internship.
Read her interview below:
Careers360: Where did you complete your fashion internship from? What was the size of the organization?
Zoya: I had pursued my summer internship in store operations from Armani Exchange (A|X) located in Select City Walk, Saket which is a part of Genesis Luxury Pvt. Ltd. (a fashion company in Gurugram that owns many global luxury and premium brands in India including Jimmy Choo, Coach, Giorgio Armani, etc.).
Genesis has a wide resource pool that includes brand managers, product designers, visual merchandisers, store managers, buyers, human resource team and sales as well as marketing team, each excelling in their abilities. The A|X store at Saket provides employment to almost 800 people in India.
Careers360: In which semester the students have to go for an internship? Is that compulsory for everyone?
Zoya: As students of Masters of Fashion Management (MFM), it's part of our academic curriculum to pursue internship in any department of the fashion industry- be it merchandising, buying, retailing, branding or marketing, depending upon choice and interest. It is compulsory to undergo internship for the specified period, otherwise the student is not eligible to receive degree from NIFT.
Students of MFM have to pursue their internship in two phases-
First, we need to pursue our summer internship for either four or six weeks in the fashion industry after completion of semester II and before the beginning of semester III (period between beginning of June to end of July).
Second, we have to undergo internship for four months in semester IV (from second week of January to second last week of April) as a part of our graduation project.
Careers360: What was your thought process before participating in the internship process? Did you focus on any particular domain?
Zoya: I was very excited and keen to know how a store operates, and how inventory is managed on daily basis. We were given two basic objectives that we needed to observe – to study the organizational structure, and to get a basic idea of how the company works as a whole.
I set my mind to work with full dedication, and did all the tasks that were assigned by my mentor. I tried to relate my theoretical knowledge with the day to day tasks. My main focus was on visual merchandising of the store. I observed how the store was made visually attractive in order to increase the footfall of customers, that ultimately boosted sales.
Careers360: Please share the details of your project, and your role in it.
Zoya: I was a part of following two projects during my summer internship:
To study reasons that drive customers' preferences towards purchasing of A|X products. In this project, I was asked by my mentor to prepare questionnaire for customers that analysed their buying behavior regarding products that were in sale or were a part of fresh arrivals.

The second project was to analyse the retail mix of the store. It targeted strategies to attract customers and influence their purchasing ability.
I observed that during the sales period (June and July), the store experienced daily footfall of 160 customers during weekdays and an average of 200 customers on weekends. During non-sale period, A|X experiences an average footfall of 125 customers during weekdays and nearly 160 customers on weekends.
Careers360: What were the key challenges you faced during your internship?
Zoya: Following were the major challenges that I faced during the internship period:
Difficulty in communicating with customers in early days

Conflicts with few staff members

Implementing concepts of visual merchandising with merchandiser

Lack of knowledge about how the store is managed on daily basis

Difficulty in handling customers, who came for exchanges of the sales items
These were the challenges that I faced during the early days of my internship, but later my mentor guided me well and helped me to overcome them.
Careers360: What was your key learning and achievements after completing the internship?
Zoya: My key learning and achievements include following-
Better communication skills and how to interact with customers

Inventory management techniques

Basic concepts as to how store is managed on daily basis

Basic idea of the merchandising and price deciding mechanism

Helping to achieve monthly targets

Analysing monthly sales to find out which is the bestselling product

Promotions and marketing methods for the brand in India

How to make a store visually attractive to increase profits even during end of season sale

MS Excel expertise
Careers360: How did your mentor help you execute the project?
Zoya: My mentor, Mr. Vivek Sharma- store manager at A|X, guided and motivated me to the best of my abilities. He helped me in clearing my doubts, gave me knowledge regarding how the store operates, told me about its opening and closing, inventory management, etc. He treated me like an employee, and asked me to do all the tasks that were assigned to sales associates. He also helped me in developing a questionnaire for the customers. He inspired me to do my internship in store operations by informing me that if I wanted to pursue my job in merchandising, then understanding working of the store is extremely crucial.
Careers360: How was your interaction with other employees during your internship period? Would you like to go back to the same place for a job?
Zoya: I had a healthy professional relationship with employees, who treated me like their subordinate rather than considering me an intern. They helped me in solving my doubts, and also told me the ways of interaction with customers. Although, I had conflicts with some employees during few tasks, but I was able to resolve them. The work environment is positive at the store, and I would definitely like to work there if I get any opportunity.
Careers360: Did you get any monthly stipend during the fashion internship period?
Zoya: No, I did not receive any monthly stipend during the internship period.
Careers360: Is it important for a student to do an internship? What values can be gained?
Zoya: Yes, it important for a student to undergo an internship. The experience and exposure one gains from such an industrial exposure is fruitful in the long run. The student would become more responsible, a better team player, problem solver, patient, analytical, and adaptable to work under pressure. Also, he/she will be able to develop link between what he/she has studied in theory, and its implementation in practical life.
Careers360: Please share a memorable incident from your internship days.
Zoya: It's an incident of mid-July where a young man came to the store with an adamant mind to return two acid wash denim jeans that he had purchased in the first week of June. According to him, the quality of denim was not worth the price, and the denims had spots after washing it once. He was very annoyed and wanted a credit note in return of the denims, thereby not willing to buy anything from the store. The sales associates tried hard to make him understand that they could return the product. The store manager handled the situation very well. He not only heard the customer's problem and recognized the defect in the denim, but also was strategically able to convince him that they could not issue a credit note for those. He made him understand as to what were the policies of the company function. Ultimately, the customer understood the situation, and instead purchased new products as well. This made me understand that how patience, experience and knowledge about the company can help in saving the company from losses.
Also Read:
Top Design Colleges in North India
Know all about Fashion Communication
National Institute of Fashion Technology, Patna Updates and Articles
Life at NIFT Patna- Get experience a new facade of campus life...
29 Nov 2017
NIFT Patna Director Interview: Prof. Sanjay Shrivastava, Direc...
05 May 2017