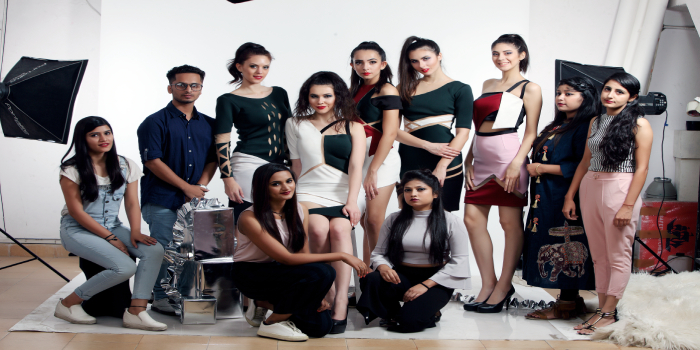 There is a lot to learn when an aspiring designer is interning at a multi-national buying house with international clients. One gets to learn the intricacies of fabric, merchandise, CAD, and lots more. Careers360 brings an exclusive Design Internship Experience series of popular design school students and their Internship experiences.
Admissions Open Now
KIITEEE 2019
KALINGA INSTITUTE OF INDUSTRIAL TECHNOLOGY ENTRANCE EXAMINATION (KIITEE- 2019) | 1 Exam | 100+ Courses | Exam Dates: 15th-24th April 2019
Apply
Parth Batra, a student of JD Institute of Fashion Technology, interned with Asmara Apparels. He shares how his internship got converted into a PPO (Pre Placement Offer), and as well as his learnings and achievements.
Compare Colleges
College Comparison based on Courses, Placement, Rank, Fee
Compare Now
Read his interview below:
Careers360: Where did you complete your fashion internship from? What was the size of the organization and duration of your training period?
Parth Batra: I interned at Asmara Apparel India Pvt. Ltd. The organization is a multi-national buying house catering to international clients like Abercrombie & Fitch and Tom Tailor. Initially, the duration of my internship was three months but after joining, it was extended to five months as I wanted to explore more and enhance my knowledge and understanding the relationship across departments of a buying office as well as the factory.
Careers360: In which semester do the students have to opt for an internship? Is an internship compulsory for everyone?
Parth Batra: Generally, students go for their internships during the semester breaks, however, it is not compulsory for all students to opt for an internship. I was fortunate to be selected to pursue an internship after the end of my last semester. It was great to be hired in the same organization just after completion of my internship.
Careers360: What were your thoughts before participating in the internship? Did you focus on any particular domain?
Parth Batra: I went for the internship with a lot of enthusiasm to explore and learn as much as I can. I was curious about everything I had to do and wanted to know more about it. Yes, I did focus on design and product development in the initial months. Later, I developed interests towards fabric, merchandising, compliance, quality, CAD and pattern making and did more of it.
Careers360: Please share the details of your project and your role in it.
Parth Batra: I was on the design team where I worked on the craft doc- 'Traditional Embroideries of India', and assisted the designers in making trend journal. I submitted a report covering my learnings from different departments in the buying office as well as the factory after the completion of the internship. It was indeed a huge learning process throughout the internship period.
Careers360: What were the key challenges you faced during your internship?
Parth Batra: Coming straight from a design school, my practical knowledge was limited. This was the biggest challenge I was facing at that time. But, with the passage of time and my dedication to learning, I acquired the technical skills to cope up with all the challenges.
Careers360: What was your key learning and achievement after completing the internship?
Parth Batra: It was a fruitful journey throughout the internship period. I visited all the factories associated with Asmara, and at each factory, I got to learn something different from the other. I received special training of 2D pattern making and 3D virtual designing for a month wherein, I learnt industrial software like TUKA tech, GERBER and Optitex. I found it really interesting and exciting.
My greatest achievement was to get hired as a CAD Engineer in the same organization after the completion of the internship.
Careers360: How supportive were your mentors during this internship?
Parth Batra: My industrial mentors from all the departments were very supportive. They ensured that I learn in the best possible way and that too in the given time span. They resolved all my problems and answered my queries. 
Careers360: How was your interaction with other employees during your internship period?
Parth Batra: I was involved in different departments of both- office and factory processes. It was one of the reasons that I could understand the working environment better. As a result, I had good interaction with all the employees, and I understood their roles and contributions as well.
Careers360: Did you get any monthly stipend during the fashion internship period? 
Parth Batra: Yes, I did.
Careers360: Is it important for a student to do an internship? What values can be gained?
Parth Batra: Yes, it is very important to undergo an internship because it connects our learning with the industry. In college, we get access to the theoretical knowledge, but during the internship, we get to experience real situation and learn practically. It allows us to put our learning into practice in order to become an expert professional.
Careers360: Can you share a memorable incident from your internship days?
Parth Batra: I got the opportunity to work on a project wherein I had to make a craft doc on 'Traditional Embroideries of India'. It was two months of intensive research work and when the first print came, I felt elated that my efforts were recognised. Today, it feels great to have that document become a part of the organization's knowledge bank.
Also Read:
JD Institute of Fashion Technology Campus Virtual Tour
"We focus on changing trends and keeping up with advancements in technology", says Rupal Dalal of JD Institute of Fashion Technology