"Always try to walk the untrodden path", suggests Reetu Betala, Apeejay Institute of Design
In a conversation with Careers360, Prof. Reetu Betala, Director, Apeejay Institute of Design (AID), talks about the popular design programmes that are trending in recent times. She also speaks about the key challenges that fashion and design education is facing today in India.
Read the complete interview where she opines about the evolution of design programmes over the past few years. She also shares AID's placement report that includes the top recruiters, highest packages, number of offers, and more.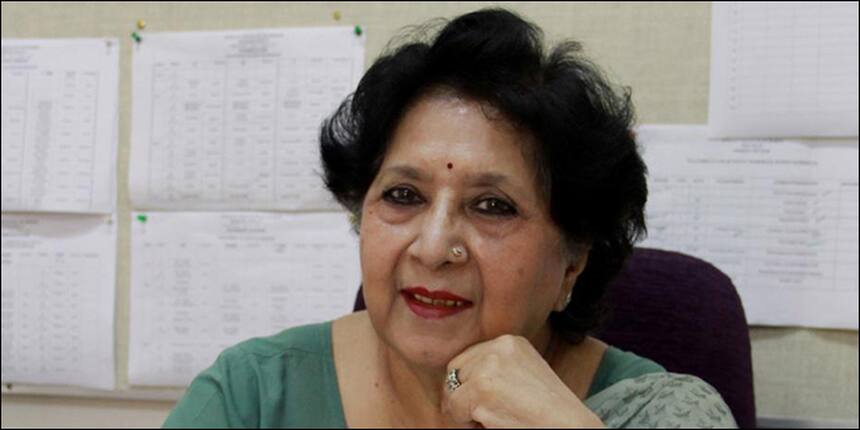 Excerpts from the interview:
Careers360: How has been the application trend at Apeejay Institute of Design? What are the most sought-after programmes?
Reetu Betala: The application trend at AID has been more or less constant. The popularity of design specializations depends on the existing developments in the fashion industry. Sometimes, Fashion Design is popular, and the other times Communication Design is in maximum demand. Hence, the latest industrial trends greatly impact the choice of programmes among students.
Careers360: Have you introduced or planning to introduce special courses?
Reetu Betala: Keeping in mind the diverse needs of the current generation, we have introduced various courses at postgraduate level for one-year as well as two-year duration along with part-time courses. This has been primarily done to assist students in securing placement after their graduation with additional skills.
Careers360: How often do you upgrade the curriculum?
Reetu Betala: We upgrade our curriculum every year keeping in mind the requirements of the ever-changing fashion industry. This is done by interaction with professionals belonging to different design disciplines. Design courses offered by us are always directly synchronized with contemporary industry trends and requirements. This is reflected in our 100% placement record.
Careers360: What is the thought process behind the foundation of AID?
Reetu Betala: AID is an institution dedicated to Art & Design and not just fashion design. Our philosophy is "Design is a thought process". It is not limited to skill orientation. We train our students keeping this in mind.
Everyone is blindly following the west in order to be profitable and is forgetting our own rich legacy. Each country, especially India, has tremendous cultural wealth that defines its own design language and identity on a global platform. We, at AID, encourage the students to pick up inspirations from our own country to remain connected to our roots and adapt to contemporary lifestyles for making it popular in the current market.
Careers360: How have the fashion and design programmes evolved over past 8-10 years?
Reetu Betala: Over the last decade, along with the h international market, the fashion industry has increased its focus on the domestic market as well. Rise in the number of international brands selling in India have opened lots of opportunities for fashion and design professionals all across the globe.
Careers360: What are the emerging opportunities and new work areas for freshers in this field?
Reetu Betala: Today, a fashion design student works not only with designers and in the export sector, but also has opportunities across varied online brands, websites, retailers, etc. Moreover, a designer with multiple skills has vast opportunities in the industry. Some of the most popular new career prospects include fashion photography, fashion communication, visual merchandising, and more.  
Careers360: What are the recent trends in terms of practical exposure and new fields in fashion education that you have observed in the past few years? How do you plan to integrate such evolving trends into your curriculum and pedagogy?
Reetu Betala: Our curriculum and pedagogy is up-to-date with the current market demands. We include modules and projects in our courses directly catering to the needs of the fashion industry focusing on technological advancement in terms of innovative fabric, printing technology, garment construction techniques, etc. 
Apart from that, every student has to undertake an industry/client oriented research-cum-design project for graduation as well.
Careers360: How has been the placement trend at Apeejay Institute of Design? Please share placement data.
Reetu Betala: The placement trend at AID has always been impressive. Besides our degree holders, students pursuing diploma courses also get picked up by leading companies such as JWT (Graphic Designer).
Details of placement can be checked in the table below:
| | |
| --- | --- |
| Number of participating students | 20-25 (UG & PG courses) |
| Number of participating companies | 15-20 |
| Number of first-time recruiters | 5-8 |
| Number of offers | 20-30 |
| Average salary | INR 3.5 lakh per annum |
| Highest salary | INR 5 lakh per annum |
| Lowest salary | INR 2 lakh per annum |
| Company making highest offer | Marks & Spencer- INR 5 lakh per month |
| Top recruiters | Big designer labels including Shantanu & Nikhil, Tarun Tahiliani, Anju Modi, Poonam Bhagat, Pernia Qureshi, etc. Top brands such as Orient Craft, Shahi Exports, BIBA, Jabong, Flipkart, Future Group, Global Desi, and more. |
Careers360: How do you prepare your students for the placement process?
Reetu Betala: Our students undergo internship training programmes at various levels for durations ranging from one to six months. This constant interaction with the industry prepares them for facing interviews more confidently for the placements.
Careers360: How important are internships for fashion students? How do you support them to get internship offers?
Reetu Betala: Internship has always been important for all design students since it provides them hands-on experience, and puts their creative skills to test. We receive internship requests from different companies all year round and forward these to our students. We encourage them to join as per their mutual suitability.
Careers360: Do you facilitate alumni interaction with students? 
Reetu Betala: We regularly invite our alumni to talk about their experiences and journey during various guest lectures and workshops. This has helped our placements as well.
Careers360: Any message to fashion aspirants?
Reetu Betala: Always try to walk the untrodden path. Define your own design language.
Also Read:
"We focus on changing trends and keeping up with advancements in technology", says Rupal Dalal of JD Institute of Fashion Technology
Know fees of top design institutes
Apeejay Institute of Design, Delhi Updates and Articles
Life at Apeejay Institute of Design - Chahat Gupta, who is pur...
03 Apr 2018
Apeejay Institute of Design- Apeejay Institute of Design (AID)...
28 Dec 2017
Questions related to Apeejay Institute of Design, Delhi
Showing 1 out of 1 Questions
9 Views
how can i get my admit card for the entrance
Heyy student
If you are taking about the competitive exams conducted by CBSE or NTA then you must have filled the exam form .
In which you would have got the I'd and password , this would help you to get the admit card through their website on whichever date they will release the result .
Hope this helps