Distinguishing Designing and Design Thinking
From creating products and services to business models and brand strategies – today creativity is breaking boundaries and design intervention is growing across different fields. Ideas of design as a pursuit of aesthetics are being challenged and design thinking is the new buzzword.
While there are various definitions, design thinking is essentially an approach to problem-solving inspired by the creative strategies used in design. It is the way design thinking is used to solve a particular problem which makes it different from the rest. In a world dominated by design, 'thinking' like a designer offers attractive professional opportunities.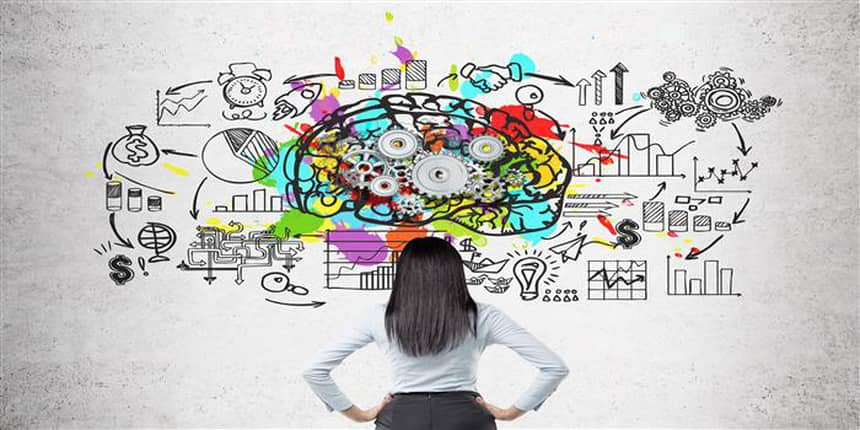 Various strategies in place
Uday Athavankar, Adjunct Professor at the Industrial Design Centre, IIT Bombay, elucidates, "Designers use various strategies when they think about a design, for example empathy. They are being mindful about the end-user of a design and that person's needs, or prototyping, where they come up with different solutions and then chose the best design through iterations. Design thinking attempts to apply these strategies to things which are not conventionally handled by designers and this, is what separates the two profiles."
"For example, if a school wants to make teaching more exciting, designers may be involved in designing a classroom that appeals to the students and teachers or textbooks that are interesting for them to study from. On the other hand, design thinkers would be involved in researching on why teaching may not have been that exciting at the school and develop fresh ideas to address the situation, they will try to look at the source of the problem" he added.
A brief history
Traditionally, the use of design was largely restricted to artistic pursuits. However, in the 1960s, scientific methodology and processes were applied to understand how design functions and design theorist Horst Rittel wrote extensively on how design methodologies could be applied to solving extremely complex, or what he called 'wicked' problems. 
In 1969, computer scientist and Nobel Laureate Herbert Simon wrote about design as a 'way of thinking' in science. Many of his ideas came to be regarded at tenets of design thinking at the time. 
Rapid growth in the '90s
Although such ideas around design thinking have been around since the 1960s and 70s, it was only in the 1990s that the field truly came into its own. IDEO, the much celebrated innovation and design firm, was formed in 1991. It is widely accepted as an organisation that brought design thinking to the mainstream. In 2005, design thinking began to be taught at the Stanford School of Design, today known as the Hasso Plattner Institute of Design. It has made the development, teaching and implementation of design thinking one of its central goals.
Athavankar says that the development of the technology sector, especially software, gave a huge impetus to design thinking. "The industry had to deal with an ever-growing customer base, many of whom were people from non-computer backgrounds. It needed to ensure that its offerings could be used by everyone. Software engineers who handled such projects were competent in their work, but often did not have the creative designerly approach. As focus shifted to users, design thinking, with its human-centric perspective, became an important skill. Today, it is common for tech companies to constantly modify and upgrade their offerings based on user feedback and analysis of the needs of their users."
Design Thinking in India
Design thinking is a relatively nascent term in India. However, experts find that it has been gathering momentum over the last few years.
Bhaskar Bhatt, Programme Director at ISDI Parsons in Mumbai, feels that the growing number of successful technology start-ups in India over the past six-seven years have led to rising interest in this field. "A lot of these are service-based start-ups that use strategic design thinking in creating, diversifying and upgrading their offerings to end-consumers."
UX and UI the new hotbed
"The market for User Experience (UX) and User Interface (UI) has exploded as companies are increasingly interested in making sense of human interaction with their offerings – whether it is a product or a service. The scope has expanded beyond digital screens as organisations ranging from banks to supermarkets try to innovate to tune themselves to customer needs and expectations," adds Bhatt. 
What to study
Design thinking is a skill that can be applied across industries. While it tends to be inbuilt in typical design courses, such as product or industrial design, courses dedicated to design thinking are usually short-term and many of them are offered online. For example, the Stanford Design School offers a virtual crash course on design thinking.
Manoj Kothari, Co-Founder of Turian Labs, a Design Thinking & Business Innovation consulting company, advises, "It is important to distinguish designing from design thinking. A good designer is also a good design thinker, but a good design thinker may not necessarily be a good designer because designing is essentially the 'skill of doing' while design thinking is the 'skill of thinking and managing the process'. Students interested in pursuing design thinking professionally can take up courses in strategic design that don't necessarily require a design background."
Amalgamation of Methodologies
Strategic design is essentially an application area of design. Bhatt says that such courses typically teach students various design methodologies as well as management and marketing concepts and how these can be harmoniously used by organisations, especially in industries that thrive on creative innovation. Strategic design gives students a holistic view of the problem, which helps them solve the problem.
Course offered at postgraduate level
Most courses in strategic design are offered at the postgraduate level and admission is usually based on an entrance exam and/or a personal interview to gauge a student's interest and aptitude for the field. 
Having said that, there is a growing debate whether it is more lucrative for designers to pursue specialisation in strategic design or for non-designers. Athavankar is of the opinion that designers, being the essential integrators in the design process, have wider scope to benefit from strategic design. 
Higher education important
Bhatt concedes that typically designers with an undergraduate degree in design hit a plateau after a few years on the job, at which time, higher education in strategic design helps them to fortify their career trajectory and move up the ranks. Nevertheless, he finds that non-designers, from backgrounds as diverse as engineering, economics and finance, who have opted for postgraduate education in strategic design have also been very gainfully employed.
Career avenues
As awareness around design thinking increases in India, avenues for strategic design are growing across fields. Some of the top recruiters are in Information Technology such as Infosys and Wipro. However, Textiles, Automobiles, Real Estate, Construction, Fashion Design and Environmental Design are also emerging recruitment areas. Various consulting firms such as KPMG and Accenture also require people equipped with this skill.There are also several independent design firms, such as Turian Labs, TinkerLabs and Quicksand that work on projects involving innovation and design thinking, with different organisations ranging from businesses to non-profits.
Design led innovation
Governments in countries like Denmark and the UK are also implementing design-led innovation in the public sector and experts realise huge potential for the same in India.
Roles in this area range from Product Management, Innovation Management, Brand Management to Design Research. Many companies also have Chief Design Officers. Starting salaries for many of these jobs, especially those involving User Experience, are extremely competitive as there are more jobs than people skilled enough to handle them well.  
Top places to Study

Domus Academy, Milan: MA in Innovation Design Management; Visual & Experience Design
National Institute of Design, Ahmedabad: PG Diploma in Strategic Design Management
ISDI Parsons, Strategic Design & Management (UG): Design + Innovation (PG)
Illinois Institute of Technology, Chicago: Master of Design + MBA (dual degree); Master of Design Methods
Stanford University: Master's in Design Impact Engineering