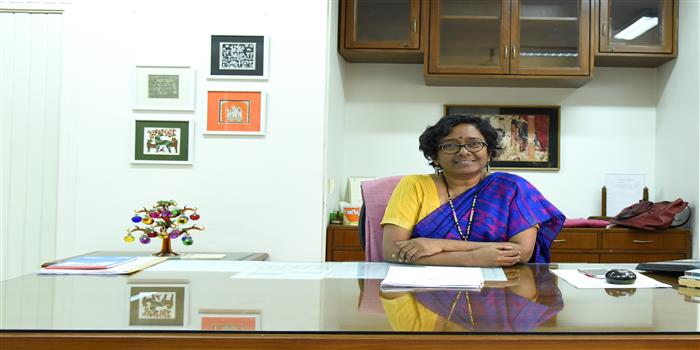 Sarada Muraleedharan, IAS, Director General, National Institute of Fashion Technology (NIFT), has worked in various capacities for the Government of India. She is interested in women's empowerment, poverty reduction and social justice. Now, she has directed her efforts towards education. The IAS officer was appointed Director General of NIFT in 2016. Sarada Muraleedharan discusses the fascinating role of India's premier fashion design institute in India's fashion industry with Triti Zalka…
Q. NIFT has a legacy as the pinnacle of fashion education in India. What has made this possible?
A. We are the pioneering institution in fashion education. NIFT started fashion education when it was not a subject, it was not understood, it was a time when the industry did not even realise it needed professionals. It was uncharted territory, and NIFT was ahead of the curve. NIFT is also, by virtue of the support from the government, a very unique model of a university. 
It is a statutory institute created by an Act of Parliament. There is no university that compares to NIFT. Its territory exists across the entire country with 16 centres in major states, with demand for more. 
Q. There is a tremendous need for designers today. Does NIFT have plans for further expansion? 
A. The scope of design in the country is much bigger than what NIFT is providing today. We are open to expansion with time, in a phased manner, so the quality and brand of NIFT continues to stay high. 
Q. What are the challenges of design education today? How would you surmount them?
A. We are living in a world where change is happening faster than ever before. For any institution, it is important to be contemporary, relevant. There are two challenges. One is to keep pace, and the other is to understand the millennial generation and redefine the framework of pedagogy so that it is in tune with the times. Which is why NIFT is in the throes of major curricular reform, looking at emerging areas ranging from Artificial Intelligence to UI/UX to sustainability, slow fashion and technovation. 
Q. How are the new NIFTs performing? Are they upto the mark? Do they attract good talent?
A. The newer NIFTs have an advantage that is sometimes not understood—they have started afresh. The infrastructure is new and much more contemporary. They have started with a new design environment. There is both the energy and novelty of being new. They are doing fabulously well, in terms of the kind of talent they have been able to attract and the kind of products they come out with.
Q. How can NIFT empower the traditional Indian textile and craft industry? 
A. The way in which NIFT interfaces with crafts and traditional textiles has primarily been through the 'Craft Cluster Initiative'. This has been institutionalised in our curriculum. We identified craft clusters across the country with which the NIFT centres will have a long-standing relationship. A young student who comes into the programme gets to see artisans and understand their language. After that, we move into more detailed engagement of processes. The experience that students get in the campus is complemented and drastically transformed by their engagement with the craft clusters on the ground. They interact with artisans, learn to respect the craftspersons and bring a bit of those traditional knowledge and skills into what they do. Then, they look at co-designing and working with products that have a very strong craft orientation. Students also come up with craft-based projects, in which there is co-design, market solutions, branding solutions. They understand how to position crafts in the modern world. 
Q. Is it about giving back to the society? Do you have any plans to share your expertise?
A. It's also about giving back to these people who have shared their knowledge. We have workshops for artisans at NIFT. They bring designers and academics to work with craftspersons and help them further their craft. As an institution, NIFT also works with state central government institutions like Khadi, Silk Board, etc. for design development support.
There is the 'Ustaad' project for minority craftspersons. There are two-week workshops where master craftspersons are brought in along with designers and entrepreneurs who help them address issues, look at trend patterns and behaviours, and come out with design collections that can be picked up and marketed.
We are putting up a digital craft repository. There is a lot of knowledge at NIFT, and it's high time we share that knowledge with the world. This repository will allow people to reach out to designers and craftspersons. 
Q. What is being done to bring Indian designers and crafts to the global mainstream of fashion? 
A. We deliberately decided to look at positioning and claiming the space of crafts in the global arena. We are holding an international conference for getting global attention, titled 'Rediscovering Culture, Transforming Fashion'. We have partnered with Cumulus, which is a big entity in the design research space. We get together our partner institutions and organisations across the world.
We are also looking at customised craft tours as part of student and faculty exchanges. Institutions and scholars are fascinated by the idea of getting to see the oldest living traditions in India that are still part of livelihoods.