Grooming greenhorns into smart designers
Are you a prospective B. Des. aspirant? If yes, then we will take you through the journey of a 4-year B.Des. programme at IIITDM Jabalpur…
Talking about a B.Des. student's journey is very interesting. When the students come for the Bachelors in the first semester, we give them an overview of fundamental aspects of design. We also have something called design drawing. A designer needs to develop a lot of skills. So we expose our students to design drawing.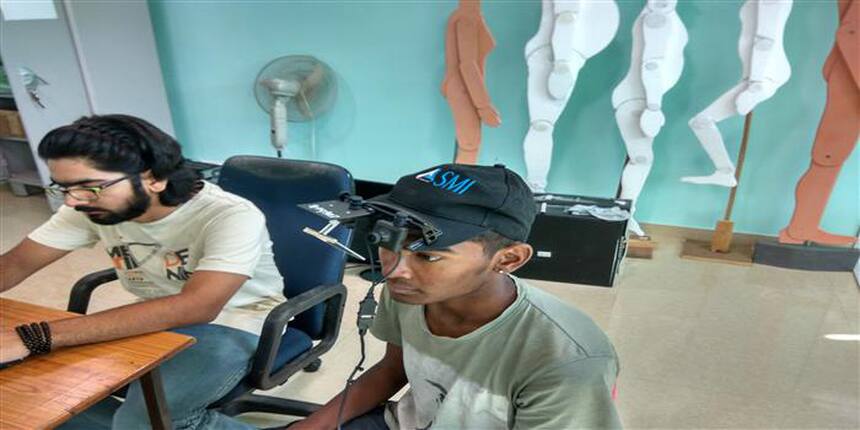 Science of design
Next, we have something called science in design. In this we teach our students how technology works and basic principles of design. The reason being that students come from arts background as well, so we teach them a few scientific concepts that are essential to design. 
Then we expose our students to something called fundamentals of computing so that they are able to code a little bit. We equip our students with the fundamentals of both design and engineering. We then have communication and history of communication. This is when the students have just entered the college. As the course progresses, we increase the intensity of the courses. 
We introduce the courses such as engineering graphics. Then again we have a different level of design fundamentals, which is one level deeper. This is where we introduce the students to ergonomics in design. We also have a course in the representation of ideas, which is essential to the curriculum, as a designer needs to know how to present an idea in the form of a design. In this course, the students are taught how to represent the ideas. It is a skill-based course. We also teach our students certain software that are required for designing. By this time we come to the end of first semester.
Ergonomics essentially looks at any product, at any technology, at any space from a completely human perspective so as to enhance productivity, and ensure that the design of any product fits man because essentially whatever we design in this world is meant for utility for the human beings.
Design Project I 
In semester II, students take up a complete design project, which we call Design Project I. In this, we ask them to pick up a problem around them and try to find a solution to that. In that, we like to see how they integrate all that they have learnt in semester one and two. This is the purpose of Design Project I.
Design Art and Aesthetics 
In semester III, we start with Design Art and Aesthetics. This is where we expose the students to another facet of design from an artistic perspective and from the look and feel perspective. Here they get to know how colour plays a role, how form plays a role among other things. Along with this we also have a course, which is called Studies in Form. Form plays an important role in design. You like certain forms and you do not like certain forms; so what makes people choose a particular form or how do you play with the form? This is what we teach in Studies in Form.
We have a matrix in front of us and if a person is from an arts background, he needs more time on science. The design is not a classroom lecture, it is very one-to-one kind of interaction.
Design Thinking 
We also have design thinking. A designer has a different way of thinking. His or her thinking is more holistic than others, it is much more macro. The key element, which we tell our students, is that they need to zoom in and zoom out. As designers, they need to see a bigger picture as well as the smaller elements that make the bigger picture. This element they need to inculcate.
Two pillars of Design
The students are also exposed to two main pillars of design, i.e., Industrial Design and Communication Design. These two courses are compulsory so that the students get to know their area of interest. This semester culminates with design project 2. Here students go in for a project on hand tool for the artisans. Here the students are required to develop a particular hand tool based on a particular profession. Again the idea is to see how the learnings are culminating into the project.
Design research 
When we move into semester IV, it includes design research (and user study). We teach them to do a user study, how to talk to the users, frame questions, how to do observation study, how to measure physiological parameters and how you translate all this to come out with a better design or how do you prove them that this design is better than others. The students are exposed to design research for the first time.
Packaging design and branding
The next course is packaging design and branding. Design has to be packaged well. We then teach them about the manufacturing part of it. A person can come up with an exceptional design, but if the manufacturing feasibility is not there, then no one will accept that design. We call this materials and processes in design.
Then we have the second level industrial and communication design. This is compulsory for all. In this, we go a little deep. This semester also culminates with Design Project 3 and this is essentially complex. Now we come to semester V in which we expose the students to engineering design. We teach our students how engineers handle design. We make them understand how to fabricate as well, all from an engineering perspective.
Service and sustainable design
Next comes the service design. Service plays an important role in our lives. If you go to a hotel and if you like the service, you go back again so and so forth. Next, we have Sustainable Design. Whatever we design it has to be sustainable, eco-friendly and other such aspects. It is also the first time that the students are exposed to electives. One is Applied Ergonomics and the other is Visual Ergonomics. This again ends with Design Project IV, the last project, the culmination of all that the students have learned till date. Here we tell them to come up with an input and an output.
Interface, Design Management
In semester VI, we start with interface design along with design forecasting and trained research, so that the designers keep up with the latest practices. Along with this we also teach them Design Management. 
We then give them the choice of opting out of the two pillars, because by this time they have made up their mind of which direction they will go. Along with this, we give them a course from engineering perspective, which is a computer-aided process and planning. This semester culminates with environmental science. The products they design should not harm the environment.
In semester VII, they have to present a design thesis in the form of a seminar. They have the option of two things; one is that they can take design thesis in this semester. They can continue the thesis in the eighth semester. Students can also opt for electives. There are four electives in industrial design and four electives in communication design. 
Total programme credit is 167 and total programme contact hours are 166. This is what four years look like at our institute for a B.Des. student. The author is an Associate Professor and the Head of Design of IIITDM, Jabalpur.