How to Become Fashion Designer - 'Passion, dedication, creativity can rock the industry' says Pritranjan
How to become a fashion designer by Pritranjan Satapathy - No introduction is required for a fashion designer. Fashion designers never cease mesmerizing us with their talented artwork. Fashion designers make aesthetic clothes and research on consumer behaviour and market trends as well and later design a collection that will be purchased by the customer. Fashion designer involved in sketching the design, creating the pattern, selecting fabric, sewing and fitting the garment to the individuals. Fashion designing is the art that applied design to the clothing and accessories to make it graceful and esthetic. Fashion is not all about styled clothing or a glitzy and glamorous world. Fashion is about creating one's individuality and making a distinctive style statement.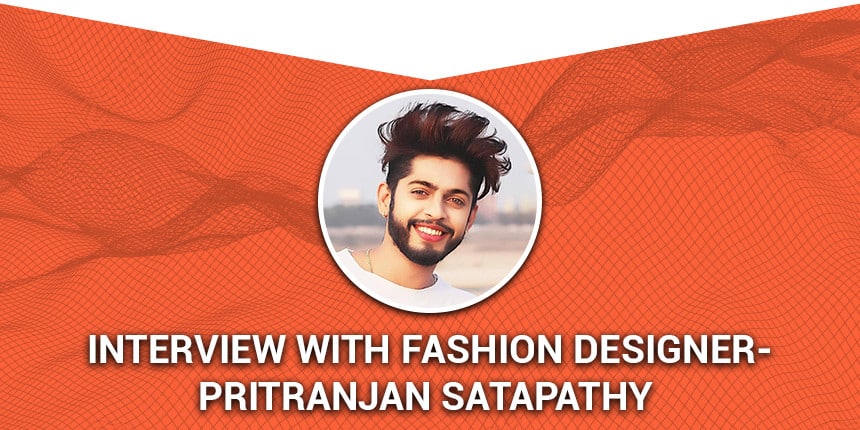 Fashion has been with us since time immemorial, and its attitude varies from time to place. Fashion gets its influence from the cultural and social attitude of the people. To become a successful designer, the art of fashioning clothes requires many crucial skills. Read the complete interview of a promising designer who is also a famous fashion model Pritranjan Satapathy also known as Prit where he tells how to become a fashion designer and what are the challenges that faced in the industry. Prit is a professional Fashion Model, Blogger, Fashion Influencer and Designer.
Careers360 - Tell us something about yourself?
Pritranjan Satapathy - Hi I am Prit and I belong to Delhi. I love dancing, photography, painting, travelling and acting. Of course, writing quotes and stories are my passion.
Careers360 - When and how did you start your career as a fashion designer and what inspired you to be a fashion designer?
Pritranjan Satapathy - I started my career as a fashion designing in the year 2016. Earlier I was an ex-engineer but modelling and fashion designing has always been my passion since childhood. So, I thought of joining fashion designing for my own interest as I was very fond of fashion and styling and always wanted to be a designer or into airlines.
Careers360 - Why did you choose fashion designing as a career and what is the best part of being a designer?
Pritranjan Satapathy - I choose fashion as a career because I was always interested for it since childhood, and the best part of being a designer is that you are well aware of the fashion trend and the future upcoming trend.
Careers360 - What is your perception about past and present fashion trends?
Pritranjan Satapathy- The perception is clear as water. The fashion trend repeats with the time. Old is gold and so the old fashion keeps repeating.
Careers360 - How would you benchmark Indian Fashion industry globally?
Pritranjan Satapathy- Indian patters are nowadays excepted globally, all the Indian design and traditional ethics of the textile industry of India are famous and known worldwide. The Indian traditional fabric can't be replaced and thus it will always leave a benchmark on the industry Globally.
Careers360 - Apart from fashion, do you have any other passion?
Pritranjan Satapathy- Yes, I do have much more passion apart from fashion designing. I love modelling, photography and acting as well.
Careers360 - Being a fashion model what are the challenges you face? You have moulded your career into a fashion designer so do you face any difficulty in it?
Pritranjan Satapathy - Being a fashion model I faced many challenges like time punctuality, set problems and sometimes need to compromise in Industry. I faced challenges like work getting issues, look change issue and all. Career from Fashion model to designer is different but it is somehow interlinking to each other so I don't have any issues while changing my career.
Careers360 - The fashion industry is one of the most competitive sectors. So what should one do to be an extraordinary designer?
Pritranjan Satapathy - Yes, the fashion industry is a competitive sector. To be an extraordinary designer one have to be something very different from the crowd. New designs and new technique are the most important weapons.
Careers360 - You have won lots of titles like Mr Cuttack 18, Mr Odisha Runnerup, Mr Photogenic 18. Who supports you the most and do you face any struggle in your journey?
Pritranjan Satapathy - The support which I got is basically from my family members and friends. Struggle is always there in peoples life and without struggle, you cannot be successful in life. What matters is how you deal with it.
Careers360 - What is the quality that must be possessed to be a fashion model?
Pritranjan Satapathy - Male fashion model need to have a minimum height of 5'8" with good lean face structures and shape. But for female one need to have a minimum height of 5'5" with good feature.
Careers360 - You was an RJ in 93.5 Red FM but RJ and fashion designer or model are a completely different profession. How did you manage it?
Pritranjan Satapathy - I was a child RJ in the year 2007 but modelling is always my passion and fashion as a career. So when you have your passion and career together you can do whatever you want to.
Careers360 - What did you want to say to the young aspirants who want to become a fashion designer?
Pritranjan Satapathy - Just I want to say to all the aspirants who are planning to get into fashion line is that if you have a passion and dedication towards something with a bit of creativity you can rock the industry in a very significant way which is most important in leading a fashion industry.
Also Read -