How To Become A Graphic Designer
How to Become A Graphic Designer - Are you interested in sketching and technical work such as photoshop? Or do you have an interest in both designing and technology? If yes, then you can opt graphic designers as a career. In today's world every industry and profession needs a graphic designer. Starting from a small shop to a big industry, people required a graphic designer to make a banner, logo, vector image, advertisements etc. It has a huge place in print, electronic and digital media as well. Graphic designer is such a flexible and cool profession where you can work as a freelancer during your college years and earn your pocket money. Doesn't it sound splendid? Imagine you are in college and you have both technical and designing skills. And you want to invest your ability in making something creative but you are confused from where to start. Well you don't need to worry, there are lots of industries who will pay you for your contemporary design. So don't waste your time, change your skill into talent, start working and develop newfangled designs which can fascinate people.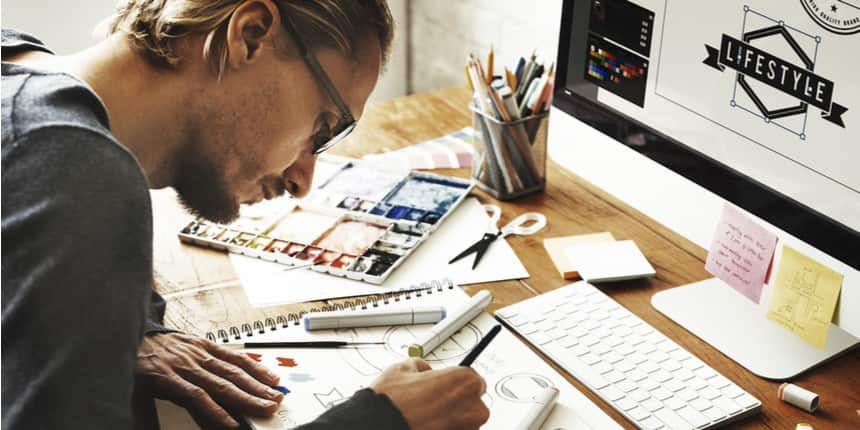 Well are you baffled in thinking how to become a graphic designer? Are you stressed thinking what skills you need to have to become a graphic designer? Relax Careers360 will help you in all the possible ways. Few of the basic skills required in becoming a graphic designer are listed in the following.
You need to have a drawing skill
Do you love sketching or drawing? Graphic design is a field where you can combine your creativity with computer knowledge. If you have both drawing and computer skills, then it is a beautiful gift from god. Don't waste this wonderful gift in vain. Practice everyday and enhance your sketching skills. You need to have a basic skill of drawing to express your point of view in concise. If you are weak in sketching then it's high time to start practicing to boost your drawing skill. You need to illustrate your idea on the paper, explicit your concept. If you work in industries like advertisement, news channel, production house etc, then you are required to show your sketch to other professions in the firm.
Do you have a flair for writing?
If you want to become a graphic designer, then you need to be good at writing. Because while making a design you need to write a title, subtitle, description, header. There must be no grammatical error, the message you want to give must be concise and consistent. In your design and writing, you need to have a wrong voice which can promote your idea and communicate with the audience. If you are working for others firms in making their logo then both your logo design and tagline need to be attractive. Because it has a voice that can reach the target audience. To stimulate your writing skill you can start writing short stories, essays, visual diary, description and many more. While writing you must be careful about grammar. Your writing should be grammatically correct.
Learn the Software which are required in graphic designing
To be a prominent graphic designer you need to be a master in some of the software and its tools. You are required to have the knowledge of all the necessary software and know how to use their tools. Few of the software where you need to learn are as follows.
Adobe Photoshop is one of the most famous software where it is used to edit photos professionally. If you want to edit or manipulate the image then you can adjust your photo in adobe photoshop. Any kind of editing in the image such as merging of two objects, adding background, playing with light and colour etc can be done in photoshop. Yes indeed as a graphic designer you need to be a master in adobe photoshop. To be a prominent graphic designer you must know how to use the tools which are in adobe photoshop. From moving tool to healing tool, dodge tool, burning tool, lasso tool, selection tool, lightroom etc you need to know where to use to edit your image on a professional level. Using the tools professionally in an efficient way can impress your client while showing your work.
Like I mentioned earlier, making logos is also done by a graphic designer. For example, if you are creating a logo, card or vector image illustration, then certainly you can use adobe illustrator to complete your design. You need to learn an illustrator to make a vector illustration as it doesn't lose its clarity when its size is expanded. But when you make a vector image in photoshop the clarity will be lost when you expand the size of an image. For example you may see the same banner of different sizes but the clarity of the image is of the same. Here the graphic designer used adobe illustrator to make their design.
Adobe Xd is a software which is used to make a prototype of a website. If you want to work for a website, game or apps then being a graphic designer you need to know Adobe Xd. It will also help you in developing voice interfaces. So while making a website prototype sometime you need to make an illustrator in your design. For this you need to know how to use illustrator. In short what i want to say is that these first three software are interlinking. So you need be expertise in this three adobe software - photoshop, illustrator, Xd
After you are a master in the above three software - photoshop, illustrator, Xd, you must learn adobe Indesign. You can use Indesign in making brochures, magazines, posters, books etc. You can use it in creating the layout, organizing the text, format of brochures or magazines etc.
Have a degree in Graphic Design
You may become a famous graphic designer without a degree. But there are some skills which are difficult to learn yourself. At this point of time, you need to train from a reputed institute. Pursuing a degree in design will be impressive to your client as it shows that you devote your time and efforts in all possible ways to become a professional graphic designer.
Also Read: How to become Fashion Designer
Do Internship in Graphic Designing
Whenever you have summer break or winter vacation, don't just sit around at home without doing nothing. This is the best time where you can actually work in an industry and learn professionally. Apply for an internship in any industry and corporate world in your leisure time. While doing an internship you will grow personally and professionally. You will get the chance to learn and explore new things. Moreover you will experience how things work in industry.
Make Your Profile
If you are interested in designing, then creating a portfolio is a mandatory for each designer. As this the way where you can express your concept, design to the target audience. So start preparing an impressive portfolio, come up with innovative, fascinating designs. Your portfolio has a strong voice which can describe you and your art in front of the client.
So if you are thinking how to become a graphic designer then these are few of the tips and skills you need to have. To develop your design skill you need lots of brainstorming. It will only help you in developing a new innovative design.