Keep design journal, work as an intern and value individuality, says Dr. Vijaya Deshmukh, Director, NIFT Jodhpur
In a conversation with Careers360, Dr. Vijaya Deshmukh, Director, NIFT Jodhpur shares her insights about new programmes that have been introduced in the past few years. She also talks about how these innovative courses are making students ready to face the challenges of the highly competitive and dynamic fashion world.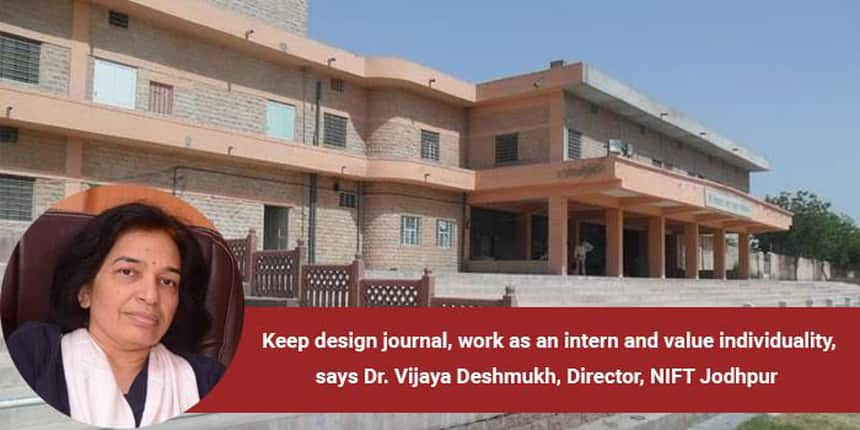 Read below the interview wherein Dr. Vijaya Deshmukh speaks about key challenges that fashion and design industry is facing today. According to her, it has become difficult for designers to make a mark in the market as styles and trends can be replicated very easily.
Excerpts from the interview:
Careers360: How has been the application trend at NIFTs over the past few years?
Dr. Deshmukh: The number of applications received by NIFT has been increasing drastically every year.
Careers360: Have you introduced or planning to introduce special course(s) at NIFT Jodhpur? Please also name some of the other new programmes that have been introduced in the past few years.
Dr. Deshmukh: NIFT Jodhpur launched four new design courses from July 2016 onwards, namely, Fashion Communication, Textile Design, Accessory Design and Fashion Design.
Careers360: Please share significance and relevance of the offered programmes in today's time.
Dr. Deshmukh: The students are getting ample opportunities from the newly introduced areas and are focusing on artisans' development with fusion of international design and traditional craft. The government and industry are aiming at entrepreneurship, development of traditional craft, green manufacturing, along with IT enabled communication and design intervention with traditional trends.
Careers360: Are you planning to bring any change in the flagship programme curriculum for the upcoming academic years?
Dr. Deshmukh: The curriculum at NIFT is revised centrally after every three years.
Careers360: What are the key challenges that fashion & design education face today? How do you tackle them?
Dr. Deshmukh: There were about handful of design institutes in 2010. This number grew to over 70 in 2016 (as per the report of India- UK Tech Summit, 2016). Where most of the institutes fail to impart quality level fashion education in India, NIFT stands out in crowd as it is one of the oldest institutes for offering fashion and design education. It has produced a number of internationally renowned fashion designers.
Besides fashion design, it offers various other courses also which are inline with fashion education such as Accessory Design, Fashion Communication, Textile Design, Design Space, Fashion Technology and Fashion Management.
Like any other design field, uniqueness is the major concern. Where everything is just a click away, it becomes difficult to encourage students to remain focused and value individuality. If everyone can access the similar information as anyone else, and styles and trends can be replicated in an instance, then it will become very tough for designers to make a mark. Thus, at NIFT, we promote and value singularity, and have structured curriculum so as to maintain parity across all NIFT campuses. Along with this, at regular intervals we conduct industry–student interaction to make them understand market requirement and update them with the latest developments in this field.
Careers360: How fashion and design programmes have evolved over last 8-10 years?
Dr. Deshmukh: Design in India has matured over last few years, and is continuing to progress at a fast pace. By 2020, the potential market for design in India is expected to be INR 188.32 billion (GBP 1.43 billion). Only one-fifth of the design market is currently tapped (as per the report of India- UK Tech summit, 2016).
From last two decades, fashion has made a major shift from just being a thing of amusement and ridicule to serious appreciation and requirement. This shift is remarkable due to presence of international publications and wide public acceptance. Earlier, design courses were limited to just costume and fashion designing for movies and fashion shows, but now it's much more than that. Various NIFTians are holding key positions at influential Indian and international brands. They are working as entrepreneurs, designers, bloggers, stylists, etc.
Careers360: What are the emerging opportunities/new work areas for freshers in this field?
Dr. Deshmukh: Starting from retail job roles to entrepreneurship, there are ample career opportunities for fashion designers, which they can opt for as per their interest. The profile may range from independent fashion designers, costume designers, etc. to management roles such as planning managers, merchandisers, product managers, research & development managers, and more.               
Apart from that, designers can also work as fashion editors, fashion photographers, fashion stylists, product stylists, graphic designers, art designers, personal stylists, etc. These days, some of the emerging careers include fashion bloggers, content writers for magazines, fashion and textile curators, etc.
Careers360: What are the recent trends in fashion education that you have observed in the past few years?
Dr. Deshmukh: In present scenario, the world is moving towards incorporating 360 degrees sustainability starting from production to processing as well as disposal. Along with this sustainable fashion, need has been felt to preserve and promote Indian heritage and craft, which is on the verge of extinction due to technological advancements and modernisation.
The overarching goal of the fashion design programme is to offer education that not only responds to the constantly evolving dynamics of the industry but also proactively anticipate possibilities of new career pathways while encouraging entrepreneurial endeavors. It is geared towards honing of creative and critical thinking with associated skill competencies. The commitment to the crafts and handloom sector in tandem with national agenda blended with technology that envisions the future, gives the programme its well-entrenched identity.
Careers360: How do you plan to integrate such evolving trends into your curriculum and pedagogy?
Dr. Deshmukh: At NIFT, we continuously work towards imparting knowledge related to sustainability and encouraging students to use sustainable processes as a part of their assignment. Along with this, we are tirelessly working towards preservation and promotion of Indian crafts, and have incorporated cluster study as a part of our curriculum. We are even working on various government & non government projects on design interventions and promotion of Indian crafts to masses. These are just few aspects that we cater at NIFT, along with which we keep abreast ourselves with the recent technological advancements in the field of fashion such as 3D printing and garment manufacturing, seamless production technologies, wearable technology, etc., and incorporate them as a part of our classroom projects.
Careers360: How has been the placement trend at NIFT Jodhpur? Please share below data on placements.
Dr. Deshmukh: You can check below major highlights of placements at NIFT Jodhpur-
| | |
| --- | --- |
| Number of participating students | 43 (from NIFT Jodhpur only in 2016) |
| Number of participating companies | Above 200 |
| Number of first time recruiters | Around 35 |
| Number of offers | 68 |
| Average salary | 3.8 lakh/annum |
| Highest Salary | 8 lakh /annum |
| Lowest salary | 2.80 lakh/annum |
| Company making highest offer | Must Garments |
| Top recruiting companies | Lifestyle, Reliance Brands, Pantaloon, Blackberrys, Mast Garments, Shahi Export, Laguna, Raymond, and many more |
Careers360: How do you prepare your students for the placement process? What are the key areas where you guide them for interviews?
Dr. Deshmukh: A regional industry cell at the centre helps students in placement by organising workshop on personality development. The key areas of the workshop are interview technique, resume writing, body language and group discussion techniques.
Careers360: How important are internships for fashion students? How do you support them to get internship offers?
Dr. Deshmukh: The second and third year students went for summer internship in leading fashion houses. During internships, students apply the classroom theory concepts in real work environment. The internship leads to their holistic development in terms of communication development, understanding work culture and the latest design trends & development going on in the industry.
Careers360: Do you facilitate alumni interaction with students of the current batch? Do they contribute in terms of placement or curriculum update?
Dr. Deshmukh: Alumni are integral part in the development of the institute. Every year, alumni meets are organised during which the alumni interact with the students and discuss on current trends in industry, new career avenues, and much more.
Careers360: Any message to fashion aspirants?
Dr. Deshmukh: Fashion and design is not just a glamorised profession; it is a much serious business these days. It's important to equip yourself as best as you can with information and resources. It is important to keep design journal, work as an intern and gain experience, and at last value individuality.
Get real-time alerts on exam & colleges at your fingertips with Careers360 App!
Click Here to Install or Give a missed call on 08080944727 to get app link.
Also Read:
Top Indian Fashion Designers - How they emerged as global celebs?
Top Institutes for Fashion & Design Programmes
Fashion aspirants should have zeal for sustaining to odds, says Col Subroto Biswas, Director, NIFT Kolkata and Shillong
Stay tuned to design.careers360.com for more news and special interviews with fashion and design institutes directors.