Know all about Career in Design with Nandita Abraham
Know all about Career in Design with Nandita Abraham- A live session was held with Nandita Abraham, President of Pearl Academy by Maheshwar Peri, Founder and Chairman of Careers360. The live session was conducted for discussion in regard to a career in the design domain and its opportunities. Nandita Abraham is associated with Pearl Academy for the last twenty years. The objective of the session was to assist the design aspirants by giving effective advice from the expertise in terms of understanding more on the careers opportunities in this field and what students should do to pursue their dream ambition. Well, design is all about creative and emerging new innovative ideas that can be useful for the people. Design does not stick in a single track, being a designer one needs to go off the beaten path and think unconventionally. To understand more about the career opportunities in design, go through the complete article and know what the Nandita says.
Read here: Scope of Footwear Designing In India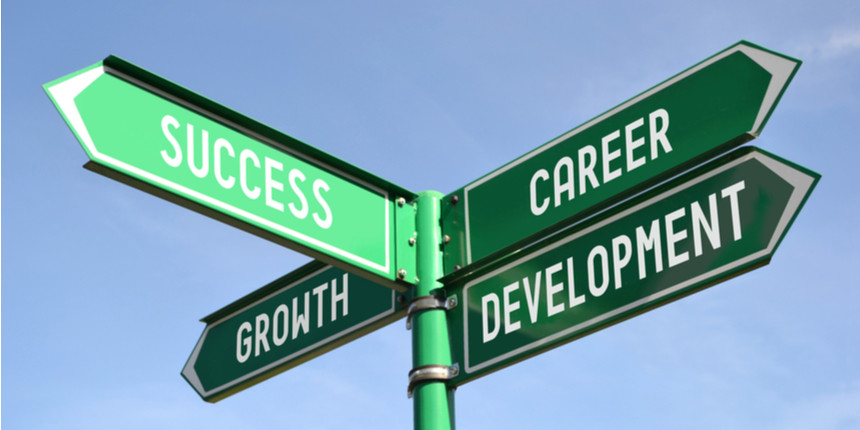 In the session, Nandita answered the most curious questions asked by the aspirants regarding design. Students from any background can pursue a design course if they are creative, curious and like new things. 'Design is meant for someone who likes to do different things' said Nandita Abraham. There is a concept that to be design aspirants one needs to have good sketching skills. However, Nandita during the live session said to learn design aspirants are not required to be a great artist or good sketcher, but must be creative, curious and must observe things. Further, Nandita said design is not an easy thing, it is a fully-fledged profession and to be a good designer one needs to completely emerge themselves in design education.
Importance of Design Education
Nandita explains why learning design education is necessary for the aspirants. Of course, skills is one of the most important parts for the designer and it can be developed in doing projects or attending the workshop. However, at the same time understanding the theory is also mandatory for the design students. Learning theory will help in understanding the context and applying those in different projects in future. As technology has gone far beyond, there are different design software skills which need to be learned. Nandita further added, there are two kinds of applications for design students. The first one is the application in the classroom or in the lab where students are trying and experimenting. The second one is the application in the industries where students must participate in industries projects, go for internships and meet people from the industries. The outcome of the learning process is not meant for the exam but the assessment is in making a presentation, creating products, creating a business plan and developing ideas.
Read More: Difference between Fashion Designing and Fashion Communication?
What is Industry Integration in a Design institute?
'Industry integration is a very important pillar in design college' said Nandita. In a design institute, industries are integrated in the curriculum development process and sometimes as faculties in the classroom. Through industrial integration, students can have a live industry project where they can work and expose themselves to the design industries. During the live session, Nandita said that global contacts are also important for the designers. Designing is about getting off the beaten track. Moreover, the opportunities for a designer are not confined around one nation. One can work on different projects with various people from around the world or can be an international designer. So aspirants must also look for the opportunities to visit industries in another country or can also do international projects and go for internships in other parts of the world.
Advantage of freelancer or being an entrepreneur
After completing your fashion degree, you can also work as a freelancer or can be an entrepreneur. Nandita said working as a freelancer or being an entrepreneur one can do different projects of their own. They can work for different organizations like Microsofts, Facebook, Snapchat, big fashion houses and many more. The leverage of being an entrepreneur or freelancer is that you are flexible to work anywhere. Designer can actually choose the projects which they can work and develop themself in the direction which you want to go. You don't need to sit by yourself and work in a company but you can collaborate with the best in the world and work in a fascinating project.
What should you do while choosing your career?
There are different types of design courses which you can opt for. Let's have a quick look, what Nandita says about different designing course. There is a fashion design course, where through this course one can become a fashion designer, fashion stylist, fashion communication and fashion business. Or there is also a product design course where you will be learning to understand the various approaches, processes and systems to assist human needs by creating tangible products. Again there is an interior design course, user experience design courses and communication design courses. Aspirants must remember that opting designing as a career, they must be willing to devote their time in the field of the area which they choose as their career. Most importantly, if they are looking for design colleges or institutes they must go through the college website, check everything carefully, look up the project which has already been carried out by the students of that college said Nandita. And yes students don't need to worry about not being a good sketcher or amateur in coding, as colleges are there to teach them all those needful.
Additional Read:
What is the Scope of Animation Design
Difference Between Fashion Designer And Fashion Stylist
Nandita also talks about UX and UI importance and its scope. UX design is the process where the design team used to create a product that can give a pleasing and effective experience to the users. Whereas UI is the specific asset users interact with. In the session, Nandita replies to questions from viewers on different topics like scope of footwear designer in India, how to become an aircraft designer, the difference between fashion designer and fashion stylist, importance of graphic designer etc. If you are a design aspirants click here to watch the live session and know what Nandita Abraham said about a career in designing.
Pearl Academy, New Delhi Updates and Articles
Questions related to Pearl Academy, New Delhi
Showing 1 out of 1 Questions