All About Fashion Design: Eligibility, Scope, Courses, Job
Know all about Fashion Design - A fashion design career has started to gain popularity among the imaginative, as this highly competitive profession has a wide scope both in India and abroad. Students have countless opportunities in front of them upon finishing their specialized Fashion Design studies. They can enter the fashion industry or manufacturing and exporting units for paying jobs or launch their own brand on the marketplace. But to achieve that point, it's essential to know the basics of this fast-growing field.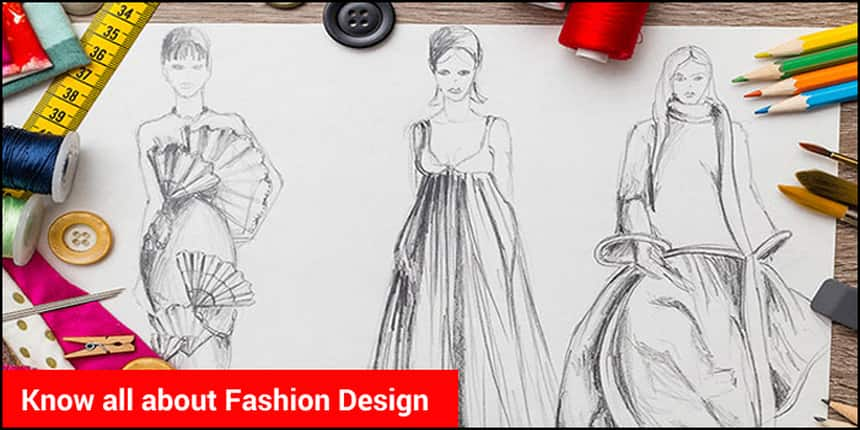 Careers360 explores the entire field of fashion design with eligibility requirements, qualifications, essential skills, most sought after institutions, key research areas, reach, profiles of jobs, recruitment of major workers, average salary and many more.
What is Fashion Design?
Fashion Design is the art of applying fashion, imagination and natural beauty to costumes and lifestyle accessories. Fashion design continues to progress through time and from place to place, with a variety of social and cultural attitudes. Different clothes and accessories are created for the use of expertise in this field. New fashion styles can be divided into different categories including tailored wearable (for masses, regular size) and high trendy (for customers).
Who is Eligible?
It can be a good choice for you if You have an imaginative and innovative personality. To earn a Bachelor's degree, you should have obtained the Class 10+2 qualifying exam from an approved state or national education board.
Course Structure and Curriculum
A Fashion Design program aims to develop talented designers who can meet the rapidly evolving demands of the fashion industry. It also enables them to adapt to a changing fashion biosphere with strong artistic or technological skills in the field of fashion. The curriculum includes an expert learning combination and practical training which enables holistic development.
Dr Vijaya Deshmukh, NIFT Jodhpur Director, shares that in this sector, unique nature is the main concern. She says, "Where everything is only a click away, it's hard to inspire students to stay centred and to respect individuality. When everyone can access and reproduce patterns and trends in a moment, the designers would find it very tough to make an impression. At NIFT, therefore, we endorse and respect individuality and have a standardized curriculum to ensure consistency on all NIFT campuses.
Fashion Design Institutes List
Few of the top fashion institutes are mentioned in the table below.
| | |
| --- | --- |
| Sl.no | Institute |
| 1. | |
| 2. | |
| 3. | |
| 4. | |
| 5. | |
| 6. | |
| 7. | |
| 8. | LISAA School of Design |
| 9. | IMS-Design & Innovation Academy |
Students studying fashion design are taught about the following –
Core Study Areas
| | | |
| --- | --- | --- |
| Design Process | Professional Practices | Fashion Studies, Fashion Styling |
| Menswear Design & Development | Draping | Entrepreneur Development |
| Fashion Illustration & Design | Portfolio Development | Pattern Making |
| Research Methods | Elements of Textiles | Craft Cluster Study |
| Garment Construction | IPR | Surface Development Techniques |
| Marketing | Design Collection | Merchandising |
| Theatre Costumes & Design | Manufacturing Process | Visual Merchandising |
| History of Design & Fashion | Couture Design | Digital Illustration & Presentation |
Col. Subroto Biswas, Director, NIFT Kolkata and Shillong, shares that as of now, fashion and design programs are educated through a great programming-based application & software. He says, "Style estimates and market division assume an extraordinary job in this. Style configuration has seen progress regarding understudies getting mindful about various types of customers and the design world as a rule."
Skills Required in Fashion Design Industry
In order to be considered for fashion design, candidates must have the following skills and qualities:
Ability to spot and develop trends

Drawing skills

Good eye for colours, textures and shapes

Problem solving ability

Technical skills like pattern cutting and sewing

Ability to use computer design packages
Scope and Job Profiles
"Design is the industry, and it is finding new corners and platforms, apart from those developed in the trade," says Prof. Sanjay Shrivastaba, Director, NIFT Patna and additional manager, NIFT Bhubaneswar.
Refer to beneath the increasing spectrum and fashion opportunities. Scroll to learn about the role of designers and some valuable job profiles after fashion designing courses.
Fashion Stylist:
In order to achieve the best look of the show the stylist retains make-up, hairstyle, dress code, etc. They look after the fashion shows or advertising services' design and beauty aspects.
Fashion Designer:
Fashion designers are major players in the design industry in the production of innovative designs with regard to the emerging trends on the market. You would have a decent reward for good earnings and benefits if you are imaginative enough to reach ahead and work hard to manage the pressure positively.
Fashion Consultant:
A fashion industry consultant should be aware of trends and change in the sector and be aware of fashion design. Consultants deliver new concept ideas on a daily basis. They must be involved listeners who are immune to changing environments.
Fashion Illustrator:
This person prepares the key drawings of what the fashion designer wants and explains. An illustrator is the running hand of the designer's mental designs and ideas.
Fashion Coordinator:
The coordinator is responsible for and oversees the marketing strategies. It's not related to the design function. The organizer is responsible for marketing items, fashion shows, etc.
Fashion Merchandiser:
Marketing is mainly a merchant 's duty. Examination of past and current trends and revenue statistics are among the most significant outcomes. They gather feedback from customers and plan goods that fulfill customer demands with the designers / production team. A fashion merchant needs an understanding of fashion patterns, fabrics, texture, hues, etc. as well as consumer demand and production procedures.
Some of the other profiles include –
| | |
| --- | --- |
| Entrepreneurs | Freelancers |
| Forecasting and Fashion Trends Forum Organisers | Exhibition and Visual Display Experts |
| Design Managers | Pattern Engineers |
Top Recruiters in Fashion Industry –
Some of the top recruiters in the domain of fashion design are as follows –
Raymond

Lifestyle

Levis

Proline

Pantaloon

Pearl Global

Benetton

Arvind Garments

Mahajan Overseas

Kimaya

Shahi Exports

Indus League Clothing

ITC Ltd.

Span India

Gokuldas Images

Shoppers Stop

Spykar

Rohit Bal

Orient Craft

Swarovski India

Varun Behl

Madura Garments

Uni Style India

Sabyasachi Mukherjee

Modelama Exports

Texport Overseas

Raghuvendra rathore

Omega Designs

Snapdeal
Average Salary
The average annual salary for master students is approximately Rs. 6 lakhs p.a , while the average annual salary for the graduate program is approximately Rs. 4.5 lakhs p.a.
Check More Design Courses below:
| | |
| --- | --- |
| S. No | Know more about Design Courses |
| 1 | |
| 2 | |
| 3 | |
| 4 | |
| 5 | |
| 6 | |
| 7 | |
Also Read:
National Institute of Fashion Technology Frequently Asked Questions (NIFT FAQs)
Frequently Asked Question (FAQs) - All About Fashion Design: Eligibility, Scope, Courses, Job
Questions related to NIFT Entrance Exam
Showing 1681 out of 1681 Questions
National Institute of Fashion Technology Entrance Examination (NIFT Entrance Exam)