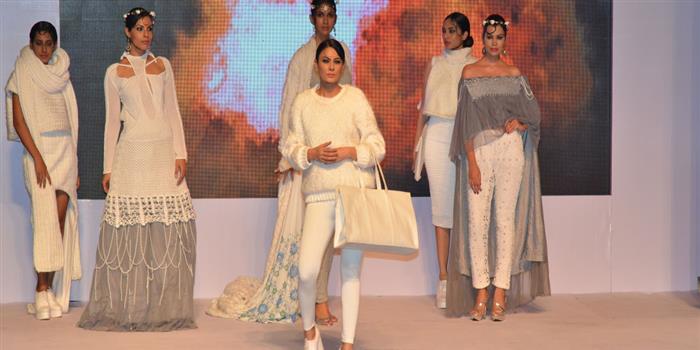 Knitwear Design programme trains design professionals, who can cater to knitted apparel- an exclusive and unique fashion segment. It aims to provide the student with creative thinking, strong technical skills and a dynamic market orientation. Profiles such as designers, product developers, fashion stylists, fashion forecasters, creative managers, merchandisers, product managers and entrepreneurs can be pursued after completion of the course.
Careers360 explores here everything about knitwear design including eligibility criteria, skills required, most sought after colleges, core study areas, scope, job profiles, major recruiters, average salary, and more.
Eligibility Criteria
For pursuing a bachelor's degree in knitwear design, you should have passed your class 10+2 qualifying examination from a recognised state or national board of education.
Skills Required
An aspirant of knitwear design must have following skills-
Attention to detail

Creative flair and artistic ability

An interest in fashion and textiles

An understanding of trends and materials

A good eye for colour, texture, fabrics and patterns
How does Knitwear Design programme prepare students?
The students are taught to handle the challenges of circular and flat-bed knitting in domestic and export fields. They learn about topics related to the knitted apparel comprising basic pattern making, flat knitting, garment construction, design application for fashion, history of world costumes, and more.
Gradually, they are given training of key areas of knitwear that include digital fashion illustration, circular knitting, pattern making for knits (womenswear) and garment construction for knits. Traditional design ability is sharpened with craft surveys, design and documentation.
Students also grasp presentation skills with portfolio development, and the intricacies of category-wise planning for knitwear with menswear, sportswear and fashion merchandising.
The knitwear design department addresses the need of specialised professionals for the knitwear domain of fashion apparel & accessories industry. The students develop an all-inclusive approach towards designing and executing knitwear fashion garments and products. They are trained regarding the latest technological know how along with the recent design trends and forecast.
Study Areas
Knitwear design students are exposed to a wide variety of subjects including fashion art and illustration, garment construction, pattern making for knits, flat and circular knitting, computerised flat knitting, trends and forecasting, design process, knitwear production and planning, merchandising, marketing, and more.
The curriculum has multiple aspects with a strong design direction. Students are required to apply their classroom learning to industry-simulated environments, and undergo industrial internship for both flat as well as circular knitting to polish up their their skills. Their design and technical knowledge reaches to the peak with a grand design collection at the end of the programme.
The major elements covered under this specialisation are as follows-
Study Areas of Knitwear Design
| | |
| --- | --- |
| Fashion Illustration | Grading & Marker Making |
| Computerized Flat Knitting | Textile Dyeing and Finishing |
| Digital Illustration | Fashion Marketing and Merchandising |
| Hand Knitting, Sportswear | Traditional Indian Textiles |
| Flat Knitting and Hand Knitting | Industry Internship |
| Craft Research and Development | Trends and Forecasting |
| Pattern Making (W/M) | Lingerie, Kids wear |
| Garment Construction (W/M) | Surface Embellishment |
| Computerized PM | Design Process and Research |
| Photography | Visual Merchandising |
| Circular Knitting | Print Design, Portfolio Development |
| Draping | Design Collection/Graduation Project |
| Image and Fashion Styling | Product Development |
| Retail Buying | Production and Planning |
Scope and Job Profiles
Knitwear professionals provide value addition to diverse areas for the fashion business such as apparel designers, fashion forecasters, creative managers, fashion stylists, product developers, production managers or merchandisers.
Positions offered by the industry include-
Knitwear Design Job Profiles
| | |
| --- | --- |
| Knitted fabric designer | Buyer |
| Product developer | Visual merchandisers |
| Graphic designer | Retail space designers |
| Merchandiser | Buyers |
| Independent consultants/Researchers | Retail planners |
| Entrepreneurs | Quality controllers for fabric |
| Quality controllers for apparel | Costume designer for entertainment industry |
Prominent Employers
The graduates find jobs with top organizations as well as fashion houses. The top employers that recruit graduates of knitwear design are as follows:
Top Recruiters of Knitwear Design Graduates
| | |
| --- | --- |
| Arvind Brands | Park Avenue |
| Benetton | Indian Terrain |
| Cascade Enterprises | Intertek India Pvt. Ltd. |
| Creative Lines | ITC LRBD |
| Future Group | K.S.Knitfabs |
| GAP | Land Mark-Dubai |
| Gokul Das Images | M&S |
| Winsome Group | Madura Garments |
| Gupta Exim | Matrix Clothing |
| Impulse International | Monte Carlo |
| Nahar Group of Industries | Sarjevan Knitwearare equipped to |
| Octave | Woodland |
| Oil & Grease | SPL Industriesare equipped to |
| Orient Craft | TCNS Ltd. |
| Omega Fashions | Triburg |
| Oswal Woolen Mills | Apparel online |
| Prathibha Syntex | Gestures Apparels |
| Rajah Hosiery | Myntra |
| Raymond | Levis |
| RMX Joss | Shri Bharat International |
Average Salary
Depending on the brand, company and location, a knitwear design graduate can expect to earn anything between Rs.4.5-5 lakhs per annum.
Some of the most sought-after colleges offering undergraduate degree in knitwear design are as follows-
Top Colleges offering Knitwear Design programme (UG)
After the completion of knitwear design programme, the student emerges with a blend of creative thinking, strong technical skills and a dynamic market orientation with respect to heavy knits and circular knits. He/she is capable of designing kids wear, active/sportswear, casual apparel, winter wear, lingerie, intimate apparel, and much more.
Check More Design Courses below:
| | |
| --- | --- |
| S. No | Know more about Design Courses |
| 1 | |
| 2 | |
| 3 | |
| 4 | |
| 5 | |
| 6 | |
| 7 | |
Also Read
Design Internship Experience: How NIFT Kannur student Rishabh Nayak learned to apply theory into practice