Life at Amity School of Design- Experience it with Abhilasha Vasudev
Amity School of Design is a well-known name among aspirants, aspiring to pursue interior or product design. The school has world-class infrastructure and distinguished faculty. For students, the place is like a home away from home because of approachable professors and friendly companions. Be it enthusiastic participation in extracurricular activities or seriousness during exam time, the students have a blast at the campus.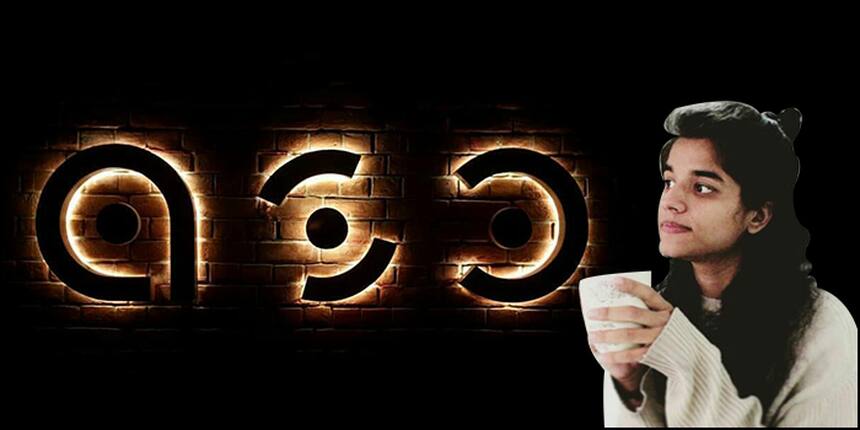 As part of Life@Campus series, Careers360 brings you an exciting close-up view of Amity School of Design. Abhilasha Vasudev, who is pursuing Interior Design from here, takes you on a tour of her campus.
Reveal a new facade of campus life at Amity School of Design!
Careers360: What is the best thing about your campus, something that differentiates your campus from the others?
Abhilasha: It's all about the vibe here. There are days when I don't want to pull myself out of bed and attend lectures but once I enter the college, everything seems fine. It starts with the people around; everyone is so enthusiastic about what they are doing. There are days when we work on our projects till late night. Our faculty is very helpful, and it allows us to work as per our flexibility. However, the hustle to create new designs and complete our projects is also real. According to me, it's the environment that counts. I am learning a lot here, and also having a great time.
Careers360: Is there an informal grapevine communication that tells the campus students about the gossips or the latest happenings?
Abhilasha: Not as such, but obviously people with big ears always have something new to tell about. We are a very close unit; everyone knows everyone else here. We have managed to create a beautiful relationship between seniors and juniors. And yes, we have some gossip sessions once everyone is done with the submission of their projects.
Careers360: Please describe your campus life in few sentences. What do you like the most?
Abhilasha: Life at Amity School of Design is like creating new things every day.
We are always making some new designs, and I love it. The lively faculty and students have created a very productive environment here. It's hectic sometimes but the final results are totally worth it.
Careers360: How do you divide your weekly time between your studies and other activities?
Abhilasha: In this challenging field, you are always on your toes. Interior design is not something in which you can learn from books only; it's more about your interaction with the surroundings. When I am not working on my projects, I am out with my mom venturing the city or on my couch watching YouTube videos.
Careers360: Which are the various clubs and societies there? Are you part of any? Do you think they are beneficial for the students?
Abhilasha: We have different clubs like Design Den, Cultural Club, Sports Club, Photography Club, etc. I am a part of all of these. I was Cultural President and Sports Captain for more than a year. I have been an active participant since three years. These clubs are beneficial for every student. For instance, Design Den helps in improving our design aptitude, and also its panel discussion is a great source of learning. It's always great to have professionals coming in for different activities. Cultural programmes on different occasions are like breeze of fresh air that give us relief from our hectic sessions. These clubs are the best approach towards bringing students and faculty together.
Careers360: Are there any regular events that take place in your campus? How is the participation of students on such occasions?
Abhilasha: We have various events that are usually design-oriented. The participation of students is more as they learn a lot. Even if the assignment submissions are at their peak, we tend to take out time for activities as these are also a part of the process.
Careers360: What are the best hangout spots in your school? What, according to you, are the most-visited places nearby the campus?
Abhilasha: Cafe Coffee Day is one of the best hangout spots inside the campus. We have several places inside and outside the campus. If you are a foodie, then there are endless options for you. My personal favorite spot is H block stairs. Enjoying a cup of coffee and pizza, you can see here students dancing, singing, skating, etc. There are several kiosks and dhabas selling delicious food outside gate number two. Also, Mall of India, Noida and GIP Mall are only ten minutes away from the campus.
Careers360: What is your opinion about the infrastructure of the institution? How are faculty members, laboratories, mess, and everything else?
Abhilasha: Amity's School of Design has the state-of-the-art infrastructure. We have workshops equipped with all the required machines and tools. There are well-maintained studios, exhibition room, laboratories, conference rooms, and stationary shop.
Our mentors and faculty members make it so much easier for us to work and learn. They are friendly and easy to approach. They have also created an amazing environment for us because of which we are excited to learn new things everyday.
Careers360: How do you like to spend your leisure time? What are the most prominent activities in your campus?
Abhilasha: You will find me sipping coffee or chatting with my friends during free time. We have sessions all day long, so whenever I get free from work I spend some time with my friends, singing. A walk around the campus is always fun. We work all day on our projects, so it gets very hectic at times. We usually have various activities lined up for Thursday. All the clubs have their activities planned for 'The Day' of the week. This is like a mini-break from our busy work schedule. 
Careers360: What other fun-thing makes your campus unique and interesting?
Abhilasha: The environment here is lively, and full of enthusiasm. Our school is like a family where we have helpful faculty along with friendly juniors and seniors. The students come from all parts of the country and from across the world. We are happy to have dedicated staff, lush green campus, and mouth-watering food. This unique amalgam gives us great experience of studying design at a fantastic institute. It's like our second home.
Careers360: Do you have any Facebook page of your campus where the students express their views, jokes or ideas, or maybe even a blog where they write about their experience of life at campus?
Abhilasha: We have our Facebook page- Amity School of Design. We also have a group on Facebook and an Instagram handle with the same name. Students are fairly active on these, and share design related posts, jokes, and confessions. Apart from this, many students, including me, have their own blogs where they write about their experiences.
Have a look at some more pictures of the School of Design!!!
Amity School of Fashion Technology, Noida Updates and Articles
Amity School of Design Admission 2020 - Know all about the adm...
07 Mar 2020
Amity School of Design Internship Experience – Experience the ...
04 Jul 2018
Questions related to Amity School of Fashion Technology, Noida
Showing 111 out of 111 Questions