Life at Apeejay Institute of Design- Experience it with Chahat Gupta

Apeejay Institute of Design is a popular design college in Delhi, and is among the top choices of aspirants too. It is known for its avant-garde infrastructure as well as highly experienced faculty. The prestigious institute promises to strengthen the academic base of students, apart from offering them an exciting campus life as well. The campus offers its students an amazing experience of transforming their lives.

As part of Life@Campus series, Careers360 brings you an exciting close-up view of Apeejay Institute of Design. Chahat Gupta, who is pursuing Interior Design from here, takes you on a tour of her campus.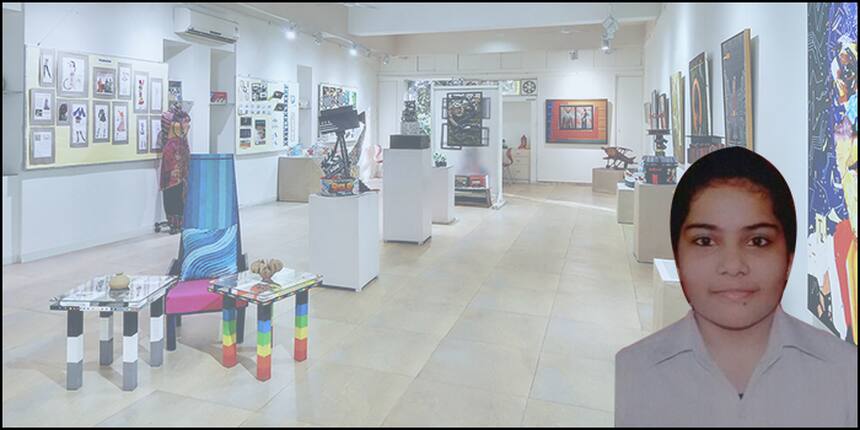 Reveal a new facade of campus life at Apeejay Institute of Design!
Careers360: Please describe your campus life in few sentences. What do you like the most about it?
Chahat: Apeejay Institute of Design is one of the best colleges for design education in our country, and living my college life here is like a dream come true. The best thing about the campus is its peaceful environment and decorum. I really appreciate that our classes are conducted with utmost freedom of speech, expressions, and thoughts.
Careers360: How do you divide your weekly time between studies and other activities?
Chahat: The curriculum itself sometimes feel like fun to me. Also, the college timings suit my schedule. Getting a full weekend off without any pending work stress helps me to unwind, and have ample amount of time to pursue any hobby or leisure activity.
Careers360: How do you get to know about the latest happenings in the institute? Is there any in-house magazine or any other medium of communication?
Chahat: We are always well-informed about all the happenings not only inside the campus but also about news, events, seminars, workshops or competitions taking place outside. Such news updates are regularly displayed on the college notice board at each floor. Moreover, the news section on our college portal is quite active as well.
Careers360: Which are the various clubs and societies there? Are you a part of any? Do you think they are beneficial for the students?
Chahat: Our college has various interesting clubs including Literary Club, Photography Club, Cultural Club, and Sports Club. Various in-house events are organised in all these societies on regular basis. I am a part of the Cultural Club, and work enthusiastically as one of the core members.
I feel having such clubs and societies prove to be fruitful for us as these allow a break from our regular class routines. Most importantly, they allow us to learn a lot in terms of imbibing qualities like leadership, time management, organisational skills, and execution.
Careers360: Are there any regular events that take place in your campus? How is the participation of students on such occasions?
Chahat: There are several exciting events that are organised successfully every year like Fresher's Party, Founder's Day, Sport's Day, singing and dancing competitions, club events, and the annual fest. We enthusiastically take part in these functions whether it is onstage or backstage. We get opportunity to showcase our talents in different fields altogether under one roof, and this makes us more creative and confident.
Careers360: What are the best hangout spots in your institute? What, according to you, are the most visited places nearby the campus?
Chahat: There are various social nooks inside the campus, obviously one of them being the canteen. The other one is its adjacent sitting area with a beautiful canopy roof giving earthy look and feel. One more attractive spot is the courtyard where students can relax, and have a gala time.
Apart from these, there are various nearby hangout places like Select Citywalk mall, Qutub Minar, Kalkaji Mandir, and many more.
Careers360: What is your opinion about the infrastructure of the college? What are some of the available facilities?
Chahat: The building is constructed quite creatively with a lot of space planning. Apart from being amazingly structured, it is managed really well as far as the interiors are concerned. With a few floor setup, there is still ample amount of space for all types of classrooms and activities. We have all the required facilities including medical room, serigraphy lab, library, stationary shop, computer labs, photography lab, pottery section, canteen, amphitheater, carpentry workshop with tools and machinery, fashion lab with stitching machines and other equipment, and many more. Also, there are printing and photocopy facilities available for the students' work assistance during the college hours.
Careers360: How do you like to spend your leisure time?
Chahat: Sometimes we go to the canteen, sit there for a while, listen to some music, and chat with our friends. This gives us a restart and a boost, which becomes necessary whenever we feel a little tired, bored, or when the work seems monotonous.
Careers360: What makes your campus unique and interesting?
Chahat: We have a very interactive classroom setup in which we are able to express ourselves and explore new endeavours without any hassles. Also, another good thing about our campus is that we have a lot of practical sessions and workshops because of which we get a chance to gain knowledge in real life scenarios. The ambience here is so peaceful and mind freshening that it allows us to be more efficient and confident.
Careers360: Do you have a Facebook page of your campus where the students express their views, jokes or ideas, or maybe even a blog where they write about their experience of life at campus?
Chahat: Yes, we do have our Facebook page with thousands of followers and visitors. This page includes all the new happenings in and around the campus, and also showcases the Apeejay Education Society as a whole.
We get a summarised version of all the happenings throughout the year from the college newsletter. Also, on the college portal there is an addition of a section called 'My Page' where works of students in different classes are uploaded. This encourages us a lot, and creates a sense of being under one head. 
Also Read:
World University of Design Campus Virtual Tour
Pearl Academy Campus Virtual Tour
Apeejay Institute of Design, Delhi Updates and Articles
Apeejay Institute of Design Director Interview- Read the inter...
01 May 2018
Apeejay Institute of Design- Apeejay Institute of Design (AID)...
28 Dec 2017
Questions related to Apeejay Institute of Design, Delhi
Showing 1 out of 1 Questions
12 Views
how can i get my admit card for the entrance
Heyy student
If you are taking about the competitive exams conducted by CBSE or NTA then you must have filled the exam form .
In which you would have got the I'd and password , this would help you to get the admit card through their website on whichever date they will release the result .
Hope this helps