Life at NIFT Patna- Experience it with Shipra Ojha
Established in 2004, NIFT Patna is counted among the best fashion and design colleges of India. Hard Work and Consistent Efforts- the motto of the institute is imbibed very well by the students. The learners are having a blast here whether it is the time for active participating in various fashion events or seriousness during exam time.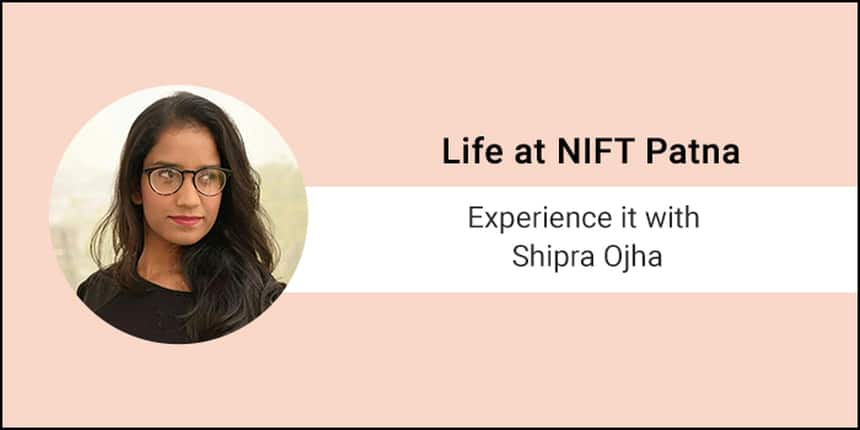 As part of Life@Campus series, Careers360 brings you an exciting close-up view of NIFT Patna. Shipra Ojha, pursuing B.F.Tech (second year), takes you on a tour of her campus through photographs and descriptions.
Experience a new facade of campus life at NIFT Patna!
Careers360: Please describe your life at NIFT Patna in few sentences. What do you like the most?
Shipra Ojha: Life at NIFT Patna is very happening, and full of fun and fascination. Students get to learn a lot about different aspects of fashion in these four years of college life. The best thing about our college is its beautiful and grand campus. There are various hangout spots inside the campus where you can relax with your friends.
Careers360: How do you divide your weekly time between your studies and other activities?
Shipra Ojha: We have various exciting activities here every week including fashion shows like Spectrum, Converge, and many more. We have to manage our time in order to participate in them, but it's not that difficult because of our cooperative faculty members. Our teachers make us complete every task inside the class room only, and we don't have to work a lot after that.  
Careers360: How do you get to know about the latest happenings in the institute?
Shipra Ojha: NIFT Patna has its own site called CMS, i.e., Centralized Management System from which we get all the updates.
Careers360: What are the various clubs and societies at NIFT Patna? Are you part of any? Do you think they are beneficial for the students?
Shipra Ojha: There are different clubs like literary club, sports club, cultural club, etc. I am part of the sports club. These clubs are highly beneficial for the students as they help them to excel in the field they are interested in. They also keep us stress free.
Careers360: Are there any regular events that take place in your campus? How is the participation of students on such occasions?
Shipra Ojha: Almost all the festivals are celebrated here as there are students from all over India. Also, we have our own fashion events in which all students take part actively.
Careers360: Are there any hangout spots inside the campus of NIFT Patna?
Shipra Ojha: Every corner of the building is constructed beautifully. There are many meeting spots inside the campus where we gather frequently for brainstorming and discussing about our projects. Moreover, we also have many other places in the city where we spend time.
Careers360: What is your opinion about the infrastructure of the institution? How are faculty members, laboratories, mess, and everything else?
Shipra Ojha: NIFT Patna is one of the best fashion colleges in India. It has a well-developed infrastructure. Everything including the labs, mess, etc. are maintained quite well. The building is wonderfully constructed. Moreover, our professors are very knowledgeable, friendly as well as highly supportive. Completely devoted to teaching, they keep on trying their best to push us to our limits.  
Careers360: How do you like to spend your leisure time?
Shipra Ojha: We spend our leisure time either by chatting with our friends, playing any sport or just hanging out of our campus.
Careers360: What else fun-thing makes your campus unique and interesting?
Shipra Ojha: It's the environment and students here that make our campus special. Whatever we do here, during studies or leisure time, we enjoy a lot. The positive and lively spirit of NIFT Patna is rare to be found anywhere else.     
Careers360: Do you have any Facebook page of your campus?
Shipra Ojha: NIFT Patna has a Facebook page where pictures of the latest happenings and different events are uploaded.
Also Read:
Know all about Knitwear Design
Design Internship Experience: How NIFT Kannur student Rishabh Nayak learned to apply theory into practice
National Institute of Fashion Technology, Patna Updates and Articles
Design Internship Experience: Read here how NIFT Patna student...
10 Feb 2018
NIFT Patna Director Interview: Prof. Sanjay Shrivastava, Direc...
05 May 2017