Most Popular Indian Graphic Designers
Most Popular Indian Graphic Designers: India has always had an incredible history of graphic design, from billboards on the walls of small villages to hand-painted Bollywood movie posters in cities. The best way to inspire yourself is to look at the list of famous Indian graphic artists - a generation of global talents representing different cultures and different influences, but still happy with their Indian roots.
Latest Updates for NIFT Entrance Exam
Stay up-to date with NIFT Entrance Exam News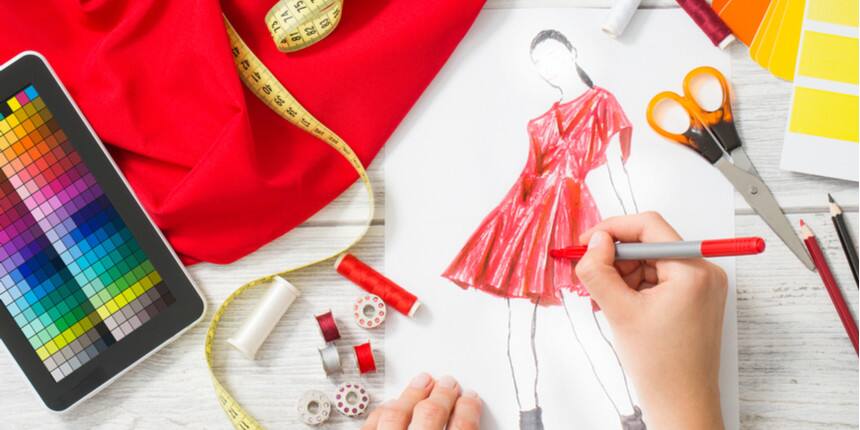 Top College in India Offering Design
Most Popular Graphic Designers in India
In the modern field of graphic design, it is difficult to establish a name brand. However, some faces have beaten the competition and gained some value not only in India but all over the world. Now we have a list of 10 young Indian graphic designers who are changing the meaning of graphic designing by blowing fresh air into the Indian design environment.
There is no shortage of engineers and doctors in the country. But try to find the best graphic designers and you will understand that this field is not used much. The need for creativity and an interest in design to be a graphic designer are the prerequisites and fortunately or unfortunately, we have people who can count off the queue for you.
Looking back, it was Binoy Sarkar who carried the torch in the design when he designed the logo for the Airports Authority of India and Indian Airlines. A generation later R.K. Joshi's notable logos are Punjab National Bank and Welcome Group.
Top Design Entrance Exam
Top 10 Popular Indian Graphic Artists
Their customer list, motivational work portfolio, and superiority in local and international markets have made them one of the most popular graphic design companies on the planet. The list of Indian graphic designers below is for information only. It is not based on any kind of ranking.
1. Benoy Sarkar
Benoy Kumar Sarkar was born in 1938 in Kolkata. He is a man with a great sense of design and has done admirable work in the field of graphic design. His simple, elegant, and meaningful logos were perfect for any company he designed.
His interest and passion for different cultures, also greatly influenced his designs and can be seen as elements of design in his works. He also designed exhibitions such as the Indian pavilion at the Montreal Expo '67.
"Design in a way that leaves the expression of simplicity with an elegant representation of your ideas." - Benoy Sarkar.
Benoy Sarkar has made a significant mark in the field of graphic design in India. His contribution to corporate communications is highly commendable and an example of virtuous effective design. He has designed numerous logos of companies that are an expression of simplicity with elegance.
The study and appreciation of many cultures aroused considerable interest in him and can be found in his designs. During his studies at Yale University in the United States, he was proud to have learned from experts such as Paul Rand and Alvin Eisenmann. He also applied his learning to his designs.
2. Akshar Pathak
Akshar Pathak (born September 20, 1989) is a Bollywood film poster designer and graphic designer. His posters are widely recognized in the digital world and have appeared in more than 90 magazines and newspapers.
He has previously worked at Comic Con India, Happily Unmarried, and DSYN. He worked for Zomato for almost three years. Meanwhile, he worked with All India Bakchod as a social media manager for a short time. Since November 2015, he has been coming back with Zomato.
"I am not a product of my circumstances. I am a product of my decisions." - Akshar Pathak.
Akshar's brain started working on the Bollywood poster in February 2012. His posters went viral through social media such as Facebook and Twitter.
Tweetard is another pet project of Akshar, which he launched in late 2012. It operates under the deep philosophy of the medallion "Twitter is a sheltered workshop for evil geniuses", so it began to depict the works of various Twitter handles in graphic form.
Tweetard was positively reviewed by Bot Press and its fans. It takes a paradoxical cycle on significant issues about society in the same minimalist style that he shows in his scenes on Bollywood posters.
3. Gopi Prassana
Gopinath Prasana was born in Chennai. He is a graphic design artist, logo designer, and renowned branding expert for his pioneering designs created for some international brands. His work has received awards throughout the design community around the world.
"While making posters, the artists need to think beyond what they want. It all depends on how the audience can connect." - Gopinath Prassana.
He started his creative journey as a programmer and web designer in one of the most respected media groups in India. He helped create 11 websites for their 11 publications.
His longing to explore new areas inspired him to design the conceptual product 'iBangle'. The innovative revolutionary bracelet iPad has captivated the imagination of those who love delicious design. 'iBangle' was named 'Best Designer of Tomorrow' by CNN and Yango Design was named one of the Top 50 Product Designers of 2008.
He made movie posters for many Tamil films like Drohi, Aaranya Kaandam, Oram Po, Paradesi, Raja Rani, Kaththi, and Vaayai Moodi Pesavum.
He lent his animation skills to award-winning filmmaker Thiagarajan Kumararaja's first short film 'Becky'. The short film was selected as the 'Best Film' at the India International Disability Film Festival in 2005.
4. Dashrath Patel
Dashrath Patel (born 1927 in Gujarat) is one of India's first multi-media designers. His excellent design vision reflects many aspects of Indian culture. The connection between color and light is central to all his works. According to him, the Indian plate is designed to interact with sunlight.
"If you don't make things for your own surprise, you become like a baker, every day making the same round bread to sell." - Dashrath Patel.
He excelled in designing the idea for design education at the National Institute of Design (NIT) in Ahmedabad. Expert in various fields of art such as Painting, Ceramics, Photography, and Industrial and exhibition design.
He continued his first 20 years as Secretary of the National Institute of Design in Ahmedabad. He also founded the ceramics department at NIT. He resigned from NIT in 1981. He later established a Rural Design School in Sewapuri, near Varanasi.
In his early days, he was a Tyeb Mehta, M.F. Hussain, and V. S. Gaitonde was part of the Bulabai Desai Institute in Mumbai in the 1950s and frequently performed with them. Later, Henri Cartier-Bresson introduced him to photography after visiting an exhibition at the Galerie Barbizon in Paris.
He was awarded the Padma Bhushan in 2011 and the Padma Shri in 1980 by the Government of India for his involvement in design and design education. In 2007, he was awarded the Grandmaster Award during Icograda Design Week in India at IIT Bombay.
5. R. K. Joshi
Professor RK Joshi (1936 - 2008) was born in Kolhapur, Maharashtra. He is an academic type designer and calligrapher. Designer of major Indian fonts used in Microsoft Windows.
Ek akshar lihava, ek tap thambava' (Write one letter and wait for ages before writing the next one). - R. K. Joshi.
His first professional involvement was with DJ Keymer & Co (now O&M) in 1956. In 1961, he joined ULKA Advertising (now Draft FCBUlka) as Art Director. He began to design campaigns on important issues such as family planning and farmers to unite the whole country.
Designed campaigns in several Indian languages. He created some fascinating logos. He designed many advertisements using Indian calligraphy, designing exclusive menus and stationery.
He started the concept of multilingual advertising campaigns in India so that the concept could reach the maximum number of states. The first such campaign was the Ashok Jain campaign. Bukva-raz, an International Award for his 'Raghu' font. Lifetime achievement award by Ad Club, 2004.
Also Read:
6. Madhukar B Raju
He is open-minded and capable of working efficiently as part of or individually on the design team. He specializes in visualization, design concept, and creative thinking. With over 8 years of professional experience in the ever-expanding field of design, he is a creative individual who can create solutions for design tasks with a wide variety of media.
His portfolio includes ID design, brochure design, package design, presentations (PPT, Flash), CBT, WBT, HTML & Flash websites, podcasts, screen savers, and flash images. He is proficient in Illustrator, Flash; Coral Draw; Audacity, Photoshop; Dreamweaver; iFilm Edit;
"Always loved to mix principles with practice…but nothing holds me long, putting it differently." - Madhukar B Raju.
He received an "Outstanding Performer award" - an HR individual award for an internal communication campaign for a contribution towards IBM's growth, through the record-breaking success of "Project Cheetah", a referral drive at IBM India, 2007.
Featured on 'Francesco Mugnai' under the title 'World's Best Designers: India', a design inspiring blog for designers.
7. Sujata Keshavan
Sujatha Kesavan was born in 1961. He is a well-known Indian graphic designer and co-founder of Ray and Keshavan, one of India's leading brand design companies.
"A good designer has the ability to get through to the crux of a problem, challenge its fundamental assumptions, and question accepted practice." - Sujata Keshavan.
In 1989, Sujata founded Ray & Keshavan, in India. Sujatha has been a speaker at several international conferences, including Design Indaba in South Africa and the International Design Center in Nagoya, Japan.
She was a jury member at Rebrand 100 at Rhode Island School of Design and a member of the Design Jury at Cannes Lions International Advertising Festival. She is a member of the World Economic Forum's Global Agenda Council for Design and Innovation.
In 2011, Sujata was ranked 18th in the list of Most Powerful Women in Fortune India's Business. She won the Eastern Press Award and the Schickle-Collingwood Prize for Outstanding Work. She is the only Indian graphic designer to be honored twice as the Best Graphic Designer of the Year at the Annual Advertising and Marketing (A&M) Awards.
She was honoured as The Outstanding Woman Professional of the Year, in 2007, by the Federation of Indian Chambers of Commerce and Industry (FICCI) and named among one of India's 30 most powerful women by India Today.
8. Sudarshan Dheer
Sudarshan Dheer is an outstanding Master who has been contributing to the discipline in the field of corporate communication in India for over 50 years. Many corporate entities have identities designed by him.
Dheer, who has worked with advertising agencies such as National Advertising and MCM for nearly two decades, withdrew from advertising in 1974 to launch his own design studio, Graphic Communication Concepts.
"I believe graphic design is no rocket science or fluke, its pure simple logic, but the voice of the logic needs to come from within. 'If it has to work it'll work, if it doesn't it doesn't." - Sudarshan Dheer.
His biggest break, he recalled, was winning the HP logo design job. The logo is a circle in which the oil comes out from the bottom and spreads to the sides. This circle represents an even distribution of oil throughout the country.
Dheer has published and edited the book "Symbols, Logos, and Trademarks: 1500 Outstanding Designs from India". He also lectures on graphic design at various national and international organizations and institutions.
9. Yeshwant Chaudhry
He was born on 26-04-1930 and lived till 19-09-2000. After graduation, he worked with Hans Schleyer R D in London. In the 60s he joined CIBA in Switzerland and came to India to establish their corporate communications. He was appointed as deputy manager.
A few years later, he founded his own company, Communica Corporate Communications, which provided services such as film production, audio screenings, design services, and corporate identity projects.
10. Vikas Satwalekar
Professor Vikas Satwalekar is a former Editor and Managing Director of the National Institute of Design (NID) in Ahmedabad. As an experienced and dedicated teacher, she has inspired numerous students at the National Institute of Design.
In addition to his academic duties, he made significant contributions in the fields of graphic design, publication design, exhibition design, and identity systems, transforming the design scene in India.
"Multilinguality has stunned me in India, and I believe it is a powerful tool to express India in various domains." - Vikas Satwalekar.
As a graphic designer, she has contributed to several corporate identification projects for Mother Dairy, the National Dairy Development Board, and the four regional identities for the Tara Channel.
Creation of logos, channel identity graphics, and signature films for Doordarshan Channel identities, DD news, Broadcast Worldwide Pvt Ltd, Metro, Regional Doordarshan Channels, Prasar Bharati, National Sports, and others.
The Grandmaster Award was presented to Professor Vikas Satwalekar on February 9, 2007, during the Ecograda Design Week in India conference at IIT Bombay.
Browse Top Fashion Design Colleges by Location
Questions related to NIFT Entrance Exam
Showing 1809 out of 1809 Questions
National Institute of Fashion Technology Entrance Examination (NIFT Entrance Exam)