National Institute of Fashion Technology Frequently Asked Questions (NIFT FAQs)
Do you have any queries about the National Institute of Fashion Technology (NIFT) - the most sought-after college among fashion and design aspirants? Confused about something related to the offered programmes or student evaluations? Every year, nearly 35,000 candidates appear for NIFT Entrance Test (GAT and CAT), and compete for nearly 2,500 Design and Fashion Technology seats. Here are the Frequently Asked Questions (FAQs) about NIFT compiled by Careers360 to help you find answers to all your queries.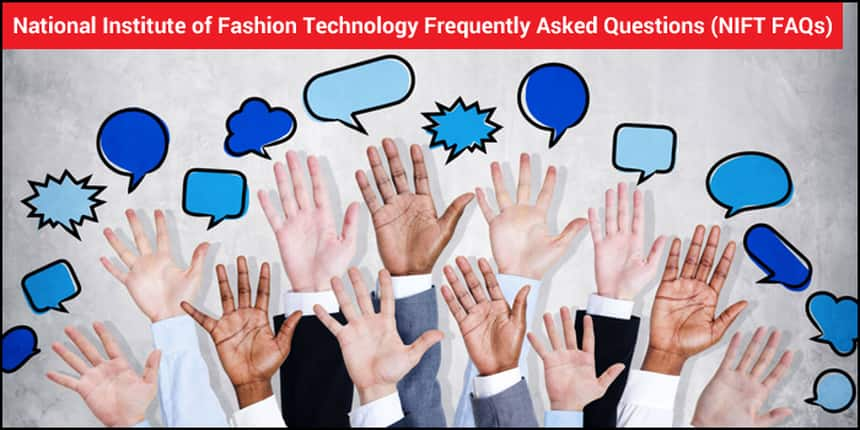 To Know all about NIFT 2019 Admission, Watch Video Below:
Question: Other than the full time programme, does NIFT offer any other courses?
Answer: In consultation with reputed academicians and industry practitioners, the institute has developed a range of Continuing Education Programmes. Reflecting the requirements and concerns of the industry, these programmes have been carefully planned to spur professional growth, and are relevant to individuals at different stages of their careers.
The CE Certificate Programmes are focused on complementing the practical knowledge of industry professionals with formal technical education in their respective work areas. Participants are able to pursue the programme without any interruption in their professional activities due to the flexible schedule. The programmes provide a congenial environment that integrates theory with practice aiming at interactive learning. On successful completion of the programme, the participants receive an NIFT certificate.
Question: How does NIFT evaluate students in the regular programmes?
Answer: The institute continuously evaluates and assesses the students throughout the semester by way of assignments, projects, internships and presentations. Academicians and industry professionals assess the work and capabilities of students. They closely monitor their evolution as competent professionals and provide critical feedback on their performance and development.
Question: What facilities and services are provided on campus to the students?
Answer: On campus, the students can avail various facilities such as the library (resource center), hostel, sports zone, canteen, medical doctor, transportation, internet access, and many more.
Question: What type of companies visit for the campus placement regularly?
Answer: Check below the names of department-wise employers:
| | | |
| --- | --- | --- |
| S.No. | Department | Employers |
| 1. | Masters of Fashion Management | Abhishek Industries, Adidas, Aditya Birla Group, American Pacific, Arthur Anderson, Arvind Mills, Ashima, Benetton, Blackberrys, Body shop, Busana Apparel Group, Calvin Klein, Canary Blue, Carrefour, Colour Plus, Creative Group, Creatnet, Debenhams, East West, Esprit, Fabindia, FCuk, Federated Group, Francis Wacziarg, Future Group, GAP India, Givo, Indian Terrain, Infosys, ITC Wills Lifestyle, JWT, Koutons, Lacoste, Landmark, Levis, Li & Fung, Lifestyle, Marks & Spencer, Mast Lanka, MCann Erickron, Mckinsey, etc. |
| 2. | Masters of Fashion Technology | Ambattur Clothing Company, Arvind Mills, Busana Apparel Group, Epic Design, Gokaldas Images, Impulse, H&M, ITC LRBD, KSA Technopak, Madura Garments, Pantaloon Export Garments, Triburg, Texport Garments, Network Clothing Ltd, Intimate Apparels, Petexx India, Alok Industries, Nike, Adidas, Li & Fung , Orient craft, Shahi Export House, Richa Group, LNJ Bhilwara Group, Raymonds, Blackberrys, Creatnet, Koutons, Landmark, AMC, OGTC Group, etc. |
| 3. | Bachelor of Design (Fashion Design) | Arvind Garments, Benetton, Freelook, Indus League Clothing, ITC Ltd, Levis, Lifestle, Madura Garments, Modelama Exports, Omega Designs, Orient Craft, Pantaloon, Proline, Shahi Exports, Span India, Spykar , Swarvoski India, Uni Style India, Designers like Rohit Bal, Gaurav Gupta, etc. |
| 4. | Bachelor of Design (Accessory Design) | Godrej, Matti Design, United Color of Benetton, Pantaloon, Westside, Adidas, Episode, Reliance Retail, Charbon, Swarovski, Tiffany, Michael Aram, Li & Fung, D'damas, Liberty Shoes Ltd. Gitanjali Jewellery Pvt. Ltd, VIP luggage, Tanishq, Titan, ITC Wills Lifestyle Ravisaant etc. |
| 5. | Bachelor of Design (Leather Design) | ABC Leathers Ltd, Alpine International, Apollo International BCC, Bhartiya International, Century Overseas, Crew BOS, Impluse, Kabir Leathers, Liberty, Lifestyle, Rabia Leathers, Superhouse Leathers Ltd, Triburg, Vivaldi Leathers, Designers like J J Valaya, Varun bahl, Manav Gangwani, etc. |
| 6. | Bachelor of Design (Textile Design) | Arvind Mills, Indian Terrian, Grasim Industries, Madura Brands, Mafatlal Industries Ltd, Nahar Industries, Shingora International, Ambadi Enterprises, Crew BOS, Himmatsingka Seide, Abhishek Industries, Welspun India, Shades of India, Linenscapes (India) Ltd. Textrade International Pvt. Ltd, Mura Fabrics, Portico, Creative Mobus Fabrics, Rateria Exports, Mahajan Overseas, Triburg, Bharat Silks, Third World Exports, The Shop, etc. |
| 7. | Bachelor of Design (Knitwear Design) | Madura Garments ITC LRBD, Gap, Triburg , Raymond, Gupta Exim, Cascade Enterprises, Pratibha Syntex, Nahar Group of Industries, SPL Industries, Rajah Hosiery, Oswal Woolen Mills, Uni Style Images, Indian Terrian, Impulse, Arvind Brands, Orient Craft, Lakra Brothers, Matrix, RMS Joss, etc. |
| 8. | Bachelor of Design (Fashion Communication) | Pantaloon, Shopper's Stop, marks & Spencers, Christian Dior, Lifetsyle, Benetton, Liberty, Freelook, Lopez Designs, Marie Claire, Images, Times of India, Asian Age, Couture Asia, Femina, FDCI, MTV, NDTV, Times Now, Headlines Today, Perfect Relations, Wizcraft, Ogilvy & Mather, Lintas, Madura Garments, Encompass Events, Vogue , Creative Crest, JWT, IC, Tanishq , etc. |
| 9. | Bachelor of Fashion Technology (Apparel Production) | Pokarna Group, Gini & Jony, Integra Apparels, Third Eyesight, Taffeles, Laguna Clothing, AYN Accessories (Hong Kong), Pantaloon, ITC LRBD, Color Plus, Celebrity Fashions, Amabattur Clothing Company, LT Karle, RMX Joss, Texport Syndicate, Gokaldas Exports, etc. |
Question: Is the placement cell of NIFT centralised or common across all campuses?
Answer: The placement in the institute is centralised for all centres and disciplines.
Question: Can the student of any campus intern in any place in India/abroad?
Answer: Students are allowed to take up internship anywhere with the consent of their respective departments.
Question: Is there any committee for anti-ragging act at the NIFT centers?
Answer: A committee comprising faculty members and administrative staff take care of this.
Question: How does the NIFT function?
Answer: National Institute of Fashion Technology (NIFT) is headed by the Director General, who sits at the headquarters in New Delhi. Each campus is headed by a Director, while each academic department is headed by the respective chairperson as an academic head. In each campus, the department is headed by the campus coordinator.
Question: How many heads of departments are there in NIFT?
Answer: There are two heads of department - Dean (A) and Head (AA).
Question: Who are key persons at the campus level?
Answer: The crucial people at the campus level are the-
Director

Joint Director

Campus Coordinators

Regional Industry Coordinator

Cluster Initiative Coordinator
Question: What are the conduct rules followed in NIFT?
Answer: NIFT follows Government of India; Central Civil Services (Conduct) Rules, 1964 as amended from time to time.
Also Read:
Top 10 Fashion Schools in the world
Life at NIFT Bengaluru- Experience it with Radhika Gupta
Stay tuned to design.careers360.com for latest updates, news and feature articles on Fashion & Design.
Questions related to NIFT Entrance Exam
Showing 1743 out of 1743 Questions
National Institute of Fashion Technology Entrance Examination (NIFT Entrance Exam)