NIFT 2019 Students' Reactions
NIFT 2019 Students' Reactions - NIFT 2019 commenced in pen and paper based mode to offer admission to students across its 16 campuses. Around 2,370 seats will be allotted to qualified candidates for admission to Bachelor of Design (B.Des) and Bachelor of Fashion Technology (B.F.Tech) programmes. The test takers reached the exam centres on the specified time, along with their parents. NIFT exam is being conducted in two shifts for Creative Ability Test (CAT) and General Ability Test (GAT). The exam started with CAT at 10:00 am and GAT will take place at 2:30 pm. The team of careers360 interacted with the test takers to know about their strategies they are going to implement while taking NIFT 2019 and how they prepared for the same. Have a look at the coverage of students' reactions below for both before and after the exam. Read the complete article to get full details.
Latest: Candidates are appearing for NIFT counselling 2019 on June 7 . Candidates can NIFT 2019 Cutoff here.
Post - Exam Reactions of Students who Appeared in Creative Ability Test (CAT) of NIFT 2019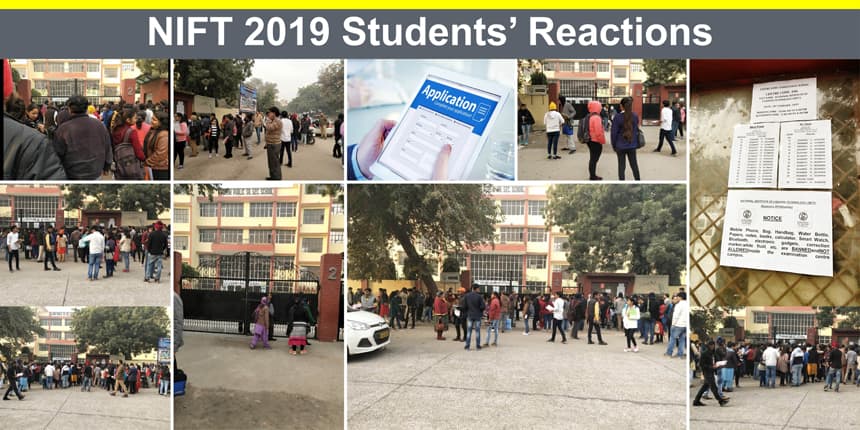 Watch Careers360's exclusive videos on "NIFT Entrance Exam 2019 Students Reaction"
Careers360 spoke to the candidates who took the creative ability test (CAT) of NIFT 2019. Most of the candidates found the questions easy and they were able to complete it within the stipulated time.
On being asked, how was the paper, Isha said, "The questions were easy and I was able to understand them at one go. Moreover, I was able to complete all the questions within the given time frame. On being asked what strategy she would adopt for General Ability Test (GAT), Isha said, " I will try to solve the Maths section first as it is slightly difficult." Her aim is to secure admission in NIFT Delhi, though she is also aware that it is a bit difficult to get admission there.
Sharadha Yadav, who hailed from Allahabad aired similar views as those expressed by Isha on being asked how were the questions. She also felt that the questions were easy.
Another candidate Saumya also found the NIFT 2019 creative ability test as easy and was of the view that it truly assessed the candidate's creative ability.
Pre- Exam Reactions of Students Appearing for NIFT 2019
Some of the students who came to appear for NIFT 2019 were not well prepared for the exam. Talking about her preparation and which particular course she wants to pursue, Milwani said, "I did not prepare very well for the exam as I had my pre-board exams. Right now, I have not thought about the marks that I will score. However, I want to pursue bachelors in Fashion designing"
Meanwhile Tanya was well prepared for the exam as she said, "I am well prepared for the exam. I studied from general knowledge books, solved maths questions and also basic science and English also. I solved the past years sample papers also." On being asked about the which particular NIFT she si aspiring to take admission, she said that she was still undecided about it.
While speaking to the correspondent of Careers360, Priya told them about her preparation strategy, " I have prepared pretty well for the entrance exam. Since, it is my first attempt, depending on the questions, I will plan my strategy. There are no specific books which I consulted for the exam. I did solve the NIFT sample papers." Priya said that she is expecting to score good marks in the exam and she is not appearing in any other entrance exam for design.
There were candidates at the test centre, who focussed on self-study. Simran said, "I did not take any coaching for NIFT 2019 and I mostly did self- study." On being asked the strategy that she will adopt to crack the exam, Simran said, " I will focus on time management."
Questions related to NIFT Entrance Exam
Showing 1681 out of 1681 Questions
National Institute of Fashion Technology Entrance Examination (NIFT Entrance Exam)