NIFT 2020 Students' Reactions
NIFT 2020 Students' Reactions -NIFT 2020 was commenced January 22, in pen and paper-based mode across 32 test cities to offer admission to students across its 16 campuses. Around 4297 seats will be allotted to qualified candidates for admission to Bachelor of Design (B.Des), Bachelor of Fashion Technology (B.F.Tech) and various other postgraduate level programmes. The test takers reached the exam centres on the specified time, accompanied by their guardians. NIFT exam was being conducted in two shifts for Creative Ability Test (CAT) and General Ability Test (GAT). The exam for CAT was started at 10:00 a.m. and end at 1 p.m and GAT was taken place at 2:30 pm till 4:30 p.m. The team of careers360 interacted with the test takers to know about the strategies they were going to implement while taking NIFT exam and how they had prepared for the same. Have a look at NIFT 2020 students' reactions below for both before and after the exam.
Latest - NIFT final result announced on June 25. Check the expected NIFT 2020 Cutoff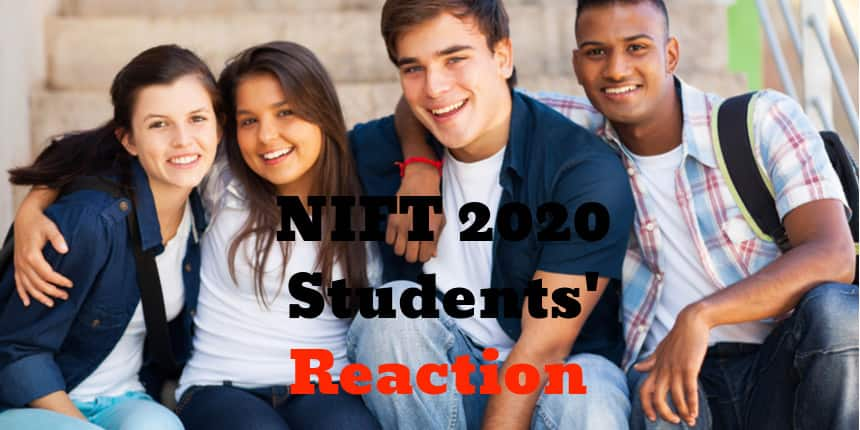 Pre-Exam Reactions of Students Appearing for NIFT 2020
There were students who were well prepared for NIFT 2020 while others were not due to their pre-board exams. In conversation with Sheetal, she said that she could not prepare well for the exam and she was nervous too. She was appearing for B.des and her strategy about taking the test was that she would not leave any question unattempted. She prepared for the CAT exam with the help of Internet (YouTube), referred to the sample papers and past years' question papers. She focused on general knowledge, English, antonyms, synonyms for the preparation of GAT exam. She appeared for NID DAT too.
Samiksha said that she has prepared for the exam for the last three months. She had joined Fine Line Art Academy to prepare well for the exam. She also got the study material from the academy. On asking about if she has any particular strategy she was going to implement while writing the exam, Samiksha said, "I had appeared for the exam last year too, cleared the exam, but due to some reason I could not appear in the third level. This year she was appearing for B.Des. For CAT, she had focused on composition,variety of colors, and color theory. She referred to different books for the preparation of the exam. She was appearing for NIFT only.
While speaking to the correspondent of Careers360, Devisha shared about her preparation strategy, " I have prepared pretty well for the entrance exam." She, however, does not have any particular strategy for cracking the exam. She was appearing for B.Des and she took mock test. She referred to Arihant books for the preparation of the exam. For GAT preparation, she went through newspapers from different publishers to stay updated on current affair. She had also appeared for NID DAT.
Post-Exam Reactions of Students appeared in Creative Ability Test (CAT) of NIFT 2020
According to Kanishka, her paper went awesome. When asked what kinds of questions were asked, Kanisha said, we were asked to make catalogue either on travel or festival and color it. Second question was based on bike wherein we were asked to make a diagram of animal or people. Third question was based on the assumption that you are going to marks, they had to draw the scene. The marking scheme of first, second and third question was 40,30 and 30, respectively.
Yukti's exam went average. As per her feedback, some questions were based on patterns wherein students were asked to color them. They were given the choices, such as festival, meditation and color it. They had to choose the colors and give the reasons why they used the particular colors. The paper also included an incomplete picture which they had to complete it. There was also questions based on a comic character. Yukti did not face any problem in the exam.
Priyanshi's exam also went average. According to her, a total of three questions were asked. First question included a bullet, wherein students had to create the whole scene. In the second question, they had to create a comic scene based on the given topics. She chose the following topic - My travel to mars. Third question was based on designing clothes. As far as marking scheme is concerned, the distribution of the marks in first, second and third question was 30,40 and 30, respectively. Unfortunately, she could not complete the paper because of the time constraint. From GAT, she referred to Arihant books.
When Ayesha was asked, 'How did her paper go,? She said it was good. In the first question, an incomplete figure of bike was given wherein I was asked to complete the picture. I was given three options where I could make two humans figure, two animals figure, one human figure or 1 animal figure. After completing the figure, I was asked to provide a caption. In the second question, I had to give comic strips in four steps wherein I had been given three choices -My visit to the dentist, my visit to mars and third was me as a fish. In the third question, I was given three patterns which I had to color any one of them, mediation, travel and festival. The first question was of 30, the second was of 40 and last was of 30 marks. She self-prepared for GAT exam, she focused on English, current affair and maths. She referred to YouTube for the preparation of the exam.
Questions related to NIFT Entrance Exam
Showing 1681 out of 1681 Questions
National Institute of Fashion Technology Entrance Examination (NIFT Entrance Exam)