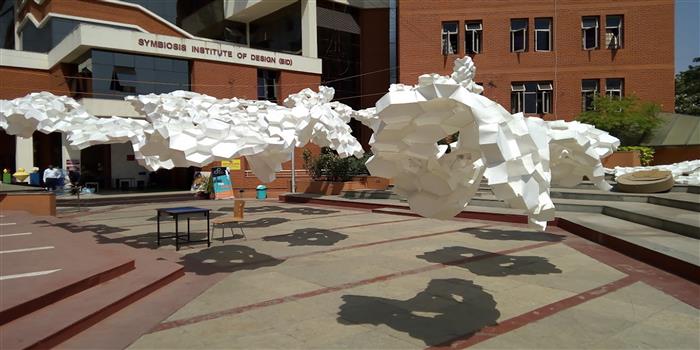 Design should make people independent and not dependent; this is exactly what Symbiosis Institute of Design teaches its students. The catchphrase at the Symbiosis Institute of Design (SID), situated on a sprawling campus near the Pune airport, is 'A designer must understand the user'. One of the earliest design education institutions in the country, SID aims to empower the people through design solutions for the society. 
A rule of thumb at the institute is to know the user before the designer can create a product that the industry requires. The design thinking at the institute relies on the freedom of the people. The mantra, therefore, is that design should make people independent, not dependent.
Compare Colleges
College Comparison based on Courses, Placement, Rank, Fee
Compare Now
Understanding pulse of the society
Founded in 2004, SID has treaded a consistent path towards creating a philosophy-enriching design education in the country. Its courses are carefully crafted to feel the pulse of the society. 
The institute offers four programmes in design---Communication Design, Industrial Design, Fashion Design and Fashion Communication. 
Under the Communication Design programme, there are four specializations in Graphic Design, User Experience Design, Animation, and Video Film Design. Similarly, The Industrial Design programme too has two specializations in Product Design and Interior Space Design.
Deep engagement with industry
With half of the institute's 800 students, and 80 fulltime teachers, Communication Design remains the strongest discipline at SID. The Graphic Design programme under Communication Design at SID is a coveted course, thanks mainly to the institute's deep engagement with the country's top art and design educators, and the industry. All courses are four-year B.Des. programmes, which the institute launched in 2006, under the Deemed University status of the parent Symbiosis University. When it began in 2004, Symbiosis Institute of Design granted diplomas for the first two years, before eventually moving to B.Des. programmes.
SID Officiating Director Sanjeevani Ayachit believes that designers use their unique problem-solving skills to help others. "At SID, we ensure that our students are well versed in all aspects of design from user research, market study, conceptualization to creation of the final deliverable, which is not only aesthetic but also cost effective and functional," says Prof. Ayachit. "In this way, our students are ready to approach unique challenges when working on a social agenda, and create design solutions accordingly."
Finding solutions
The institute views design education in the context of finding solutions to the society's problems, especially in a developing country like India. "Overall design utility is viewed in a very limited perspective by Indian industry," explains Prof. Ayachit. "Design is an underused activity in most Indian businesses. Design is often seen as an expense item reserved for large companies thus keeping small and medium sized companies out of the design users list," he says. "The need of the hour is for the government to provide a positive environment for design to sustain, grow and percolate in various facets of national fabric such as business, society and public services," says Prof. Ayachit.
In sync with the times
"Design is a continually evolving domain, influenced by changes in culture and technology. Programmes in design schools need to constantly evaluate their programmes to ensure that the education being imparted is in line with industry trends and advances in technology," says Dr. Aparna Hebbani, SID Dean, Faculty of Media, Communication & Design. "As a developing country, design schools in India can play a major part in improving the lives of the country's rural population," adds Prof. Hebbani. 
"Graphic Design has assumed significance because everybody wants effective arrangement of text for ease of communication.  Therefore, creating font, colour contrast and point size are of vital importance in the print and digital media where image and text combine to communicate to the readers," says Manohar Desai, Head of Communication Design department at SID, an internationally-known calligrapher, whose works are exhibited at the Moscow Calligraphy Museum. 
At SID's Graphic Design programme, the first year is dedicated to basics. So, the Foundation Year, as the first year is called, trains the students in basic design, colour theory, design principles, drawing, sketching, photography and even the study of cultures.In the second year, students brace themselves for specialisation. The Graphic Design students learn basic typography, publication, information collection, data analysis and design thinking. 
In the third year, it is time for students to get into the advanced stages of earlier courses like typography, publication design and branding. 
The fourth and final year are project-based, with the students having the freedom to select one brand and work for the design deliverables under it. This include print media -related design deliverables and digital media-related design deliverables.
Community connect
Connect with the community is at the core of design education at the institute. In the third year, it is compulsory for the students to select a voluntary organisation and visit a rural community to understand their crafts and needs and how to improve their livelihoods through upgradation of skills and marketing. The Service Learning Course is stretched over two semesters in the third year, with 30 hours each of work with an NGO.
The SID training infuses the understanding of tradition and culture as an integral element of design training. Under a Craft Documentation Studies programme, students learn local crafts, the community and their culture. The programme is undertaken for ten days during which students visit craft villages. During one such visit, SID students lived with the famous makers of Kolhapuri sandals. 
The students learned how the Kolhapuri chappal makers sourced leather, cut the leather and polished it, while they helped the craftspeople by creating packaging designs and posters for them. They even created a website for the Kolhapuri crafts community. Shilpa Katha, an annual SID event, showcases the documentation work of the students during their Craft Documentation Studies course for the benefit of the studies. 
---
COLUMN
In this column, Prof. Sanjeevani Ayachit, Officiating Director, Symbiosis Institute of Design, Pune, shares how the institute is churning out students who focus on real needs of Indian people.
The government needs to recognize design as a key driver of national competitiveness. It needs to promulgate a national strategy to promote and leverage design excellence. 
The design industry in India is mainly situated in urban areas and that too in a few select locations. This creates a disconnect between design industry and businesses located in tier-2 and tier-3 cities. There is a sizable number of businesses located in tier-2 and tier-3 cities that find it difficult to engage with design companies and also are not able to appreciate the utility of design. Efforts are needed to connect with these businesses. 
Indian designers must start focusing on designing for India. They need to display sensitivity to real needs of people and also sensitize clients accordingly. Focus on real needs of Indian people will also bring in opportunities for design not only from Indian businesses but also from multinational corporations keen on doing business in India.
More like Symbiosis Institute of Design, Pune
Candidates must have good sketching and creativity skills...
K Prasanna Assistant Professor, SID Interview - Careers360 brings an interview where K. Prasanna,...
It's all about Design, says Mr. K. Prasanna, Assistant Pr...
All about Design – In the Symbiosis Institute of Design Expert Column- Mr. K. Prasanna, Assistant...
Questions related to Symbiosis Institute of Design, Pune