Reforming Design Education in India: Prof Anne Boddington (Kingston University)
Professor Anne Boddington, former pro-vice chancellor (Research and Business) and Dean of Kingston School of Art at Kingston University, London, is helping India craft an arts and design pedagogy. She believes the system needs to be designed in a carefully radical and radically careful manner. "It's never just about designing a particular thing or just engineering it, but it's about design engineering. How design shapes itself in accordance to the needs of engineering and vice-versa," she says talking about the 21st century needs of design curriculum.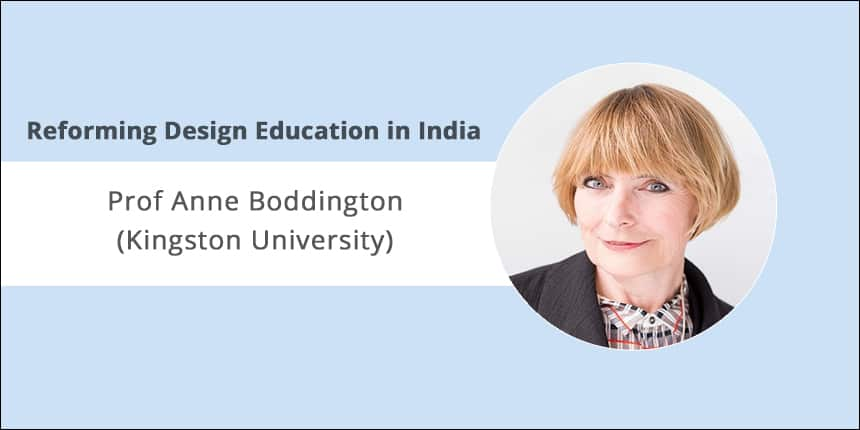 An architect by education, Anne has over two decades of experience in shaping design curriculum in Britain. Under the aegis of British Council and Indian Design Council (IDC), Anne is helping Indian design institutions to accelerate design discipline in India. She has organized several workshops on capacity building, assessing lacunae and opportunities in design education and training design teachers in India. In an hour-long discussion with Careers360, Anne talks about her follow-up report on 'The future of design education in India' published jointly by the British Council and IDC. "People think creative things don't need structuring, they just happen. But, it's not true. Ideas are cheap unless you do something about them. Design fundamentally is actually about making a plan and innovation is about getting things done. That's why we need to talk about design innovation than just design," says Anne. 
Given below are the snippets of discussion on modern design education with Prof. Boddington held at Indian Institute of Art and Design (IIAD) Delhi.
Excerpts from the interview:
Careers360 - Tell us about your role in the development of Indian Design Education...
Anne Boddington - I first came to India not very long back, in 2016, with Theresa May the British Prime Minister, to launch the joint British Council and IDC report on 'The future of design education in India'. I came to speak from both UK's and Indian Design Council perspective as a trustee at British Design Council and an educator. I have just authored its follow-up report. The original report on the future of design education underscored that we need to do something about the state of design education, but it didn't say what is it that needs to be done. The follow-up report highlights those aspects.
Also, after the earlier joint meet of India and UK Prime Ministers, Modi and May, and publication of original report, I put forward the proposal to British Council and IDC to run a series of workshops to understand from the local Indian community as to what they thought is needed in our design curriculum, since the needs of India and Britain are very different. While Britain has a well-established design education, Indian design education is in its nascent phase and needs to develop from scratch and thus presents enormous opportunities and challenges. The original report pointed out that India currently produces around 5,000 designers annually, and to satisfy indigenous creative industry it needs about 65,000 designers a year, indicating a huge gap and the need to develop design education. So rather than assuming what is good for Britain is good for India, IDC and British Council hosted me with a group of academics to run three workshops.
Careers360 - Which workshops you have or are planning to organize and how has your experience been so far?
Anne Boddington - The first one was organized at National Institute of Design, Ahmedabad, in May 2017. The purpose of the event was to hear from the design community in India as to what they were saying. It was a part of understanding what teachers knew and didn't know, so we could figure where to start. The second would be about the aspects of learning and teaching in design, deliberating about pedagogic innovation and training of teachers. The third workshop would be focussed upon developing a framework for the professionalization of design education via research and industry partnerships.
We had a lot of conversation as to what people understand as design in India as opposed to what we think or the world thinks; What courses should be taught from Indian perspective; Whether the right kind of expertise is available; etc. Another thing was that what Indian design community thought was needed to be taught, how to write and structure courses, and then very practical thing, how do you assess a design student and make judgements, how do you know that students have learnt anything. It's exciting to see how a subject that's comparatively new to a country takes it forward differently as per its needs and accommodate the world design community around it.
Careers360 - Could you tell us about the follow-up report designed in lieu of the future of design education in India?
Anne Boddington - Follow-up report has three major things, one is it stresses on capacity building and the need to train teachers for instilling new skills in them. If India needs 65,000 new designers every year, it needs qualified teachers to train them. Another is the issue of focussing on 'quality'. This can be done by sharing expertise in developing design teachers and research from UK. India can learn from the mistakes made earlier and choose to do better. Finally, it is important to expand design in India from India's perspective, problems and challenges.
Like, design in fashion in India is different to design in fashion in UK or Australia. One of the subjects which came up during discussions is the issue of 'water security' in India and finding a design-oriented solution for it. Social design is another issue which seems more common here, which includes designing social and community projects requiring different kind of skills as per the project.
Careers360 - How design education is changing as per the needs of 21st century needs?
Anne Boddington -A lot of people choose design subjects thinking all they need to do is thinking of an idea and tell the world about it, but more than about what they think, it's actually how you work with a client. It doesn't matter what you like anymore, it's got nothing to do with you and actually, that's very difficult. Your client may be 50 years older than you, want completely different things. So you have to listen to them and you have to ask very good questions. You have to be quite critical.
So if a client wants a new kind of water bottle, well we have been designing a water bottle from 200 years, so you ask why this water bottle is new, what we can learn from history, then they are made of plastic which is a problem, sustainable design is a big issue. How do you rethink that? Should all the bottles be made of bamboos or completely different? So there are lots of questions around the environment, sustainability, feasibility, that future designers have to ask. For instance, India is lurking in the fear of pollution. So, how do we design cleaner cars, cleaner motorbikes, etc. compatible with environment and costs. Furthermore, ask yourself, does it or would it put people out of jobs?
This is Design Economy and we need to teach students about this. Being creative in all the areas. So you have got to be creative in business as well as creative with material. You have to be inquisitive about world. You have to be awake and curious to learn new things.
Careers360 - What are the recommendations made in your follow-up report on design education in India?
Anne Boddington - One of the recommendations is to develop a cooperative model of how to develop teachers. So finding people in UK and within India to share the responsibility of training teachers. At the moment no single agency has the capacity to do that. So you actually have to find people, like there might be a design school in Delhi, Bangalore and Pune, who might not have ever spoken to each other. To develop teachers, they can work together rather than each of them paying or struggling to try and develop on their own. So, a large part of this is 'developing a dialogue' which is one of the recommendations.
Another one is very serious for Indian design academics, i.e. developing doctoral studies. UGC, as I understand, has started to ask for doctoral qualifications and as of now there is no doctoral qualifications framework in India for design education. On the other hand, we in Britain have really focussed on creating doctorates in design. So one of the things I have recommended and have been in talks with design institutes of the likes of IIAD and NID, to try and develop a 'doctoral consortium' and bring the expertise from Britain in form of doctoral students to let students from India collaborate through their innovation labs and learn from each other. Doctorate is very lonely thing to do. You need to bring doctoral students together, and you also need to train teachers to become good design supervisors or guide. We are trying to build capacity both in supervisors and in students. We are trying to help the student body share experiences and build capacity for guides/supervisors via training.
Finally, there are no outlets for academic publishing in design. So if academic writes a research, there isn't an Indian publication where it can be shared and published. Those are opportunities too which can be built upon.
Careers360 - Does India have the market to absorb design professionals?
Anne Boddington- There are two kinds of markets in design. One is much more visible than the other. The visible one is the 'creative and cultural industries'. They are all about sending graduates to design industry, gaming, fashion or architecture, etc. But then there is another market, which is actually worth having a look at. It has also been pointed in the IDC report. It is the 'Design Economy'. One of the things which have happened with Brexit in UK, is going from creative and cultural industry sector to industrial strategy. Industrial strategy has a very different language- that of productivity and growth. It's not a cuddly floppy language like in creative things. It is result-oriented. It's actually about making all our industries- cars, all forms of machinery, engineering, cities, IT, malls- human-centric. And that's why you need creative people in these industries. Its very much like going from STEM (Science, Technology, Engineering Maths) to STEAM (Science, Technology, Engineering, Arts and Maths). There is a lot of scope in this sector.
Careers360 - What do you think is the immediate fundamental reform needed in Indian design education?
Anne Boddington - It's very important for us to figure how to develop graduates which can go into these technical industries and talk about human interface. We need to train arts and design people to go into technical industries. It's the same in medicine, healthcare, etc. We need to integrate technicalities in our curriculum. This makes the future design curriculum very interesting. It needs to be designed in a way our designers can talk to engineers, understand them and make them understand design. Language needs to stop becoming a challenge to designers. Traditional design schools don't really teach these skills. India with some of the recently started courses in design can integrate these aspects right from the beginning.