School of Planning and Architecture- Solving problems by design
Even before the Swachh Baharat Abhiyan was launched in 2014 to address the pressing sanitation woes of the country, students of the Department of Industrial Design (DoID), School of Planning and Architecture (SPA), Delhi, were already talking about toilets. In 2013, they began work on Project "Soch"alaya or "Thinking Toilets", a completely revolutionary sanitation system. The Bill & Melinda Gates Foundation eventually picked up the project. It was displayed at the 'Reinvent the Toilet Fair: India' among models from top international universities like California Institute of Technology. It is in this league of international competence that students are nurtured at the DoID.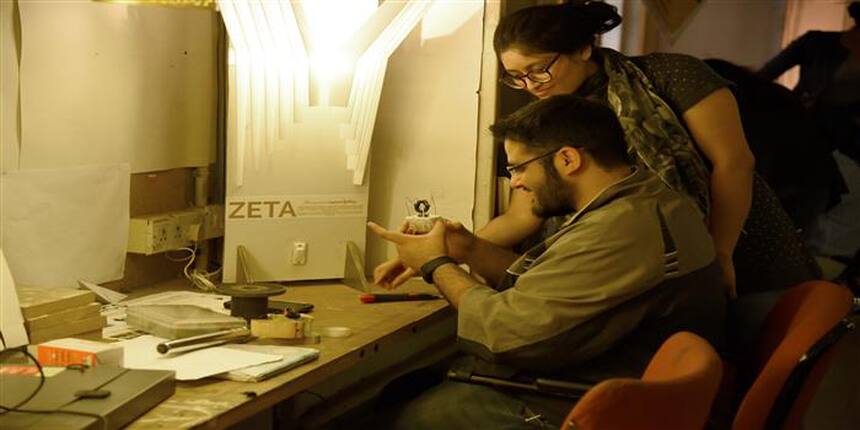 For the Department of Industrial Design, School of Planning and Architecture, Delhi, design is an instrument of change. 
Think global, act local
"We always keep our benchmark at the international level, and then we mould it for Indian conditions. Intentions are Indian, but technology and know-how has to be international," says Prof. Parag Anand Meshram, Head of the Department, Industrial Design.
Gone are the days when imported products were the source of awe and pride in the homes of Indian families. Not only have more and more international brands set up manufacturing bases in India, but the Indian industry is taking matters into its own hands. "Companies like Havells and Philips want what India needs," says Prof. Singh. "Design for India means we need to do things that keep us rooted in our culture, yet keep us on the cutting edge of technology," believes Prof. Singh.
Homegrown design solutions are the need of the hour. One such project at SPA dealt with healthcare in the rural Indian scenario. A student designed a prototype of a mobile battery-powered solar PVC incubator for infants. The problem—Incubators in rural areas are highly technical, overdesigned, state-of-the-art products. They are designed for a completely different setting. The takeaway—design should be simple and effective. SPA is encouraging its students to discover simple solutions to major problems. 
Design without boundaries 
In many ways, industrial design is as old as civilisation itself. The profession evolved as an offshoot of architecture, where architects began designing furniture.
At SPA, industrial design was initially introduced to provide a design sensibility to architects. Over the years, it has evolved into so much more. "Industrial design can't be limited to mass production of products per se. A 'product' here would be a complex system. We cover the entire gamut, without compartmentalising it. In the real world, everything exists in harmony. We don't create barriers. Students are encouraged to explore a number of things together," says Prof. Singh.
At the end of the thesis semester, the department holds an exhibition at India Habitat Centre, Triveni Kala Sangam, or India International Centre. "We believe design needs to go out and start a dialogue with the people. They need to understand design exists beyond just styling capabilities. It can truly make a change that is needed." 
Industry-academia 
"Here, we take leaps of fantasy. In the corporate world, you play safer. In between, is where real innovation can happen," says Prof. Singh. So the industry-academia connect is strong at SPA. Final year thesis projects work in collaboration with the industry. Many are sponsored. Companies often look at this as their R&D, so it's not uncommon to find students getting absorbed by the company, to take their ideas forward.
In one case, a company went on to introduce a new Design Department after realising the value of design through intervention from then-student, Nithika Sailesh. She now works with MobiTrash, an exciting service start-up in the field of waste management."Two years into practicing design professionally, I have come to realise that it is at DoID where I learned to adapt, experiment and grow, both as a designer and a design enthusiast," informs Sailesh. There is a tremendous need for a design perspective in every industry today, and students like Sailesh of SPA are paving the way.
Competing Internationally 
Participating in international competitions is one way students are brought up to the global platform. Sisters Madhu Priya (first year) and Anshumala Mishra (second year) have been nominated for the James Dyson Award 2017. The international award is a big honour among designers. "The theme was to take an existing problem and create a solution for it. So we took the issue of smoking," says Madhu Priya. Smoking is one of the biggest health threats in today's world, claiming millions of lives each year. 'Quizmo' hopes to put an end to this. The sisters created a wearable gadget that encourages the user to 'quit smoking' by monitoring their smoke intake. The ring works as a smoke sensor integrated with an app, which calculates the amount of smoke around a person.
Second year students Sravan and Rahul Krishnan designed an instant microwave-based water heater, 'Loop', which went on to bag a bronze A' Design Award for the home appliance category. Sravan, Vishnu N.P., Vishnu M.R. and Sreeraj P. have submitted an innovative nature-inspired product 'Loop' for the Lexus Design Award 2018.
For Madhu Priya, the faculty has been the "main reason" she followed her sister's footsteps to join SPA. "Our faculty is incredible," she says enthusiastically. Between Prof. Meshram and Prof. Singh, the duo share five to six international awards, including the Red Dot Design Award, 2013, and the Red Dot Best of the Best Award, 2015. 
Internships, placements and career prospects 
SPA boasts a placement record of nearly 100 percent. Students from SPA have enjoyed internships with brands like Philips, Kohler, Godrej, Lenskart, Amul, Hero, Honda, Infosys, design houses like Mindtree, Design Factory India, Desmania and Incubus, and even the Delhi Government. 
High pay package
Some students go into allied streams of industrial design as varied as architecture, design management, UI design, communication design, etc. 10 percent of students set up their own consultancies or launch design start-ups. All, are making the DoID, SPA proud. "At the SPA, industrial design students get the highest packages, around INR 8-15 lakhs per annum," says Prof. Singh.