Students need to know what is enduring
Dr. Geetha Narayanan is an educator with over four decades of experience as a teacher, an educator, and a curriculum and instruction designer. At all times a catalyst Dr. Narayanan has tried over the years to evolve paradigms of learning that integrate the mind, body and consciousness. Dr. Narayanan is currently Founder Director of Srishti Institute of Art Design & Technology, Principal Investigator of Project Vision, a Director's Fellow at the Media Lab, MIT…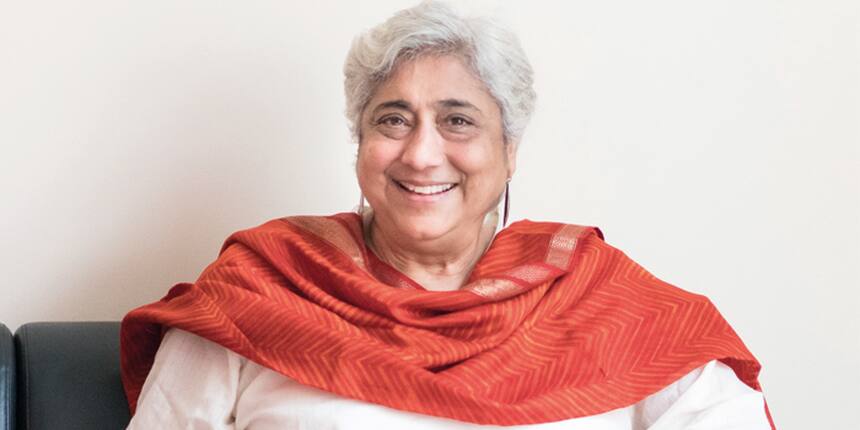 Q. How would you describe Srishti design school?
A. I would describe Srishti as an institution of arts, culture and education. The other way I would like to describe Srishti is, as a lighthouse. The thing with the lighthouse is that it is a beacon; from far you know where you are going and you can get to your destination because it guides you and it also helps you avoid the rocks. So taking this analogy, I would like to describe Srishti as a beacon of knowledge.
I feel we are practice-oriented. All our courses tend to have the word practice integrated. I feel that practice is the art of living in a profession. I also want to talk about what we expect from our students. We have vocational and skilling courses, we are perhaps the only design school in the country to have such courses. We have design and art-based courses, we have postgraduate courses and we have a doctoral and research programmes.
We can offer everybody, what we call a 360-fusion experience. Our faculty is drawn from practice and not just academia. So our students are well aware of the current industry practices. We also have a Bachelor of Vocation course.
Q. Why did you start a Bachelor of Vocation course?
A. One reason why we started our Bachelor of Vocation course is that we did not want to become more and more elite. We already have up to PhD. What more do you want? Here you can tell somebody, for example, to do creative coding.
You don't necessarily need to do computer science; we have a B.Voc course in creative coding.
Q. What is the role of art and culture in design solutions?
A. An artist can work with a white piece of paper. Artists use intuition, use their environment and bring a different level of reasoning into the art of making and how they want to depict it. The designer today inherently has been a problem solver, so when you bring art-based approaches into a design, the problem solving gets less important and the lateral and out-of-the-box thinking tends to come up. Design provides a base for that. Culture is very important because it is the way we live. It is our everyday practice of what we do. I feel that culture brings a sense of something eternal, something enduring, something timeless to education.
Q. How is design thinking influencing modern society?
A. I think that design thinking is a part of any form of thinking. It is not different form historical, scientific or linguistic thinking. Design is just a way of articulating ideas.
One of the dangers what we are doing is that we are trying to turn design thinking into a kind of steroid. An industry might be failing, but you say let's pump in some design thinking, let's have some workshops. We teach our students not to put a band-aid on something called design thinking.It will do more harm than good in the longer run. 
Q How do you involve your students in design thinking?
A. We want our students to probe deeply, to understand what social and cultural factors are, to do a study which might involve in oral history, plays, social and cultural anthropology, try and find out what the psychology of the people. We use design thinking in a very positive way which reflects our output.
Q. Does the process of design seek to balance the traditional knowledge and innovation?
A. Yes, this occurs all the time. But we should also realize that traditional knowledge has an inherent value in itself. We don't encourage people from Srishti to just go and pick up ideas from traditional people and then come and turn it something into marketable. If we do this, then we are cheating those people. There are a lot of ethical issues when it comes to design and traditional knowledge. We call it ethics of participation. Do we focus on what is the impact, that what are you giving back to those people? These are all the questions that are debated within Srishti. Also, quintessentially people who come here think about everything before they make a proposal because somebody is going to ask them all these questions at a later stage.
Q. How is technology changing the design industry?
A. Students need to know what is eternal and enduring. From Xerox machines to our modern-day camera phones, technology has helped us to duplicate and share what we see. But what is eternal and enduring? People's need to duplicate, copy and share archives is eternal.
We tell the students that tomorrow it may not be a phone but some other way that we are going to keep these archives. From the time humankind had caves to document, to the time we live in today, the way we want to tell our story or share it, that is timeless and enduring. 
Q. What are the challenges for designers as we have a huge urban-rural divide and deep-rooted cultural restrictions?
A. I know there are cultural restrictions, but I don't think that is stopping designers. When work is headwork, nobody wants to pay. People need designers, they need artists, they need storytellers; but when the students go out, people must understand that the design or the art adds a very critical value component to an artifact or a business or a system. They need to understand that its value must not be diminished. This I think is the biggest challenge. 
Q. What is the future of design education in India?
A. I think the trouble with design education is that it suffers from words like artistic and creative. If the parents can understand that their kids are going to be just another mainstream practitioner in the world like everyone else, they will be happy. But unfortunately, they think that it is unsafe, we can't do placements like this. You can't tell someone that somebody will hire an artist. So the arts and cultural sector are not placement-oriented. It is dependent on the human potential that has been developed and honed to be a creative practitioner, who can go and add value in multiple ways in diverse industries. 
Q. When did you start research programmes at Srishti?
A. We started research areas at Srishti at around six or seven years ago where we invited scholars and artists and asked them to locate the research areas. We started a programme of scholars in residence. Then we went into doctoral or research work.
We now have about four or five doctoral students who will be completing their research by next year. We also had post-doctoral students who have located their post-doctoral research here.   
Srishti Institute of Art Design and Technology, Bangalore Updates and Articles
Srishti Institute of Art Design and Technology Design Courses ...
15 Jul 2020
Srishti Institute of Art, Design and Technology Bangalore has ...
20 Dec 2017
Questions related to Srishti Institute of Art Design and Technology, Bangalore
Showing 1 out of 1 Questions