UCEED Exam Pattern 2024: Indian Institute of Technology (IIT), Bombay will specify the UCEED 2024 exam pattern which includes all the parameters of the entrance test. Aspiring students are advised to go through the exam pattern of UCEED 2024 thoroughly so that they can prepare for the design entrance test accordingly. According to the UCEED exam pattern, there are two parts to the UCEED question paper - Part A and Part B. To know more details about the UCEED exam pattern 2024, read the following article.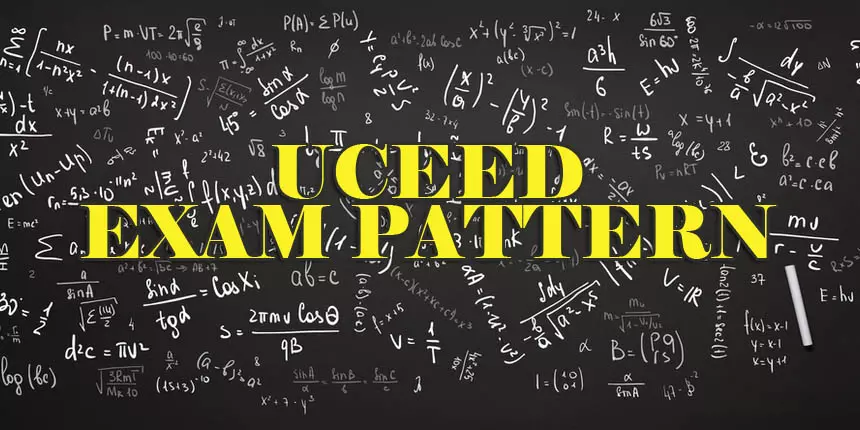 UCEED Exam Pattern 2024: Exam Mode, Duration, Marking Scheme
Top College in India Offering Design
UCEED Exam Pattern 2024 - Overview
UCEED Part A will be held in computer-based mode whereas Part 2 will be based on pen and paper mode. IIT Bombay will conduct the UCEED 2024 entrance exam tentatively in the last week of January 2024, in 24 cities across the nation. UCEED exam pattern 2024 includes a marking scheme, exam duration, maximum marks, question format, and many more. Check the table below to know the part-wise exam pattern of UCEED 2024.
UCEED Exam Pattern - Part A
Number of Sections: According to the UCEED exam pattern, the question booklet contains a total of three sections.

Mode of the Examination: As per the exam pattern of the UCEED exam pattern, UCEED Part A will be conducted in online mode whereas Part B will be held in pen and paper mode.

Total Number of Questions: A total of 68 questions will be asked in UCEED Part A.

Type of Questions: In accordance with the UCEED 2024 exam pattern, there are three sections. Section 1 consists of numerical answer-type questions, Section 2 contains multiple select questions (MCQs) and Section 3 consists of Multiple Choice Questions (MCQs).

Medium of Language of Question Paper: The medium of the language for the UCEED question paper is English.
Browse Top Fashion Design Colleges by Location
UCEED Exam Pattern - Part B
The question of Part B is displayed on the computer screen, however, candidates have to answer in the answer booklet provided by the invigilator only. In Part B, there is only one question and candidates have 30 minutes to solve the question.
The invigilator will collect the booklet at the end of the exam

It is mandatory for the candidates to answer Part B questions.
Read more
Marking Scheme for UCEED 2024
Parts

Question Type

Marking Scheme

Total Number of Questions and Marks

Part A- 240 marks -2 hours 30 minutes

Section 1

Numerical Answer Type

Question Number 1-18

There is no negative marking for wrong answers.

A zero mark will be given for an unattempted question

For each and every correct answer, candidates will get four marks.

Section 2

Multiple Select Questions (MSQs)

Question Number 19-36

+4 marks will be awarded if all the correct options are chosen
+3 marks will be given if four options are correct and only three options are chosen.
+2 marks will be allotted if three or more options are correct but chosen only two options and none of the incorrect options are selected.
+1 mark will be allotted if only one option is chosen out of two or more correct options and none of the incorrect options are chosen.
A 0 mark will be allotted for unattempted questions.
-1 for incorrect answers.

Section 3

Multiple Choice Questions (MCQs)

Question Number

37-68

Three marks will be given for each correct answer.

Zero marks for unattempted questions.

A -0.71 mark will be deducted for every wrong answer.

Part B- 60 marks -30 Minutes




1 question




60 marks

Total

(Part-A and Part-B combined): 300 marks
Also Read:
Revised UCEED Exam Syllabus 2024
UCEED 2024 syllabus comprises all the topics on which the questions of the entrance exam will be framed. Aspiring students must go through the UCEED syllabus 2024 to understand the important topics for the entrance exam.
IIT Bombay has introduced changes in the syllabus and exam structure for UCEED entrance exams. Check out the revised syllabus and structure of UCEED 2024 below.
Part-A will have questions on the following topics:
Visualization and spatial reasoning: Ability to visualize and transform 2D shapes and 3D objects and their spatial relationships.
Practical and scientific knowledge: Know-how of scientific principles and everyday objects.
Observation and design sensitivity: Capacity to detect concealed properties in day-to-day life and think critically about them. Attention to detail, classification, analysis, inference, and prediction.
Environment and society: General awareness of environmental, social, and cultural connections with design.
Analytical and logical reasoning: Ability to analyze qualitative and quantitative information.
Language: Proficiency in reading and comprehending Standard English.
Creativity: Grasp at verbal and non-verbal analogies, metaphors, signs, and symbols.
Part B will have questions on the following topics:
Drawing: Ability to draw products, people, or scenes in proportion with good line quality, composition, proportion, perspective, and shading.
Design aptitude: Capability to practically and appropriately respond to problems/situations with ingenuity and empathy.
NOTE: The topics given above are exhaustive and indicative of the nature of the questions. However, the UCEED may not cover all the topics.
Popular Online Design Courses and Certifications
UCEED Sample Paper
Students must solve the UCEED sample papers to understand the format of the questions and the difficulty level of the exam. Solving UCEED's previous years' questions can help the candidates to identify their strong and weak areas. Aspirants will also learn how to manage their time and speed with a high accuracy rate by practicing the UCEED sample paper.
Quick link: How to crack UCEED in 6 months
Top Design Entrance Exam
UCEED Mock Test 2024
Candidates can get a better understanding of the exam pattern by giving the UCEED 2024 mock test. Participating in the UCEED mock test 2024 will help the students to get a clear picture of the actual exam. Analyzing the performance of the UCEED mock test is the next step to implementing the exam strategy.
Popular Online Design Courses and Certifications