We work towards 360-degree development of students, says Dr. Veena Dutta, Director, Pearl Academy Delhi NCR


In a conversation with Careers360, Dr. Veena Jhamtani Dutta, Campus Director, Pearl Academy Delhi NCR shares her insights about new design programmes that have been introduced in tune with the latest market trends. The academician with 12+ years of experience in leading design schools opines how these futuristic courses are preparing students to face challenges of the highly competitive and dynamic fashion world.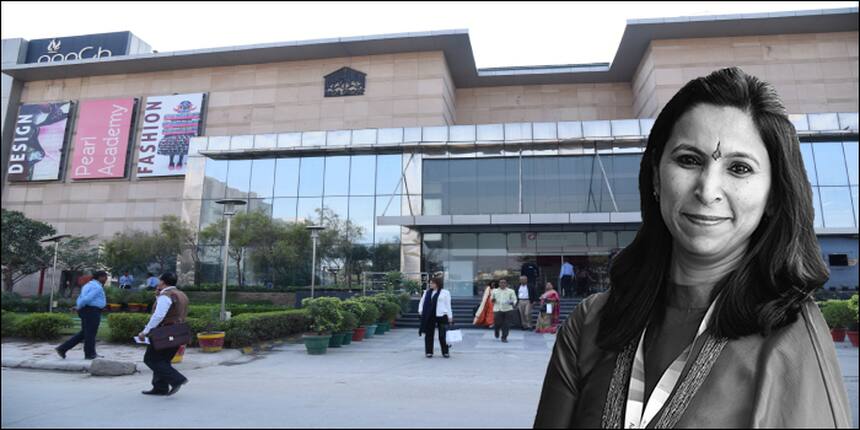 Read below the interview where Dr. Dutta speaks about key challenges that fashion and design industry is facing today. She also talks about how the placement cell of the Academy helps and supports students in getting the best job offers.
Excerpts from the interview:
Careers360: Tell us something about the new campus of Pearl Academy.
Dr. Dutta: This is the first year of this building only. The Narayana campus of Pearl Academy has shifted a part of it in the Rajouri Garden campus, and that campus has an existence from last 25 years. That is, in fact, the first campus of Pearl Academy. Since we were scattered in eight buildings and it was becoming difficult to give a richer campus experience to students, we decided to take a bigger building. We have only shifted some departments here.
Careers360: Have you introduced or planning to introduce any new courses?
Dr. Dutta: Yes, we keep on introducing new programmes and make changes in the existing ones as per the demands of the industry. For instance, we have added certain pathways in our offered Product Design programme such as jewellery, accessories, industrial product design, etc. Similarly, if we speak about Fashion programme, then it has Fashion Design as a pathway. After two years, students choose an elective from fashion accessory, etc. These are some of the new aspects that we have introduced.
Careers360: Is Design as a field of education something new?
Dr. Dutta: Maybe India has not realised that design as a course has already been there; it's not new. The design and technology behind mobile handsets, which is our foremost necessity these days, change everyday. Design does not stand alone. It's only now that we are discovering it and it has made its mark.
Earlier, parents as well as students were not open to the design world. But now, they are getting a lot of exposure. Now, the parents are opening up their mind and letting their wards pursue their dream career.
Careers360: Which is the flagship programme at Pearl Academy? Are there any other courses that are picking up among aspirants?
Dr. Dutta: Apart from the most sought-after Fashion Design programme, there is a huge chunk of students which is pursuing courses like Interior Design and Communication Design. The next programme that is gearing up fast is Creative Business, which involves courses in Fashion Merchandising, Image Styling, Visual Display, Visual Merchandising, Luxury Brand Merchandising, and more.
Careers360: What are the key challenges that fashion and design education face today?
Dr. Dutta: Design is a developed domain, but pretty unconventional too. That is why, aspirants find it difficult to convince their parent to enter into this field. Also, the ratio of girls and boys is unbalanced, especially in fashion design. It's 80 percent girls and 20 percent boys. Although it is getting improved day by day. However, courses like interior design and creative business have more number of boys. 
One more challenge is that the students are not able to understand the scope of design as a serious profession. Though we spend a lot of time in grooming them, they still should know that it is not about glamour only.  
Careers360:What are the emerging opportunities and new work areas for freshers in this field?
Dr. Dutta: Students can choose from four options. First, there are plenty of students, who travel abroad for further education to study at renowned colleges like London School of Design, etc. Second, there are plenty of those, who want to become entrepreneurs. They start their own venture even before clearing the final year, and we promote and support them in establishing their brand. The third kind includes students, who choose to work with famous fashion designers. Last but not the least, the fourth category is of those, who look for placements and work for multinational companies.
Careers360: How do the students integrate the recent and evolving trends in their learning? 
Dr. Dutta: There is lot of fusion of western and Indian trends, especially when we talk about fashion. In order to make them integrate such changes, we ask our students to prepare a final project in the last year. At that time, they have the freedom to choose what they actually want to do. For instance, one of the recent trends is 'Sustainability', and there are plenty of students working on it. They have all the liberty to research and see what's going on in the world at present.  
Careers360: Do you modify the curriculum as per the latest market scenario?
Dr. Dutta: We keep on modifying our syllabus every six months. For all the courses that we run, we take inputs from the industry. We completely believe in market research, and that is how we find out what is going to work and what not. In this way, we decide which courses to run.
Careers360: How has been the placement record at your institute? Please share some facts and figures.
Dr. Dutta: We ask students whether they want placement or are interested in doing something on their own. Out of the students, who say that they want employment opportunities, placements happen for them to the extent of 97 percent. You can check the detailed placement data below:
Number of participating students

513 – 2017

938 – 2018 (ongoing)

Number of participating companies

540 – 2017

170 – 2018 (ongoing)

Number of first-time recruiters

216 – 2017

60 – 2018 (ongoing)

Number of offers

460 – 2017

192 – 2018 (ongoing)

Average salary

3.30 lacs – 2017

4 lacs – 2018 (ongoing)

Highest salary

7.26 lacs – 2017

8 lacs – 2018 (ongoing)

Lowest salary

3 lacs – 2017

3 lacs – 2018 (ongoing)

Company making highest offer

ITC (7.26 lacs), Accenture (6.93 lacs) – 2017

Capgemini and Walt Disney (8 lacs), Accenure (7.80 lacs) – 2018 (ongoing)

Top recruiting companies

ITC, H&M, Accenture, Shoppers Stop, LV, Genesis, Impulse, IBM, Pearl Global, Shahi Exports, Nicobar, Reliance Brands, Shantanu Nikhil, Pankaj & Nidhi, Anju Modi, Capgemini, Future Group, Walt Disney, Adlabs Imagica, Hermes, Amazon, etc.
Careers360: How do you prepare your students for the placement process?
Dr. Dutta: We have recently developed a model called Total Learning System (TLS). For any student who comes here, it's not about the modules or studies only. We have to give an overall exposure to him/her. We believe in their 360-degree development. It comprises international exposure as well as conversation with international faculty at the campus. Popular designers come here to talk with our students. 15 days back, as many as 10 designers came here from International Foundation of Fashion Technology Institutes (IFFTI). There are a lot of students, who travel for various projects like Paris Fashion Week. There are credit exchange programmes at international universities also. Then there are capsule courses that we have prepared for students. For instance, a design student is given a capsule course on a business programme. For each student, we plan to do two such one-month programmes to give them exposure of something different than what they are traditionally studying here.
Careers360: Do you offer any specific preparatory module to your students prior to the placement?
Dr. Dutta: Specifically for placements, there is a CRD portal with which any student sitting in any of the Pearl Academy campuses can have access to all the job vacancies. So it acts as a bridge between the companies and students wherein they can apply online. Along with the CV, design students need to upload their portfolio also. They should also have a range of designs ready to show the employers. If the student feels that the job description alliances with the requirements of the company, then they can apply if they want. After that, there will be an interview and a final selection round.
Careers360: How important are internships for students? How do you support them to get the offers?
Dr. Dutta: Students have to compulsorily undergo internships. They have the option of going for two-months or four-months internships. We promote that every break taken by a student should be utilised in working with a designer or in any other form of industrial exposure so that he/she gets to understand what design is all about.
Careers360: Do you facilitate alumni interaction with students of the current batch? 
Dr. Dutta: Yes, we do that. We invite our alumni to meet the existing students of all the three campuses (Delhi, Jaipur and Mumbai). They are successful designers in today's date, but still they take out time to come here and teach the students.
Careers360: What is your message for fashion aspirants?
Dr. Dutta: They need to understand that design and fashion industries are vast and serious domains. If an aspirant is inclined to pursue such courses, and is completely sure about it, then he/she should make it happen and convince his/her parents, if needed. Pearl Academy supports students. If there is a student, who is interested and talented, and has a strong will, then we are going to provide backing.
Also Read:
Pearl Academy Campus Virtual Tour
Universities offering Design Programmes
Pearl Academy, New Delhi Updates and Articles
Questions related to Pearl Academy, New Delhi
Showing 1 out of 1 Questions