What Does it Mean to Be an Interior Designer
What Does it Mean to Be an Interior Designer - Interior design is an art and science which is associated with the designing of the interior of a building to create space with a healthier and esthetic pleasing environment. Interior designers and interior decorators are too different professions. Interior designers work with the target client to enhance the attractiveness of the interior of a house or office. In the present scenario, the demand of an interior designer in the design industries has increased. People are now more concise with everything and want something spectacular. If you are interested and ever get compliments in your interior designing work then you can definitely become an interior designer. Careers360 brings here basic requirements you need to know in becoming an interior designer.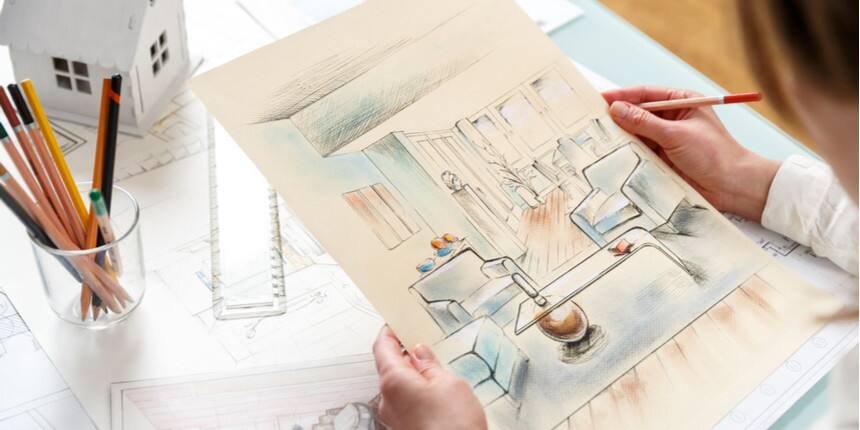 How to Become an Interior Designer - Method
If questions arise in your mind about how to become an interior designer, then here are few tips you need to know.
Achieve the Skills You Need to Possess to Become an Interior Designer
You need to have creative as well as technical skills. Your creativity will help in the path of your career in this field. Having the technical knowledge will be a great leverage to you in sketching your design idea and rendering your concept.

You must have a good communication skill. Having a brilliant professional communication skill will help you while meeting with your client. You will be able to clearly convey your thoughts and ideas.

You must have a proper management skill. Being an interior designer, you may have handled certain projects. So you must be mastered in management as you have to complete the task in a timely manner.
You need to understand the difference between Interior Designer and Interior Decorator
People often think that interior designers and decorators are the same. Interior design is the science and art of designing to enhance the attractiveness and create space in the building which aesthetically pleasing environment for the people. An interior designer needs an accredited education and a degree to work in this domain. However someone who has a great eye on colors, fabric, textile, and pattern can be a decorator.
Have a degree in Interior Designing
Enrolling in a reputed college of interior design will help you to obtain and boost your creativity and technical skills. Most interior design firms want someone who has a degree in this field. In some states it may need a license to work as an interior design for which you need to pass the licensing exam. In order to appear in the license exam you need to have both a qualification degree and experience. Mostly importantly a bachelor degree in interior design may help in building a career. Obtaining a degree will help you in finding the right job in this domain.
Make a portfolio
Portfolio is the core heart of every designer. You must create a portfolio which is a collection of photographs, sketches, projects etc. A creative portfolio will help you to reach the target audience and enhance the professional growth. You must photograph each and every project of yours with a high quality camera. A clear quality picture will assist in impressing the audience.
Best college where you can get admission for Bachelors in Interior Design
The following is the institute where you can get admission for bachelors in interior design.
National Institute of Fashion technology

National Institute of Design

UPES Dehradun
Every year entrance tests are constructed across the country to offer admission to the students in the design domain. Following are the list of entrance test.
Questions related to NIFT Entrance Exam
Showing 1681 out of 1681 Questions
National Institute of Fashion Technology Entrance Examination (NIFT Entrance Exam)