What has India contributed to international fashion?
Indianness is ubiquitous- be it architecture, tradition, culture or art. Fashion industry is no exception. We have been unique and have been inspiring the world by setting trends all across. Indian fashion industry, however at a growing stage, has left no stone unturned in setting fashion statements on the world stage. Be it Lady Gaga flaunting Tarun Tahiliani designed saree or Michelle Obama gleaming in evening gown created by Naeem Khan, Indian fashion designers are winning hearts and earning appreciation from every nook and corner of the world.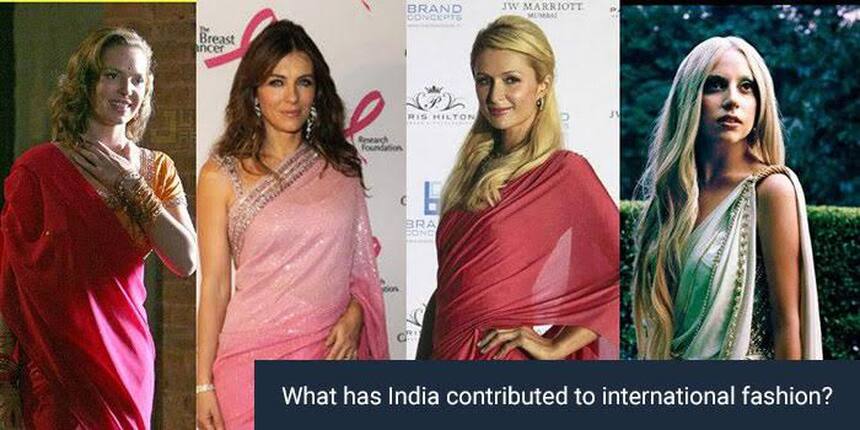 Indian fashion designers have contributed a lot in the international fashion arena with their incomparable weaves, embroideries, fabrics and designs by bringing together their vast expertise, creativity and innovation. The most fashionable and modish celebrities have pulled off the Indian look brilliantly. Popular high street stores such as Forever 21 and H&M have included the Indian kurti in their collection in one form or the other. It's not surprising to see that top global labels like Roberto Cavalli, Valentino, Prada, Gucci, Dolce & Gabbana, etc. have also added a pinch of Indianness in their fashion range.
Check out in this article how our styles and designers are ruling the world fashion streets. Have a glimpse of how Indian traditions are being adopted by some of the most famous fashion houses.          
Collections inspired by India
Collections of some of the most popular international fashion houses have been inspired by India.
Have a look at such collections below-  
Chanel's Paris-Bombay Collection - Pre-Fall 2012
Take a sneak peek at the kind of jewellery having a touch of Indianness.
Christian Louboutin Spring 2012
The glamorous pencil heels have famous Jaipuri decoration.
Marchesa Spring 2013
Whole sequence work on the blouse is inspired by Indian fashion trend.  
Indian designers dressing up global celebs
Well-known international personalities such as Heidi Klum, Katy Perry, etc. are among admirers of Manish Malhotra's creations, and have worn outfits designed by him in big events.
Sarah Jessica Parker and Jennifer Lopez carried clutches designed by New Delhi born fashion designer Sumeet Varma.
Popular international singer-songwriters like Fergie and Jessie J have also worn dresses created by Falguni and Shane Peacock.
Former First Lady of the United States, Michelle Obama, wore a gown designed by Naeem Khan. The Indian-American fashion designer has also dressed Queen Noor of Jordan, the Duchess of Cambridge and Kate Middleton too.
Amrapali, an Indian jewellery brand, has fans all over the world including top shot international celebrities like Penelope Cruz, Halle Berry, Selena Gomez, Kristen Bell, and more.   
Hollywood biggies fascinated by nine yards of grace 
The graceful nine yards of Indian saree have won hearts of famous personalities across the border. Some of them have worn them to fashion shows, red carpet events and press conferences. Beauties like Paris Hilton, Lady Gaga, Pamela Anderson, Nicole Scherzinger, Naomi Campbell, Elizabeth Hurley, etc. have rocked the Indian attire pretty well.    
Global celebs wearing Indian accessories
Conventional Indian accessory such as 'Bindi' has been worn by famous personalities around the globe. Foreign singers including Katy Perry, Miley Cyrus and Selena Gomez have sported it very beautifully.  
'Tikka', an Indian headpiece, has also been worn by Alicia Keys, Kim Kardashian and Isabel Lucas.
Roberto Cavalli, an Italian fashion designer, presented T-shirts with Indian Gods at the Milan Fashion Week. World famous designers like Giorgio Armani, Rocco Barocco, Mathew Williamson, Zac Posen, and many more have also drawn inspiration from India for their collections. 
Apart from highlighting fashion in terms of apparels, even the art of inking on body (known as tattoos now) was born in our country and then travelled West.
India is all over the world, and celebrities and who's who of big parties from all across the globe are drawing attention with Indian looks quite well. Indian designers are expected to soon take over the world. Their influence and contributions are getting recognised everywhere.
Also Read:
7 lesser known facts about Indian Fashion Industry
Top 10 Fashion Schools in the world
Life at NIFT Bengaluru- Experience it with Radhika Gupta
Get real-time alerts on exam & colleges at your fingertips with Careers360 App!
Click Here to Install or Give a missed call on 08080944727 to get app link.
Stay tuned to design.careers360.com for latest updates, news and feature articles on Fashion & Design.