Where design is a synonym for social service


At the wood design lab in the Industrial Design Centre (IDC) at the Indian Institute of Technology (IIT) Bombay, first year Master of Design student Anushree Banerjee is busy comparing her sketches with the product she is making to ensure everything is proceeding as per plan. Banerjee's product is a walking stick for the elderly, but with a difference. "The walking stick has a space for storing some grocery or a wallet," she says, explaining how her design would be able to help the elderly people carry some of their belongings comfortably while walking.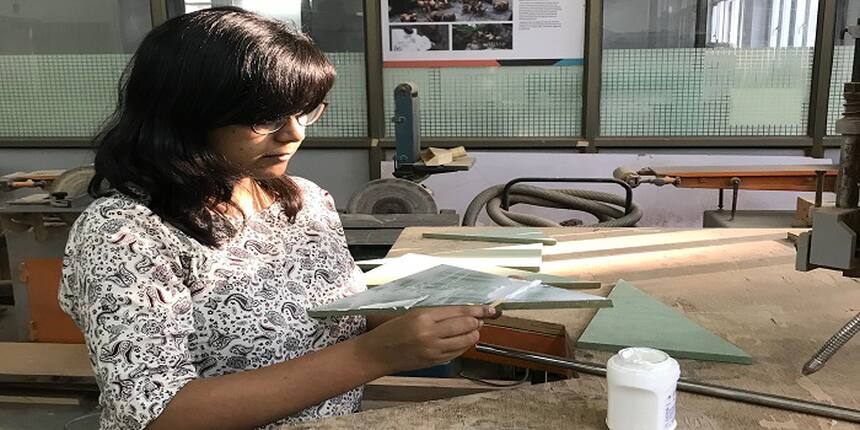 Designing for the nation
First it helped people carry their lunch comfortably to office. Later, it strengthened the tradition of exercising their franchise at the press of a button. For the students and teachers of the IDC, design is the synonym for social service. Only the third design school in India after the National Institute of Design, Ahmedabad, and the design department in Indian Institute of Technology, Guwahati, IDC displays its social commitment every day in its studios and workshops on the IIT Bombay campus in Powai.
Fast Facts
Programmes: B.Des./M.Des./PhD: Industrial Design, Communication Design, Interaction Design, Animation Film Design, Mobility & Vehicle Design
Eligibility: B.Des. (Class XII), M.Des. (Bachelor's Degree, M.Des or undergraduates in other fields with B.Des./B.Arch/PGDP Design)
Selection Process: UCEED (B.Des.), CEED (M.Des.), CEED for candidates without B.Des. (Ph.D)
Website: www.idc.iitb.ac.in
"Our curriculum and work is sensitive to the needs of the society," says Prof. G V Sreekumar, head of IDC. Nearly all of the centre's projects by students and teachers cater to the requirements of the community, from designing toilets in trains to water containers for soldiers in high altitude areas. A G Rao and Ravi Pooviah, two professors from IDC, designed the first Electronic Voting Machine in the world.
Design innovations by IDC students and teachers include medical tools like frugal vein detector for children, a portable patient chair for community dental camps, affordable furniture for government primary schools, and a Germany-aided project to help the visually impaired board public transport. 
Tracing the roots
Founded nearly four decades ago, IDC started its first classes with eight students and four teachers on January 1, 1970. The first batch studied Industrial Design receiving a diploma certificate for a four-month programme. The diploma programme later became a Master's programme. "The government mandate was for a design institute imparting world class education, catering to the society and the industry," says Prof. Sreekumar.
The earliest Master's curriculum was made by celebrated Japanese designer Kohei Sugura, who sat with many of his Indian counterparts to develop a curriculum suiting the institute's ambitions. "Kohei Sugura admired Indian designers immensely and was of the opinion that designers in India knew design better than foreign designers," says Prof. Sreekumar.
Today, the Centre is touted as a leading institution in design education and research with its students and teachers behind many innovative design solutions. There are 90 students in the B.Des. programmes, 130 students in the M.Des. programmes and 40 students in the doctoral programmes. Compared to only two courses earlier in Product Design and Visual Communication, the Centre runs programmes in Industrial Design, Communication Design, Interaction Design, Animation Film Design , and Mobility and Vehicle Design.
Research focus
The main focus of research at the IDC, Prof. Sreekumar says, is on improving the quality of life for everyone. "The poorest should benefit and break the barriers of economy," he adds. IDC students have helped tuberculosis patients in Andhra Pradesh, who can't read, through posters that communicate to everyone. Also, in Andhra Pradesh, a student from the Centre is helping volunteers of NGOs in the health sector to communicate better with expectant mothers, who are illiterate, to go for vaccines for their babies. In a yet another design initiative, students of IDC developed an electricity-powered two-wheeler and a three-wheeler version for easy transport within the airport. The prototype of the two-wheeler is used by a woman postal department employee to deliver letters on the IIT  Bombay campus.
Other design innovations include a gas stove for the visually impaired developed by IDC teacher Prof. G G Ray, an ergonomics expert, and crutches to comfortably climb stairs. 
Inclusive education 
The Centre is also aiming for inclusive education. D'source (www.dsource.in), an open source digital online learning environment, reaches design education to the common people. "Those interested in learning design, for example, in areas like logo design, could learn through D'source and have assignments at the IDC," says Prof. Sreekumar. According to the IDC, over 35,000 people access D'source every month. "The online education helps to give quality education outside the Centre," he adds. The D'source even has videos that help learn designing.
Typography
Another area where the IDC is working hard is typography. "Font is a severe challenge in India because of multiple languages and scripts," says Prof. Sreekumar. There are three million fonts in the English language, but in an Indian language like Malayalam, it comes down to a mere 25. In Gujarati, the number becomes even fewer at only four. The Centre regularly encourages its students to take up font design projects in regional languages to address the problem.
The IDC also organises a Typography Day in February every year for design students and typography enthusiasts. An international conference is also held during the Typography Day.  
Questions related to Industrial Design Centre, Indian Institute of Technology, Mumbai
Showing 2 out of 2 Questions