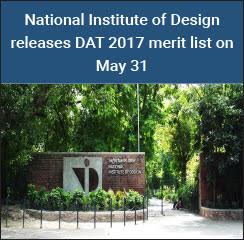 National Institute of Design (NID) has released final merit list of Design Aptitude Test (DAT) for B.Des. admissions on May 31 (Wednesday). NID DAT 2017 Final Merit List has been generated category wise, based on the sum total of the weighted scores obtained by candidates at each stage of the admission process.

Check NID DAT Merit List 2017 here.
In order to be considered for the merit list, a candidate had to appear for all the tests in both the DAT Prelims (January 8) and the DAT Mains (May 16). The weightage of Prelims and Mains has been decided by the Senate of the institute.
Note: Obtaining a rank in the Merit List of NID DAT 2017 does not guarantee admission to the programme of candidate's choice.
The four-year-long Bachelor of Design (B.Des.) programme is offered only at NID Ahmedabad in the following areas of specialisation:
Faculty of Industrial Design:
1. Ceramic & Glass Design (10 seats)
2. Furniture Design (10 seats)
3. Product Design (15 seats)
Faculty of Communication Design:
4. Animation Film Design (15 seats)
5. Exhibition Design (10 seats)
6. Film & Video Communication (10 seats)
7. Graphic Design (15 seats)
Faculty of Textile, Apparel & Lifestyle Accessory Design:
8. Textile Design (15 seats)
A total of 100 seats will be allocated to qualified and eligible candidates on the basis of NID DAT Merit List 2017.
National Institute of Design will conduct NID DAT 2017 Counselling in the month of June and July for offering admissions.
Get real-time alerts on exam & colleges at your fingertips with Careers360 App!
Click Here to Install or Give a missed call on 08080944727 to get app link.