CEED 2020 Topper Pramod P Ranjan says, "Design is a mix of both passion and ambition"
CEED 2020 Topper interview - CEED is a national level exam conducted by IIT Bombay to offer admission to the design aspirants in various M.Des programmes in IITB and other the participating institutes. The examination cell conducted the CEED 2020 on January 18 and announced the result on March 1. Cracking the CEED entrance test and enrolling in a top design institute is a dream of every design aspirant. But cracking the entrance test with flying colors is impressive and Pramod P Ranjan topped 3rd rank (Gen category) in CEED 2020 at his first attempt, which is remarkable. Pramod P Ranjan has completed his graduation from MIT Institute of Design and also worked and interned with a couple of Startups companies and MNCs. Pramod P Ranjan has also set out to startup a Menstrual Hygiene product. Pramod P Ranjan wants to make his skills and passion of innovation and designing into an advanced level by working with several social projects. Pramod P Ranjan expressed his desire and shared his experience about the exam, how he prepared for the exam through an interview conducted by Careers360.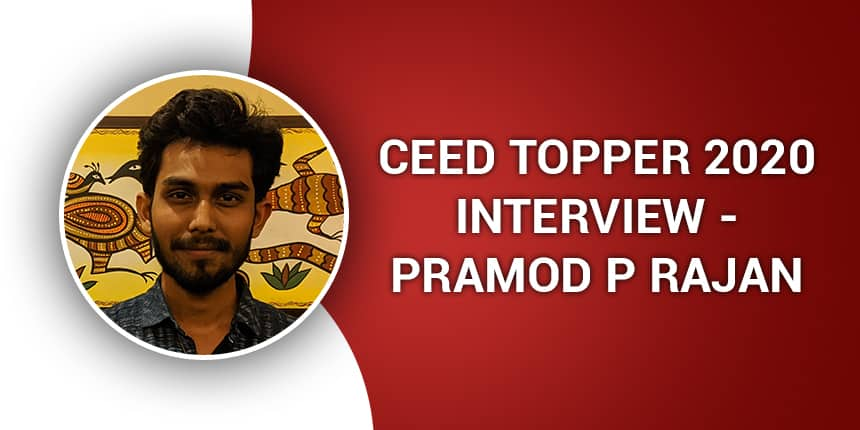 Careers360 - Congratulations on your stupendous performance. How did you come to know about CEED? What inspired you to appear for the CEED exam?
Pramod P Ranjan - From my higher education in School I was sure of making my career in Design and hence back then I searched about different disciplines and Institutes of Design in India. CEED Exam is particularly for a Master and I always wanted to crack it and thankfully I did it and also topped in my first attempt of CEED 2020.
I have done my Bachelors in Product Design (2015-2019) from 'MIT Institute of Design, Pune', one of the finest Design Institute in the country (to which I am also a batch topper) and then for a year I worked on a Menstrual Hygiene product which now I have ventured into my Startup. Before getting into my startup I also worked and interned with a couple of Startups and MNCs (ranging from handlooms-craft to manufacturing of consumer products).
In this short journey, I understood my passion for Innovation of designing novel and social products. In the process of Innovation and creating Business what I am involved with requires a lot of support and collaboration from people and institutions in multiple disciplines which the leading institutions like IITs can help in getting exposed to. Also I wanted to take my skills and process from basic to advanced level by working on such social projects for which again getting into academics is an ideal thing.
Careers360 - Please share your part wise as well as overall score in CEED as well as your AIR?
Pramod P Ranjan -
• AIR (CEED 2020): 3rd (Third) in General Category.
• CEED 2020 Score: 66.75 / 100
(Calculating CEED Score: 0.25 x (marks of Part A) + 0.75 x (marks of Part B)
• Part A: 61.50 /100
• Part B: 68.50 / 100
Careers360 - Could you share some of the strategies and tactics you used to crack the exam?
Pramod P Ranjan - I knew that the number of seats in the IITs for Master of Design in General category is very less as compared to total number of students appearing for CEED exams; and there is a negative marking in Part A to which most of the people are afraid of. Before and during my Bachelors I was a very under-confident problem which I knew was to huge problem or barrier for me in cracking exams of this level; but thankfully with the kind of people and projects (of which couple of them has got awards and recognition) I got to involve with helped in being a confident person. I gave an understanding to myself of coming in Top 50 at least to get into IITs or else it will be very tough and for this I need not care about negative marking. I solved a lot of sample papers and a few previous year papers to get my hand and mind aligned. Eventually when I sat for the CEED exam and started solving Part A, I felt like I was sure about the answer to most of the questions and answered most, leaving just a few of them. I think this surety came from confidence, practice and understanding of attempting maximum.
Also I planned to stop doing any major practice, study and work from about one week before the exam to give my mind some breathing space. I attend an event, party and meet my friends in town.
For preparation I just solved previous years and sample question papers periodically.
Careers360 - When did you start to prepare for the exam? What are the challenges you faced at the time of preparation?
Pramod P Ranjan - I started preparing for the CEED exam exactly 1.5 months before it. I didn't want to do any sort of preparation before this as the only preparation I wanted to do was to solve previous year papers and sample papers. Since I have done my Bachelors in Design I was good with basic skills like sketching which got polished while practicing these papers.
The only challenge I faced was to manage other activities of my startup while preparing in those 1.5 months such as to take proper time out daily to sit to solve papers.
(For people who have 'not' been in design, art, architecture or similar fields I will suggest to start working on skills under guidance of a good mentor about 6 months before exams and solving papers around 2 months before exam.)
Careers360 - Which books you preferred while preparing for the exam (name of the books) and did you take coaching for this exam?
Pramod P Ranjan - I didn't take any formal coaching. The only coaching I took was way back in and around 2014-15 in an informal way from my father who is a fine Artist in Ranchi, for my bachelors Design entrance exams.
Other than this I joined a 10 days crash course back in 2015 for Bachelors at one of the leading design coaching centers in Ahmedabad and it was a very poor experience for me and faculty and course material were poor.
For CEED, to practice and brush-up I downloaded previous year sample papers which are available free online and ordered sample paper sets (usually sets has 10 such papers) from 2 coaching institutes.
(My humble suggestion to all the CEED aspirants will be to get a good mentor or small local training to prepare for it instead of going for a big branded coaching center.
Careers360 - How did you manage your time during the preparation? In a day how much time did you dedicate for the preparation?
Pramod P Ranjan -I tried to sit for about 1-2 hours each day for 1.5 months on solving papers and do skip sometimes when I did not feel like it or due to other work. Also I usually sit at night (and sometimes in afternoon) because I feel night is silent and good to focus on creative things.
Careers360 - Can you share some of the preparation tips for Part A and Part B?
Pramod P Ranjan -
1. Part A:
• Like I have mentioned earlier one should try to answer maximum questions and not to be afraid of negative marking.
• Calculate the time you should give to each question and don't go beyond that.
2. Part B:
• Distribute the time you should give to each question as per your comfort, requirement and marks allotted.
• Finish those questions first with which you are comfortable with in the fixed time you decided.
Careers360 - There has been a change in exam pattern, so how do you work on the new exam pattern? How was it different from the previous one?
Pramod P Ranjan - I guess the main difference was that there were no discipline/specialization specific questions in both Part A and B; due to which one has to go through questions related to animation till industrial design also. This is something to which I was not really thinking of because the change is for all applicants. One can be better by improving skills, practice, confidence and strategy where I mainly focused.
Careers360 - How would you rate the difficulty level of the CEED exam?
Pramod P Ranjan - Well CEED question paper is enjoyable to solve. Those who have sat in similar papers in real exams or mock will be comfortable. I think the real difficulty is not in qualifying, but getting into top double digit rank to have a possibility to get into the desired Institute because of the large number of applicants and limited seats with limited Institutes.
Just to share a few statistics, 5564 people appeared for CEED 2020 to which 1724 qualified. But qualification doesn't mean admission. Now one has to apply to each Design Institute/Department separately and if get shortlisted then have to go through Studio Test and Interview-portfolio review. In 2020 there are just 7 participating Institutes consisting of 5 IITs, 1 IIIT and 1 IISc. (To this if one has to apply to let say IDC – IITB in one discipline in general category let day, then the probability of getting it there is around 0.01% as each seat in each discipline in IDC – IITB varies from 5-7 seats only. So to get into the prominent Institute is a big challenge.)
Careers360 - What are the mistakes that must be avoided at the time of CEED preparation as well as during the exam.
Pramod P Ranjan -
• Obviously reach Exam center 1 hour before exam; and be healthy, both mentally and physically.
• Completely avoid last moment 'tips' and 'jagaraans' from external sources. Just believe in you and your journey, which if it is honest along with a pinch of luck then all will be good.
Careers360 - Tell us something about how you are planning to prepare for the interview and how you will make your portfolio?
Pramod P Ranjan - 1. Interview: I have no plans. I will answer what is asked with complete honesty and share my journey so far, my current works and future plans/my vision, with the panel. Also I wish not to get intimidated by anything and will not carry any preconceived notion.
2. Portfolio: I will take 1-2 A4 hardcopies of my Portfolio which will consist of maximum 4 good projects aligned with the discipline, and in total should consist of 15 pages maximum with one page for my resume. It should be clean and crisp. I will also carry my laptop with required tabs open if I have to present anything on a digital platform or motion based.
Well now due to covid, interviews only happened at IDC IITB, IITH and IITK. Studio test and Portfolio round happened at IITG, IITK, IITB and IITH.
I applied for IISc, IITG, IITD and IITB. I got selected in the final list at all the places except IITB. I gave my interview at IITB in the manner I mentioned, but I was told by a member in the panel that I don't need to get formal education further (as I am already very good) and should continue what I am doing with my startup. They mentioned that they were very impressed with my work and journey (and didn't think that I will learn something more). I was nervous after the interview and eventually didn't get listed at IDC. People usually don't get selected because they have under-performed and I didn't because unfortunately I over-performed. Sometimes I feel only exceptional work is 'appreciated' and meritocracy is 'accepted'. Eventually the decision of continuing or not should have been from my side.
Anyway I have taken admission in IITD and am happy to learn and grow there.
Careers360 - What are the tips you want to give to the future aspiring students while making a portfolio?
Pramod P Ranjan -
Just show 3-4 works maximum and each project should be taking 3-4 pages maximum.
Complete Portfolio should not be more than 15 pages.
First page should consist of your resume.
It should be 1 sided, A4 and Horizontal.
Try to be as clean and crisp as possible.
Don't worry about the final professional/mature output of the project. Focus on showing the process, skills and interest. Don't fake anything.
Before every project, mention all the details about it like timeline, company/clients, etc. Give proper credits to everyone involved by mentioning their and yours role in it.
Careers360 - How many students are called for an interview?
Pramod P Ranjan - Usually 7-8 times to the available number of seats, the people are called.
Careers360 - What is the placement expectation for M. Des. students?
Pramod P Ranjan - I have started my Entrepreneurial journey and after my master I will be in it completely. My company is into design-led social innovation.
Careers360 - Is design your passion or ambition? Did you appear in any other design entrance exam?
Pramod P Ranjan -To me Design is a mix of both passion and ambition. Along with CEED I also appeared for NID (Strategic Design Management) to which I have qualified for the first round and gave an interview recently which went really well and I am hopeful for positive news.
Careers360 - Any message for the CEED 2021 aspiring students?
Pramod P Ranjan - Be very sure of why you want to do design and ask all sorts of questions and answer it will be completed honestly to have a clear understanding. Talk to multiple people before setting a strategy.
Good luck!
Questions related to CEED
Showing 173 out of 173 Questions