Top Specialisations in Design
Top Specialization in Design - Bachelor of Design also known as B.Des or B.Design is a three-year undergraduate academic degree in the design domain. Like other sectors, the design industry is flourishing expeditiously. If you want to make your career in the design domain you need to have both creative and technical skills. The requirement for the design profession in the industry has rapidly grown. These days many career opportunities are available not only in the design industry but also in other sectors as well. Well, every corporate firms would not work without a graphic and web designer. Our house, school, mall, office, theatre look magnificent because of the contribution of an interior designer. When you attend your bestie wedding, you may dream of wearing an aesthetic lehenga. It would possible because of the creative work done by many fashion designer. Designer has made our life fantastically amazing. So if you are creative opting a career in the field of design may not be the worst idea. In the design domain, there are various specializations course. List of the top specialization in B.Des are mentioned in the following article.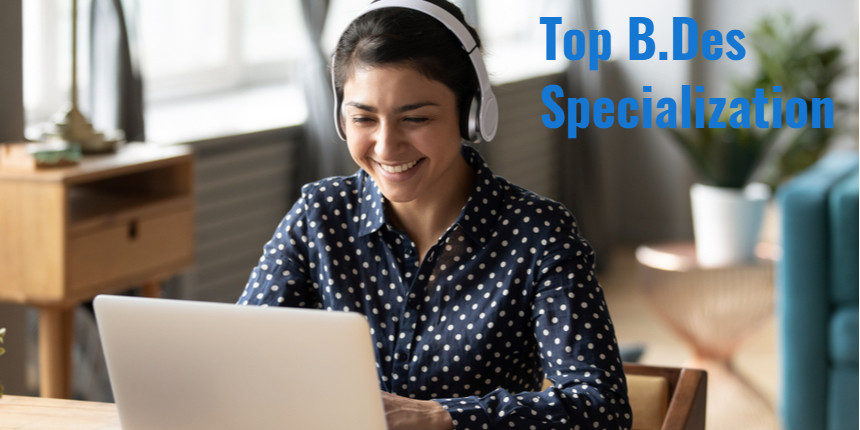 Major Bachelor of Design Specialization
B.Des in Fashion Design
Fashion design is an applied art to design an esthetically natural beauty clothes and accessories. Fashion design gets its influence from culture and social attitudes and its varied from paced to place. To become a fashion designer, you need to have a good sense of colour, texture, shape, pattern etc. You need to know the fashion trends and what the audience wants. B.Des in fashion design is a four-year undergraduate course in fashion. Again there are various programmes in B.Des in Fashion Design.
B.Des in Communication Design
Communication design is a design and information-development mixed discipline that covered media invention like crafted, printed, electronic media or communication theory. By learning communication design you will explore with creative, technical and professional skill. With a degree in communication design, you can look for career opportunities in the field like web design, graphic design, animation, print media, digital marketing, film making etc.
Product Design
Product design is the combination of design and science that create new product and concept which can everyday's life better. The product such as sportswear, safety gear, protective equipments are produced by a product designer. They develop avant-garde prototype & products that solve problems. The idea of product design generated from the problem experienced by the people and design a solution that can solve the problem.
Textile Design
Textile design is a creating process of a design for woven, knitted or printed fabrics or surface ornamented fabrics. The design which is used in clothing and interior decoration items are the production of a textile designer. You can also simply say textile design is the process of converting raw materials into finished products. A variety of purposes such as clothing, carpets, towels, drapes and rug are delivered in our life because of the work done by textile designers. It indicates the significance of textile in our daily life and textile industry also play an important role in the fashion industry.
Graphic Design
Graphic Design is visual communication and problem-solving process by using photography, iconography, typography, and illustration. Graphic design is considered as a subdivision of communication design and visual design, however as a synonymous a term graphic designer is used sometimes. To develop the visual representation of ideas and message, graphic designer create and merge symbols, image and text. To become a graphic designer you need to have both creative and technical skills.
Exhibition Design
Exhibition Design is developing and exhibiting process from a concept to a physical, three-dimensional exhibition. It is a collaborative process and integrated process of architecture, landscape architecture, audiovisual engineering, graphic design, interior design, digital media, lighting and content development to develop an audience experience that interprets information. The process of exhibit design involves the developing of concept or interpreting plan of an exhibit with a most effective, engaging and appropriate methods of communicating a message or telling a story.
Interior Design
Interior design is the art and science of enhancing the interiors of a space or building and create aesthetically pleasing environments for the people. Interior design courses involve the study of a wide variety of materials, finishes, colours, along with graphic presentation and construction techniques. To be an interior designer you need to have both creative and technical skills.
Web Designer
Web design enclosed many various skills and disciplines in the production of the website and its maintenance. Every organisation need a web designer as they are the one who develops a website which can connect to the target audience. To be a web designer you must have both creative and technical skills.