UCEED Preparation Tips: 10 Do's and Don'ts for UCEED 2022
10 Do's and Don'ts for UCEED 2022 - The Indian Institute of Technology, Bombay conducts UCEED every year to offer admission to the design aspirants in undergraduate courses. Prior to the exam as well as on the day of the exam, students must not afford any mistakes all their hard work will go in vain. It is important for one to remain calm and keep in mind the 10 Do's and Don'ts for UCEED 2022.
Stay up-to date with UCEED News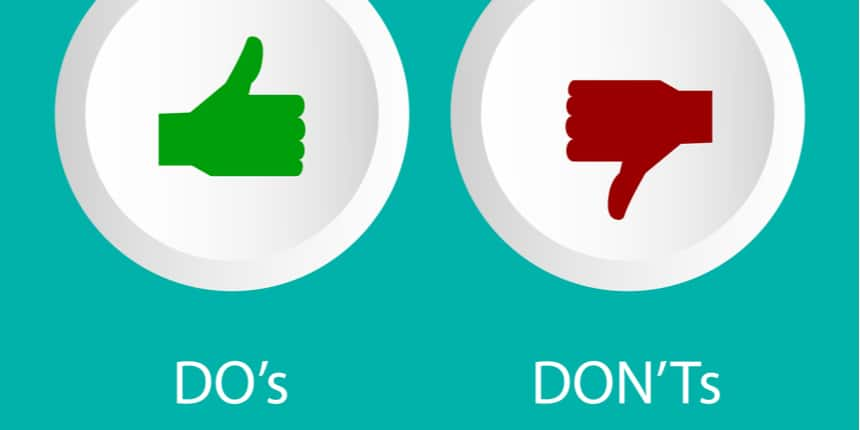 Some of the important 10 Do's and Don'ts for UCEED 2022 which the students must keep in mind is to carry the admit card along with valid identity proof, remain calm at the time of the exam, ensure that one manages the time well for the entrance exam. UCEED exam 2022 will be held on January 23 from 9 am to 12 noon in multiple test centres. Scroll down the page to know all about 10 Do's and Don'ts for UCEED 2022.
UCEED 2022 - 10 do's and don'ts for UCEED
B.des test paper for UCEED is framed in a way to test you in the following areas: Part A
Visualization & spatial ability

Language and creativity

Observation & design sensitivity

Design thinking & Problem solving

Environmental and social awareness

Analytical & logical reasoning
Part B:
Drawing: Ability to draw products, people or scenes in proportion with good line quality, composition, proportion, perspective and shading.
10 Do's for UCEED
Know the entire syllabus and exam pattern of UCEED - It is very important to understand the UCEED 2022 exam pattern and syllabus. By having full knowledge of the syllabus and types of questions being asked in the exam, one must always begin the preparation of an exam

Be confident- Students must have enough confidence to tackle the entrance exam. That is the only tool/amour that students have. A well-prepared person with less confidence might have greater chances of losing marks. Likewise, there is a greater chance of being the topper by an average prepared guy with full confidence.

Smart study- No doubt hard working is essential and key to success. However, smart work can reduce the effort and time. Test-takers must priorities their study pattern and know their strengths and work on weakness.

Solve sample papers- Students are advised to refer to some of the previous year question papers and mock tests of the UCEED entrance test, at-least of the previous 10 years and practice them as much as they can. Solving the UCEED sample paper will boost the confidence level and familiarize students with the types of questions asked in the entrance test.

Spend some time on general awareness - Make sure you keep abreast of both national and international news. Also, it is imperative to be aware of environmental and social awareness as it is a separate section in the examination.

Proper time management- As per the UCEED 2022 exam pattern, the entrance test consist of two parts- section A and section B. First section consumes a lot of time, which is why candidates need to manage their time to get sufficient time for solving all the questions.

Work on abstract tests - It is crucial for students to know abstract, mathematical and mechanical aptitude.

Admit card - Candidates must not forget to carry a printed copy of the downloaded admit card. Only candidates having a valid admit card will be allowed inside the UCEED exam centres.

Valid ID proof - The candidate's identity will be verified by invigilators as well as IIT representatives. If the identity of the candidate is in doubt, the candidate may not be allowed to appear for the examination.

Reporting Time - Make sure to reach the centre at the reporting time mentioned in the UCEED admit card. After 'Gate closure', the candidate will not be permitted under any circumstances.

Stationery - Test-takers are required to bring their own stationery material for use in UCEED 2022. Some of the items they need to bring are:

Ruler

Eraser

Sharpener

Lead pencils (of varying grades)

Black ballpoint pen (to mark the answers in the OMR sheet)
Don't For UCEED 2022
Practice online for Part A and not offline - Students need to be well versed with online mode of examination. Candidates need to understand and be comfortable with the online pattern.

Do not start late - Do not underestimate the amount of practice and time required for this exam. The only way to crack UCEED is by starting as early as you can.

Do not set limits while studying - Do not limit yourself to the topics, cover as many topics as you can.

Don't get fooled by complex image questions - They look difficult to solve but in reality, they are quite similar to normal geometric questions. Based on the practice of your mock tests, you can easily solve them during exams even if they look difficult.

Don't spend too much time on one question- On average, spend 1.5-2 minutes for each question, regardless of marks. Spare at least 15-20 minutes at the end to recheck your attempted questions.

Do not try to impersonate- Impersonation in the examination is a serious offence which will result in immediate disqualification of the candidate from UCEED, and lead to criminal proceeding against the candidate.

No electronic gadgets- Candidates will not be allowed to carry any electronic device (mobile phones, smartphones, digital/smart watches, calculators, tablets etc.), abacus, slide rule, logbooks, study material of any type, geometry box, etc. to the examination hall. A list of forbidden items will be put up on the website before the exam if there are additional items.

Do not surmise the answers- The candidates must not mark the answers if they are not sure as in Part A, there is negative marking in multiple-choice questions and multiple select questions.

Don't practice using pen and paper- Refrain from practicing offline mock tests. You need to be well versed with online mode of examination. You need to understand and be comfortable with the online pattern.

Do not sign the admit card prior to entering the centre - Candidates have to sign on the admit card in presence of the invigilator. Candidates must also ensure that their signature matches the printed signature, which they had uploaded during registration.
Frequently Asked Question (FAQs) - UCEED Preparation Tips: 10 Do's and Don'ts for UCEED 2022
Question: When will the authority conduct the entrance test of UCEED 2021?
Answer:
UCEED 2022 will be held on January 23 from 9 am to 12 noon in multiple test centres.
Question: When will the authority announce the result of UCEED?
Answer:
UCEED 2022 result will be announced on March 10 on the official website - uceed.iitb.ac.in.
Question: What is the mode of UCEED 2022 entrance test?
Answer:
UCEED 2022 consists of two parts - section A and section B. Section A is the computer-based exam and section B will be held in pen and paper mode.
Question: What are the documents that must carry to the UCEED exam centres 2022?
Answer:
Students must carry the admit card of UCEED along with a valid identity card to the exam centres.
Questions related to UCEED
Showing 491 out of 491 Questions