How to prepare for NID DAT 2023? - Did you see "Design" in everything around you? Do you have any info on fabric/ pottery/ ceramic design? When you stare at something and start thinking "If that might be better with --?" If you can connect with every single word written above then welcome to the realm of design. Many aspirants are admitted to the design school to procure this curiosity. On the list of the top design institutes in India, the National Institute of Design (NID) is among them. The NID entrance exam 2023 for DAT mains for M.Des is being held from March 20 to April 23 (M.Des) and for B.Des, it will be held on April 30.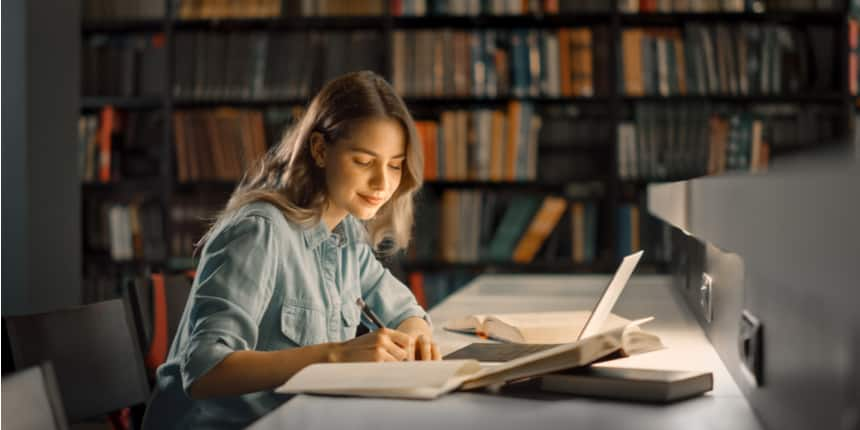 How to Prepare for NID DAT 2023?: Check Tips & Tricks to Crack NID
Top College in India Offering Design
How to prepare for NID DAT 2023 - Stages of Preparation
Aspirants need to qualify for the NID Design Aptitude Test (DAT) to gain admission to NIDs campuses. Those aspirants who make up their minds to appear in the NID DAT exam should then go through the tips on how to prepare for NID DAT 2023. It will help you while preparing for the NID DAT 2023 exam. Careers360 offers a set of top-notch suggestions on how to prepare for the NID DAT 2023.
Know your NID Syllabus 2023
Understand the exam pattern of NID DAT
Make the NID DAT 2023 preparation plan
Books to refer
Practice till you are perfect using mock tests and previous year's papers
NID DAT Exam Day Strategy
Popular Online Design Courses and Certifications
How to prepare for NID DAT 2023 - NID Admission 2023
NID admission is wholly based on candidates' performance in NID DAT 2023 entrance exam. According to the NID DAT exam pattern, the design entrance test is divided into two sections which are the DAT Prelims and DAT mains exams. The NID DAT prelims exam is a written aptitude test on design. Aspirants must first clear NID prelims to appear in the DAT mains exam, including a studio test and personal interview.
Candidates who clear all the NID DAT selection criteria rounds will be accepted to NID's B.Des Careers360 offers all relevant information concerning NID DAT preparation tips on this page.
How does a candidate get through their first attempt at the NID Ahmedabad? So, here are some hints and clues for clearing NID DAT (Prelims). Once it comes to training for NID DAT then a candidate will improve their skills in sketching and drawing. Candidates will continue to fine-tune these skills when training for the NID DAT 2023 test.
Emphasis on product growth as it prepares for NID DAT. What kind of material is used to make a ball pen? Why did the designer select the particular material for that pen? Or What determines a pen's length? are some of the examples

If a candidate intends to crack the NID DAT 2023 exam, they should move their pencil as fast as their thought processes. Contact your idea as quickly as the speed of light. Time can fly when taking the NID entrance exam according to the previous year's NID DAT toppers.

Draw tiny thumbnails first, then switch on to the light hand and finish with dry colours such as pencils, ball pens, crayons, etc.

Candidates must plan their section on preparing for the NID DAT wise. This means which segment you'll seek first, second, etc.
NID DAT Complete Guide
Download EBook that gives in-depth information about the entrance test including eligibility criteria, selection procedure, important dates, exam pattern, and more.
Download
Browse Top Fashion Design Colleges by Location
Tips on how to prepare for NID DAT 2023
It is a myth that the one who draws well will only crack the NID DAT exam. Aspirants must understand that NID questions are presented in order to test a candidate's imagination, creativity, and perception skills/ general knowledge/observation. NID essentially focuses on the resources for problem-solving.
Work on your creativity
Candidates must be imaginative and should have fresh and innovative ideas to come up with. Candidates should be clever enough to be able to recycle their ideas daily. While studying for the NID test, get inspired, and work with excitement then you have to be amazed at your ideas and creations.
Popular Online Design Courses and Certifications
Time Management
Get a calendar and a diary
Set your priorities
Set out long study hours
Take care of your health
Don't sleep during study time
Get enough sleep
Solve Past Years Question Papers of NID DAT
Solve all previous years' question papers for NID DAT to boost your preparation. After that, give daily mock tests.

Don't use a sketchbook in size A3. Always use A4 size because the standard size of the answer sheets in the exam usually is A4.
Also Check: NID DAT Prelims Sample Paper PDF
Practice Drawing
Do not think about marks or high scoring during the test. Candidates should rest assured of their drawing and answer.

First, always draw with a light hand. When candidates are satisfied with their ratio and a rough outline, they can finalize with shading. Avoid erasing and redrawing to save time during the exam.

Practice more with dry colours as they are advantageous to use during the examination and take less time.
Draw a Clear cut time table for the preparation
Student Also Liked
Good Study Material
The most important factor to prepare for any exam is having good study material. Following the right, NID study material is critical to preparing for the examination. best NID DAT book to prepare for the exam. Aspirants can consult NID teachers and toppers or read their interviews and check which books they referred to. By following NID DAT toppers' interviews, candidates can also get an idea about their strategy and NID DAT preparation tactic.
Listed below are a few NID DAT Preparation books which candidates can follow to prepare for NID DAT.
How to Prepare for NID DAT 2023- Know the Best Books
| | |
| --- | --- |
| Book Name | Author Name |
| NID (B.Des) Entrance Book and Test Series | AFAINDIA |
| Basic Rendering | Robert W.Gill |
| NID Mock Test Series 2019-20 | Bhanwar Rathore and Alumni Ahmedabad |
| NIFT/NID/IIFT Entrance Exam Guide | RPH Editorial Board |
| NID DAT Books | R.S Aggarwal (Aptitude Section) |
| Design Drawings | Francis D.K.Ching |
| NIFT/NID/IIFT Entrance Exam Guide | Surendra |
| NIFT, NID, IIFT Entrance Examination | Dharmendra Mittal |
Top Design Entrance Exam