How to Create a Portfolio for Admission into Design Schools
How to Create a Portfolio for Admission into Design Schools: Creating a strong portfolio is a gateway to the world of expressing your work, skills, and experience. When you seek admission to leading design schools, consider the portfolio as a great opportunity to express your creativity. A good portfolio helps you to differentiate yourself from other competitors and create a good first look.
Latest Updates for NIFT Entrance Exam
Stay up-to date with NIFT Entrance Exam News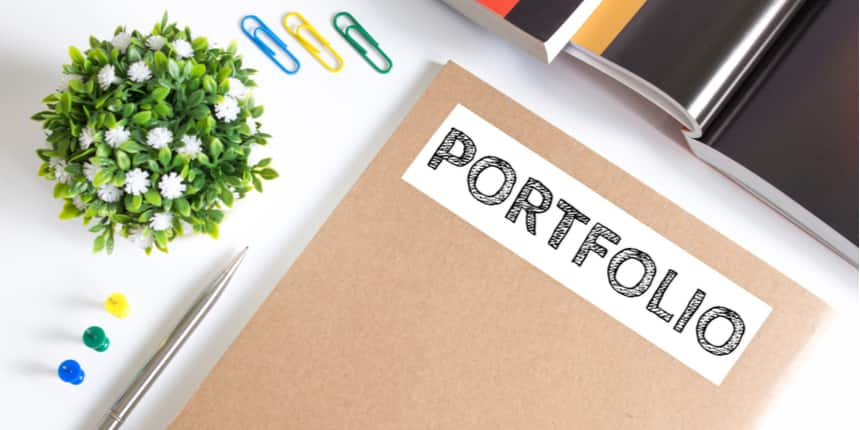 How to Create a Portfolio
Portfolios are a prism through which the selection panel evaluates a student's ability in the field of design. An impressive portfolio offers the opportunity to get admission to your dream design colleges. An impressive portfolio is the backbone of every design aspirant. Before proceeding further in this direction, Careers360 defines what a portfolio is.
Top College in India Offering Design
What is a portfolio? How to make a Portfolio for Design admission
Top design colleges like NIT, IIT, Pearl Academy, NIFT, and IISC ask you to present your portfolio during the admissions interviews. Therefore, as soon as the Design Aptitude Test (DAT) for CEED/ UCEED or NID admission is completed, applicants should begin the process of creating the portfolio.
Careers360 suggests that you keep in mind the fact that there is a motivation in evaluating a candidate's creative spark and understanding whether the person interested in the course he or she is applying for has a natural interest.
Your portfolio motivates you to be a strong candidate who deserves to study design. It shows your ability to work with different materials and themes and choose your best output. It demonstrates your technical and visualization skills like drawing. It shows the evidence for your practice and how you use research, theory, and process to develop your ideas. To build a successful portfolio, there are some key elements to keep in mind.
Top Design Entrance Exam
What is a portfolio?
A portfolio is a collection of your work or a 'visual diary' that shows how your skills and ideas have developed over a period of time. It demonstrates your creativity, personality, abilities, and commitment, and helps teachers evaluate your inherent potential. Since you do not have the opportunity to explain most of it, it should be a work that speaks for itself.
How to make a good portfolio?
Your portfolio should reflect your personality and your own way of looking at the world. You want to show design schools that there is a special reason for allowing you. Careers360 advises you to create the art you love, a different kind of art than others create. Technical skills are not enough if you can only follow what others have created. As you begin to build your portfolio, be sure to read examples of previously submitted art portfolios.
Also Read:
Tips to Make an Impressive Portfolio for Design Schools
Therefore, creating a great design portfolio is an important exercise for a student to build their career in design. Most design schools ask students to show their design portfolios during the admission interview. Careers360 brings here some tips to create an impressive design portfolio for admission.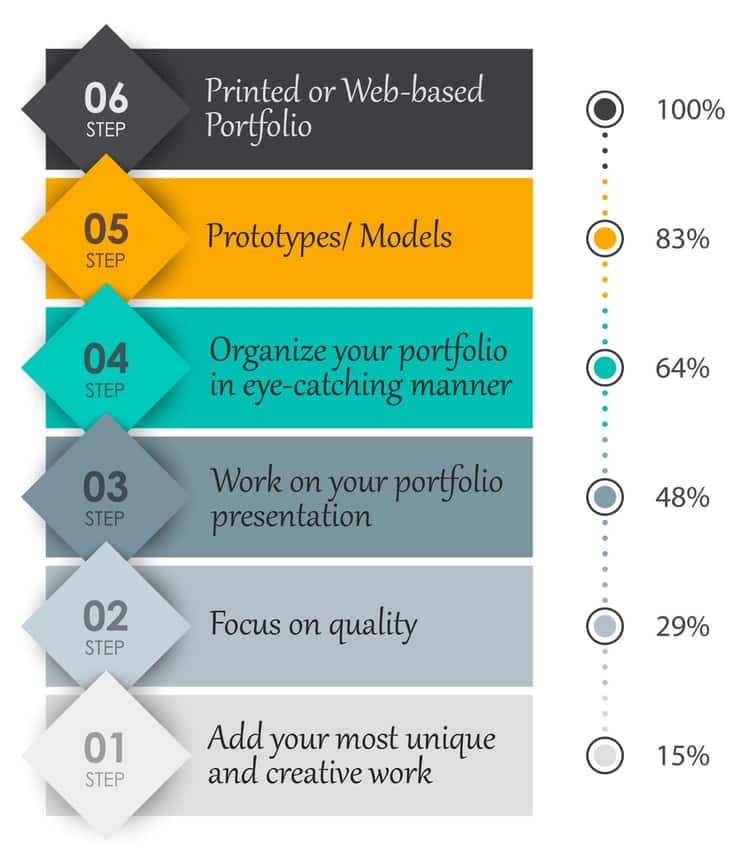 Add your most unique and creative work
Find your best work and add it to your portfolio. Remember that the purpose of creating a portfolio is to showcase your creative design and problem-solving skills. Avoid adding jobs that could make the selection committee look negative.
Take the time to choose your work that will highlight your design skills. Your portfolio should not only reflect the work you have done, but also the things you want to do in the future.
Focus on quality
Remember that a portfolio presentation is not about the amount of work you do, but rather about showing your creativity and innovative thinking. Humans are less focused, so adding unnecessary things will ruin your effort. The portfolio should be simple, clean, and fantastic.
Limit your portfolio to a maximum of 10-15 pages, with only one project per page. This will help increase clarity in the project and gather attention. Make sure you have images in your portfolio that are synchronized with your interests.
In addition, one can add works that express the individual's awareness of colors, themes, and designs. It is an added benefit if the portfolio successfully manages to be comfortable with the variety of tools, design styles, approaches, and media.
Work on your presentation
It is a good idea to label your portfolio adequately. Give an introduction to the project you have included in your portfolio. However, limit yourself to a one-line introduction. The task here is to give the panel a rough introduction to what to expect in the next product, without drowning in words. Let the scenes speak.
When applying, you need to demonstrate both your technical ability and creativity. So keep this in mind when compiling the work - only add pieces if there is a valid reason. Keeping the arrangement smooth stops the work from becoming cluttered. Simple layout without detailed framing. Keeping the object as green as possible ensures that the page is clear.
Organize your portfolio in an eye-catching manner
It is important to organize your portfolio in a spectacular way, but not too much. Organize your portfolio using categories such as education, awards and certificates, work experience, special skills, workshops and conferences, job models, and more. Create a layout and design, however, do not get too much decoration. Each page should have a title and a concise title.
Prototypes/ Models
If you are good at making models, you should definitely take one to your NID entrance exam and CEED interview round. Also, a sample panel helps you to better understand your thought process behind the product. Don't worry, the model has to be a moccasin/ prototype, it doesn't have to be very high-tech. The patterns we are referring to here are even simpler than paper, foam, or clay.
Printed or Web-based Portfolio
Careers360 states that you must provide a hard copy of your work for maximum benefit. Nowadays, there are many websites that can upload your work, but avoid doing this. The center may not have proper internet access and your entire portfolio presentation process may be destroyed.
Many students these days like to showcase their talents through presentations on laptops. If they want to present their portfolio on a laptop, they need to make sure that the whole presentation is simple, easy to understand, and not too flashy. Also, if one is good at drawing, it is a good idea to add a page to the sketchbook or draw some of your thought processes on A4 or A3 size paper. In design exams, hand-painted sketches help to get brownie dots.
Read Also:
How to Organise a Design Portfolio
A portfolio can be of any size, depending on the work it takes. Make sure carrying is practical.

There is no limit to the amount of work it can contain. Be practical and choose your best. Selection of different projects and 2-3 complete sketchbooks will suffice.

Large workpieces - 3D objects or large paintings - can be photographed and presented in your portfolio. You can take 1-2 physical examples with you when you are called for an interview. But only if they are small, light, or difficult to photograph.

Keep it simple, irregular, and relevant - load works on sheets of the same size as white paper.

Give your workplace a breath of fresh air. If you have a dozen identical prints, choose only the best 2 or 3.

Stabilize your work logically and try to present your work in such a way that everything faces the same way.

Start and finish your portfolio with your strong work.

Make sure your portfolio shows different types.

Show work that you can talk about for a long time.
How do I submit my portfolio?
If you are applying for a course that requires a portfolio to support your application, you will undertake one of the different trips depending on the syllabus.
Also Read:
7 Things to Include in Design Portfolio
The following items should be included in your portfolio.
Table of Content: List the contents of your portfolio with the page number.

Career Objective and Goal: Give a brief description of your career goals and where you want to be in the future.

Resume: Include information about your educational qualifications, work experience, and achievements.

Work sample: Highlight your most unique and creative work such as excellent projects, presentations, and publications.

Testimonials and Letters of Recommendations (If any): Add the pride you received for your work from the professor, client, or client.

Awards and Honor: Any award, certificate, honor, or scholarship you have received.

Workshop and Conference: Mention the design workshop, seminars, and conference you attended.
Browse Top Fashion Design Colleges by Location
Questions related to NIFT Entrance Exam
Showing 1809 out of 1809 Questions
National Institute of Fashion Technology Entrance Examination (NIFT Entrance Exam)