NIFT Counselling 2020 - National Institute of Fashion Technology will start registration for NIFT 2020 counselling first round from fourth week of May to first week of June for B.Des. and B.FTech. The counselling for the first round will start in second week of June. Candidates who will clear both NIFT written entrance exam and the situation test, they will have to appear for NIFT counselling to reserve their seats for admission as per the announced schedule. They will have to take part in NIFT counselling based on the rank they would secure and the category under which they would apply for admission. More than two thousand undergraduate design seats will be offered via admission procedure of NIFT entrance exam 2020. In 2019, candidates securing common rank 1 to 69687 were called for the B.Des. admission while students with common merit rank till 1985 were called for B.FTech admission. The online registration for second round will commence in third week of July 2020 and the counselling will start in fourth week of July. Candidates should read NIFT counselling 2020 to know the complete counselling procedure, documents required and seat allotment.
Latest: The result of NIFT declared on March 13, 2020. Also check the expected NIFT 2020 cutoff.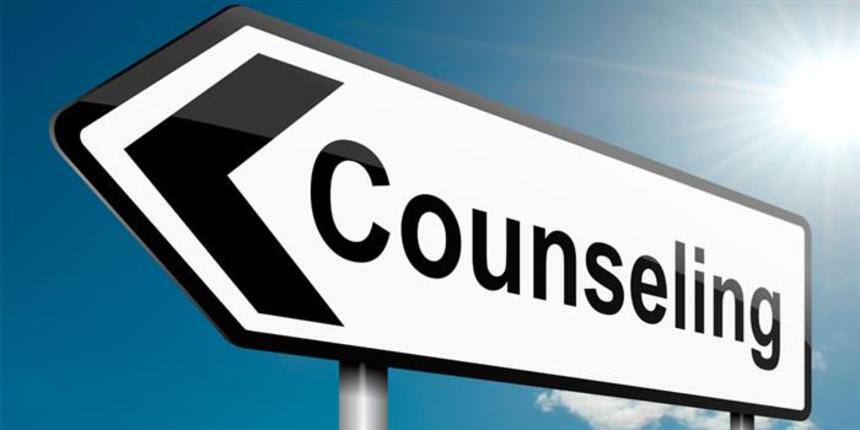 NIFT Counselling 2020 Important Dates
| | |
| --- | --- |
| Events | Dates |
| Start of round 1 of NIFT 2020 counselling | Fourth week of May to first week of June 2020 |
| Registration for round 2 | Third to fourth week of July 2020 |
| Round 2 of NIFT counselling 2020 | Fourth week of July 2020 |
Important Guidelines for NIFT Counselling 2020
NIFT conducts the counselling for offering admissions across all the sixteen campuses. Candidates will not have to pay any registration fee for the first round of NIFT counselling 2020.

For the registration, students have to enter credentials such as form number, date of birth and password. Candidates will also have to select a counselling campus from where they will be participating in the NIFT counselling process. They will receive a system generated letter, SMS and an email on their registered mobile and email ID after successful registration from the authorities.

The qualified candidates will have to visit the chosen campus of NIFT at 9:30 a.m. for document verification and seat allotment. They will be called for counselling based on their merit rank and availability of seat. They can select the seat in presence of the nodal officer by clicking on the computer screen.

Post allocation of the seat, candidates will have to pay full fee at the NIFT campus. They will be issued an allotment letter/receipt duly signed by the nodal officer, which is important to collect.
Details regarding round 2 of NIFT 2020 counselling procedure
Candidates who have taken admission once and then withdraws, such candidates will not be considered for admission for subsequent rounds.

Round 2 of NIFT counselling 2020 will also be held across all the 16 campuses. Admission process across all the campuses will be coordinated by NIFT Head Office.

Candidates will have to attend the second round of counselling procedure based on merit.

PWD candidates shall not be eligible to participate in the 2nd round of counselling

Differently abled candidates who will be allotted NRI seats in round 1, will not be eligible to participate in the next round.

Candidates participating in the second round are required to register online.

The whole procedure for round 2 of counselling will be same as in the first round, barring the registration fee. Candidates will have to register/re-register by making an online payment of Rs.5,000.

Candidates will have to report at the chosen NIFT campus at 9 AM for document verification and seat allocation.

Candidates who do not wish to change their course/campus that has been allotted to them in round 1, may choose not to participate in the next rounds of counselling. Candidates who already have been allocated a seat and still wish to participate in round 2 can do so from the allotted campus to avoid academic or attendance loss.

The vacant NRI seats will also be offered for admission in round 2.
What are the Documents needed at the time of NIFT Counselling 2020?
Candidates must carry the given below documents and their photocopies at the time of counselling for verification purpose. Post verification, the Institute will return all the original certificates except medical certificate.
Valid PWD certificate

System generated letter/e-mail received by the qualified candidate

Photograph (2 passport and 4 stamp size)

Certificate of passing 10+2/equivalent exam

Copy of 12th class school leaving certificate (only for domicile seats)

Certificate from the prescribed authority showing that he/she belongs to an SC/ST/OBC (Non-Creamy) category

Certificate from the Board from which candidate passed the High School/Higher Secondary Examination

Certificate from the prescribed authority showing that he/she belongs to Economically Weaker Section (EWS) category.

Semester Fee – Demand Draft of Rs. 1,45,950/- (Non-NRI) drawn in favour of the NIFT HO payable at the city of the Counselling

Certificate of clearing 10+2/equivalent examination, showing the subjects offered by him/her in the exam. Physics, Chemistry and Mathematics for B.F.Tech.

Undertaking for the candidate seeking provisional admission-(Annexure-I)

Undertaking from the students as per provisions of anti-ragging (Annexure-II)

Form for withdrawal of admission (Annexure-III)

Undertaking about eligibility, fee and refund (Annexure IV)

Medical fitness certificate in the prescribed format (Annexure VI)

Authorization letter from the candidates, who cannot attend the NIFT counselling 2019 in person (Annexure VII) (not applicable for PWD candidates)
Important - If any of the above-mentioned documents are in a language other than Hindi or English, an authentic translation in any of the mentioned languages should be produced duly verified by the issuing institution/gazetted officer/self-attested by the candidate at the time of NIFT 2020 counselling procedure. It is to be noted that those who fail to submit the translation will not be considered for NIFT admissions 2020.
Withdrawal of Allocated Seat and Fee Refund
If a candidate has taken admission, but wish to cancel the allotted seat, he/she may request for the fee refund. Such candidates will have to report personally for withdrawal and refund at the same campus where admission was taken.
Cancellation of NIFT Admission 2020
Qualifying in the entrance exam does not guarantee admission.

NIFT can deny admission to a candidate at a later stage the institute is dissatisfied with his/her character, past behaviour or antecedents.

Candidates who got admission at NIFT based on the false information or by hiding relevant facts, their admission will be cancelled without any notice by the Director of the campus/Director (admission). The fee deposited will also be forfeited.

Candidates will have to report to the allotted campus within a week of beginning of the session to avoid cancellation of their seat.

Merit will be valid only for the programme for which candidate has appeared. Admission to any other category/course will not be allowed.
NIFT 2020 Seat Intake
Nearly 3,590 seats (including UG and PG) will be allotted in B.Design and B.F.Tech programmes across sixteen campuses. Candidates can check the detailed seat matrix below:
Programme

Discipline

Total Seats

Bachelor of Fashion Technology (B. F. Tech)

Apparel Production

518

Bachelor of Design (B. Design)

Knitwear Design

296

Fashion Design

642

Leather Design

168

Fashion Communication

598

Textile Design

558

Accessory Design

600
Click Here to know the campus-wise programme and seat offered.
Aspiring candidates can check below the status of available seats in round one and two of NIFT counselling that was held last years so that they get a fair idea about the admission.
NIFT B.Des Available Seats for 2019 admission (Round 2)
| | | | | | | |
| --- | --- | --- | --- | --- | --- | --- |
| Date | Accessory Design | Fashion Communication | Fashion Design | Knitwear Design | Leather Design | Textile Design |
| July 29, 2019 | | | | | | |
| July 30, 2019 | | | | | | |
| July 31, 2019 | | | | | | |
NIFT B.F.Tech Available Seats for 2019 admission (Round 1)
| | | | | |
| --- | --- | --- | --- | --- |
| Name of the Programmes | Links (List 1) | Links (List 2) | Links (List 3) | Links (List 4) |
| B.F.Tech | | | | |
NIFT B.Des Available Seats for 2019 admission (Round 1)
| | | | | | | |
| --- | --- | --- | --- | --- | --- | --- |
| Date | Accessory Design | Fashion Communication | Fashion Design | Knitwear Design | Leather Design | Textile Design |
| June 19, 2019 | | | | | | |
| June 20,2019 | | | | | | |
| June 21, 2019 | | | | | | |
| June 24, 2019 | | | | | | |
| June 25, 2019 | | | | | | |
| June 26, 2019 | | | | | | |
| June 27, 2019 | | | | | | |
| June 27, 2019 | | | | | | |
| July 1, 2019 | | | | | | |
| July 2, 2019 | | | | | | |
| July 3, 2019 | | | | | | |
| July 4, 2019 | | | | | | |
| July 5, 2019 | | | | | | |
| July 8, 2019 | | | | | | |
| July 9, 2019 | | | | | | |
| July 10, 2019 | | | | | | |
| July 11, 2019 | | | | | | |
| July 12, 2019 | | | | | | |
| July 13, 2019 | | | | | | |
NIFT B.Des. available seats for 2019 admissions (round 2)
| | | | | | | | | | | |
| --- | --- | --- | --- | --- | --- | --- | --- | --- | --- | --- |
| Date | Accessory Design | Fashion Communication | Fashion Design | Knitwear Design | Leather Design | Textile Design | Master of Fashion Management | Master of Fashion Technology | Master of Design | Bachelor of Fashion Technology |
| July 18, 2019 | | | | | | | | | | |
NIFT B.Des. available seats for 2018 admissions (round 1)
| | | | | | | |
| --- | --- | --- | --- | --- | --- | --- |
| Date | Accessory Design | Fashion Communication | Fashion Design | Knitwear Design | Leather Design | Textile Design |
| June 11, 2018 | | | | | | |
| June 12, 2018 | | | | | | |
| June 13, 2018 | | | | | | |
| June 14, 2018 | | | | | | |
| June 18, 2018 | | | | | | |
| June 19, 2018 | | | | | | |
| June 20, 2018 | | | | | | |
| June 21, 2018 | | | | | | |
| June 23, 2018 | | | | | | |
| June 25, 2018 | | | | | | |
| June 26, 2018 | | | | | | |
| June 27, 2018 | | | | | | |
| June 28, 2018 | | | | | | |
| July 2, 2018 | | | | | | |
| July 3, 2018 | | | | | | |
| July 4, 2018 | | | | | | |
| July 5, 2018 | | | | | | |
| July 6, 2018 | | | | | | |
NIFT B.FTech. available seats for 2018 admissions (round 1)
| | |
| --- | --- |
| Date | Apparel Production |
| July 10, 2018 | |
| July 12, 2018 | |
| July 14, 2018 | |
NIFT B.Des. available seats for 2018 admissions (round 2)
NIFT B.FTech. available seats for 2018 admissions (round 2)
| | |
| --- | --- |
| Date | Apparel Production |
| July 20 | |
Questions related to NIFT Entrance Exam
Showing 1646 out of 1646 Questions
National Institute of Fashion Technology Entrance Examination (NIFT Entrance Exam)