How to crack interview for design courses
Getting admission in National Institute of Fashion Technology (NIFT), National Institute of Design (NID) or Indian Institute of Technology (IIT) is the dream of all design aspirants. The admission procedure for design programmes in these reputed colleges include written test as well as an interview before a panel. After qualifying the entrance exam, clearing the interview also becomes very important as this will decide your chances of securing a seat in any premier school of design.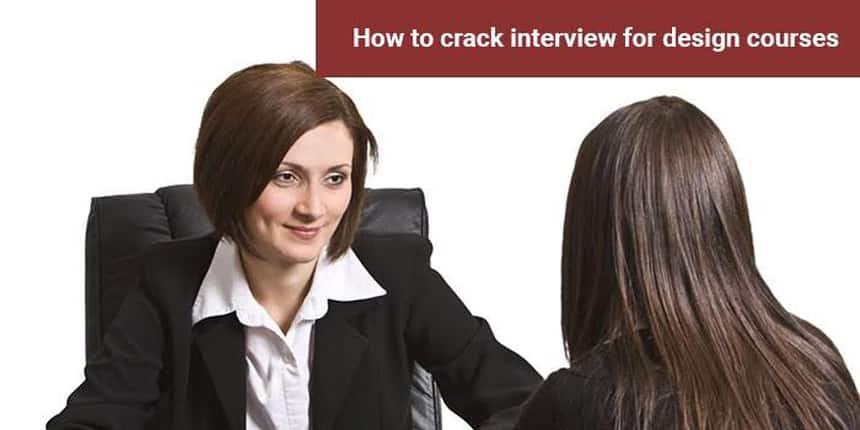 Careers360 presents below ten useful tips that candidates should keep in mind while appearing for the interview. Read the article to know how to crack interview for design courses like NIFT and NID.
Tip#1: Be Punctual
It is mandatory for you to reach the venue of interview on time. It is recommended that you go and see the place one day prior to the day of interview. But if that is not possible, then ensure that you get directions to the venue a day before. This will save your time on the D-day.
On the interview day, reach the centre at least half an hour before the scheduled time of interview. No interviewer would appreciate a latecomer even if he/she is a good candidate.
Tip#2: Dress properly
Although there is no specified dress code for appearing in the interview round at NIFT, NID or IITs, but you should dress appropriately for the personal interview. You should wear formal clothes and also pay attention to the footwear while going for the admission interview.
Tip#3: Good manners are always appreciated
Maintaining basic etiquettes during the interview is always noticed by interviewers. As soon as you enter the interview room, make sure that you greet all of them with respect. Also, ask to be seated. Switch off your phone, and if not that, then put it on silent mode. Do not be rude while replying. Thank and greet them politely, and take your leave once the interview is over.
Tip#4: Be confident
Being confident is the key to a smooth interview. Try to maintain eye contact with the interviewer as this will show that you are well-aware of the questions asked. Try to convey to them that you are interested in responding to their questions and clearing the interview.
Tip#5: Using slangs is a big "NO"
Never make the mistake of using slangs while responding to the panelists. An interview is a formal event and you should ensure that you maintain it that way only. Including slangs in your responses may result in rejection by interviewers as it may appear impolite to them. 
Tip#6: Carry a comprehensive portfolio
Make sure that you carry an all-inclusive portfolio while going for the interview. Include your best work as panelists will be interested in having a look at it. After going through your varied work, they may conduct the entire interview based on your creations only. This will be highly advantageous for you.  
Tip#7: Do some research
It will be helpful for you if you have done your homework about college and course that you are applying. Do a little bit of research over the internet and get acquainted with the basic information. It will reflect to the panelists that you are interested in getting admission in the college.
Tip#8: Understand the subject
The interview for design course admissions will be based on evaluating your knack and capability of understanding fashion and design trends. Therefore, it becomes crucial that you are thorough in the subject. You should also know about popular personalities in the domain of fashion and design.   
 
Tip#9: Avoid giving standard responses
Do not give conventional answers to the interviewers; rather try to be as original as possible. There is no need to cram any answer. The panelists of admission interview for design courses are willing to see whether you have creative and imaginative skills along with the aptitude to pursue the programme. Open ended questions are asked for judging your personality, and there is no standard or correct answer to these. Thus, just focus on being original and honest.   
Tip#10: Do not bluff
Do not beat around the bush in case you have no clue about the answer to a particular question. Admit your ignorance very frankly and inform the interviewers that you don't know the answer. Moreover, it is advisable that you ask them for guidance on where you can study about the topic. This will make you look curious, and interviewers will appreciate this.    
Also Read:
Career in fashion design: Personality traits that matter
Career in Fashion Design: How to become a successful designer?
Stay tuned to design.careers360.com for latest updates, news and feature articles on Design.
Questions related to NIFT Entrance Exam
Showing 1681 out of 1681 Questions
National Institute of Fashion Technology Entrance Examination (NIFT Entrance Exam)