7 rewarding careers in Transportation and Mobility Design
7 rewarding careers in Transportation and Mobility Design - The first automobile, a steam-powered vehicle, was designed as a toy for an emperor in China in 1672. Transportation and mobility design is not design aesthetically-pleasing vehicles. Transportation and mobility design is more about comfort, technology, swiftness with affordable price by creating a narrative space based on the user's experience.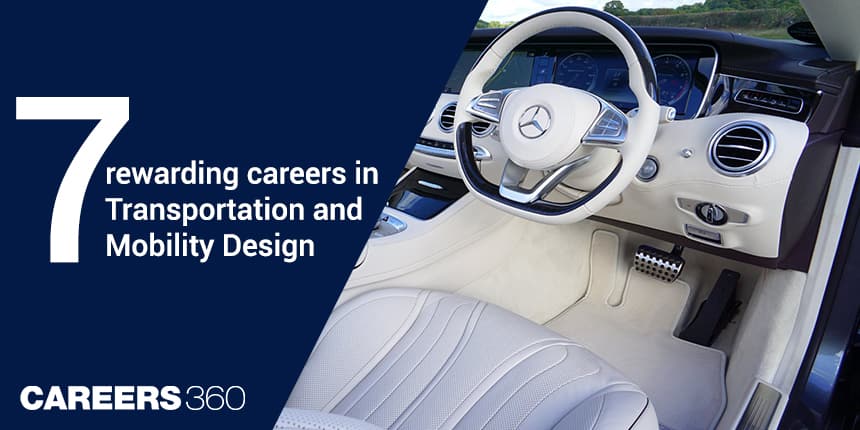 At present we are in need of sustainable solutions as the world is undetermined, complex and volatile. There are concrete issues in every field, and mobility and transportation is a crucial cog in the wheel of development.
A transportation firm not only needs an engineer to design a vehicle but a well trained design professional who acknowledges the aesthetic of automobiles, technology and analysing the automotive. BDes and MDes in transportation and mobility design focus on critical analysis and problem-solving skills in an integrated manner. UPES School of Design provides BDes and MDes programmes in transportation and mobility design where they train the students with not only how to become a designer but also help them in understanding the kind of designer they want to become, and what problems they want to solve through their work. Interested aspirants need to qualify the UPES DAT exam to gain admission in transportation and mobility design programmes at UPES School of Design. Eligible aspirants can fill the UPES DAT application form which is available online on the official website.
The transportation and mobility industry is growing at a rapid pace and is ripe with opportunities. Students passionate about transportation and mobility design can choose a pool of career options. There is a surge in demand for skilled professionals in this field. Enormous opportunities are available for the transportation and mobility design graduates aspirants.
Transportation Designers - They are commercial and industrial designers who design any form of transport and vehicles such as bikes, cars, and aircraft. Transport designer profession required to have a knowledge of design, computer software and computer-aided software design. The salary of a transportation designer on an average is Rs 30, 000 per annum.
Heavy Vehicle Manufacturers - They are responsible for designing heavy vehicles such as passenger buses, freight trucks, and semi-trailers for both industrial and commercial use. The average annual salary of a heavy vehicle manufacturer is 3.4 lakhs. The top recruiters of heavy vehicle manufacturers include Tata Motors, Mahindra & Mahindra Ltd, Volvo, Ashok Leyland and many more.
Colour Material and Finishing Designers - The role of the colour material and finishing designers is to make or break the image of the vehicle. Colour Material and Finishing Designers - They studied in detail the colour and material trends to create a product that appeals to the audience as well as resonates with the brand.
Project Associates Transportation - Project Associates Transportation are responsible to undertake research and policy reviews, identify solutions and ensure their execution. They can work with state and central governments, inter-governmental organisations as well as private research institutions. The salary of Project Associates Transportation in India ranges from Rs 2.5 lakhs to 11.5 lakhs with an average annual salary of ₹ 8.2 lakhs.
Design Strategists - They are responsible to implement user research-driven planned projects to unearth new products and services or improve existing projects. The annual average salary of a design strategist is 6 lakhs.
Digital Sculptors - Digital Sculptor interpret and define the design intent of the industrial designer. They directly collaborate with engineers, and teams involved with packaging and tooling. The salary of a digital sculptor in India ranges between Rs 4.2 lakhs to Rs 12.0 Lakhs. And the average annual salary is Rs 9.8 Lakhs.
Entrepreneurs - Entrepreneurs build something new through creative problem-solving. Their role is vast and so are their rewards.
Also Read:

Disclaimer: This content was distributed by UPES and has been published as part of Careers360's marketing initiative.
School of Design, University of Petroleum and Energy Studies, Dehradun Updates and Articles
B.Des. in Fashion Design: If you are an aspirant looking to e...
10 Jan 2022
Questions related to School of Design, University of Petroleum and Energy Studies, Dehradun
Showing 1 out of 1 Questions
School of Design, University of Petroleum and Energy Studies, Dehradun