Know all about Textile Design
Textile design is a growing field focusing on teaching wide variety of skills applicable to different areas from home to fashion, handlooms to mill sector and handcrafted printing to digital techniques. It merges artistic aesthetics with technical knowledge along with emphasising on creative innovation. The programme combines theory with hands-on practice in traditional and contemporary techniques of surface ornamentation, print design and weave design.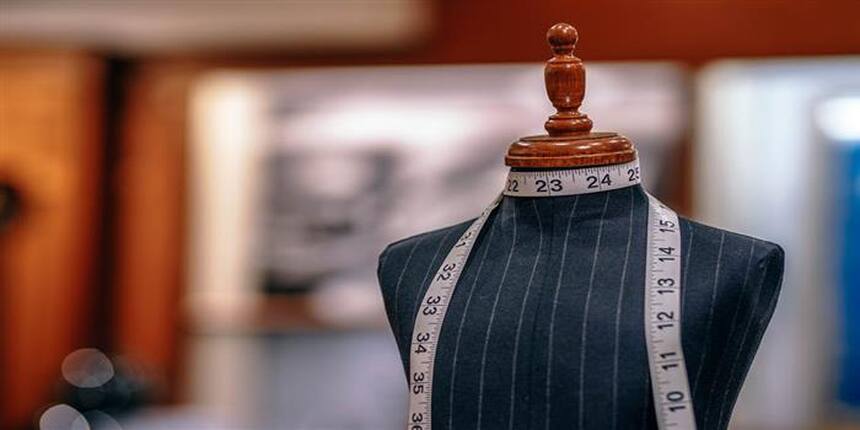 "Textile has been always a strong economic contributor and will continue to do so. The fashion and allied industries are there to stay. Our first batch of textile design had graduated in May 2017", says Sanjay Shrivastava, Director, NIFT Patna and additional in-charge of NIFT Bhubaneswar while throwing light on its expanding scope.
Careers360 explores everything about textile design including eligibility criteria, skills required, most sought after colleges, core study areas, scope, job profiles, major recruiters, average salary, and more.
Eligibility Criteria
For pursuing a bachelor's degree in textile design, you should have passed your class 10+2 qualifying examination from a recognised state or national board of education. 
Skills Required
An aspirant of textile design must have following skills:
Creative flair and artistic ability

A good eye for colour, texture, fabrics and patterns

Attention to detail

An interest in fashion and textiles

An understanding of trends and materials
How does Textile Design programme prepare students?
The programme prepares students for domestic and international fashion and apparel industry. The learning is based on integration of design concept with market requirements covering the entire gamut of idea, design and product development.
Students are trained on weaving, printing, surface ornamentation and digital design, and are exposed to textile design studio setups, industrial units and craft cluster areas around the country. A strong foundation of industry linked programme prepares them for developing market viable collections for domestic and International market.
Areas of Study
Textile science, an important part of textile design programme, includes study of innovative and advanced products aimed at improving the comfort, safety and convenience of consumers.
Another crucial element is fabric studies that include study of fundamental aspects of textiles, ornamentation, value addition, etc. Students learn to handle and use fabrics in various design aspects.
The major elements covered under textile design are:
CAD – Print

Textile Chemical Processing

Woven Design Project

 

Textile Design Techniques

Woven Structures

Surface Techniques

CAD – Dobby, Carpet and Jacquard

Visual Merchandising

Graduation Project

Fashion Studies

Fabric Styling

World Textiles

Traditional Indian Textiles

Advanced Woven Structures

Craft Research and Documentation

Entrepreneurship management

Fabric Studies

Industry Internship

Print Design Project

 

Pattern Making & Construction

Non-Loom Techniques

 

Textile Science

Fabric Quality Assurance

Sustainable Design

Professional Ethics & Responsibilities

Fashion Marketing & Merchandising

Advanced Design Project
Scope and Job Profiles
Textile design professionals provide value to multiple areas (textile mills, export houses, fashion designer studios, buying houses, craft sector) for the ever changing fashion business. They are employed in the capacities of designers, colorists, trend analysts and stylists in design studios.
Positions Offered
The programme prepares students for a wide range of careers in textile mills and export houses, with fashion designer, design studios, buying house, handloom cooperatives and buying agencies as design or fabric managers, or work independently as designers or entrepreneurs. Some of the profiles offered to the graduates of textile design are mentioned below:
| | | |
| --- | --- | --- |
| Colour and style specialist | Colour and trend forecaster | Colour and design consultant |
| Textile and surface developer | Print and pattern designer | Strategic intervener |
| Innovative design consultant | Manager trend & forecast | Textile illustrator |
Top Employers
The graduates find jobs with top organizations as well as fashion houses. Sabyasachi Couture, Bombay Dyeing, Wellspun India are some of the places a creative textile design graduate can find an outlet to his/her creative instinct. The other top employers that recruit graduates of textile design are:
Arvind Mills

Triburg

Jagdish Stores

Alps Industries Pvt. Ltd.

Rupayan (Jaipur)

Bombay Dyeing

Donear Industries Ltd.

Aditya Birla Home Décor

Crew BOS

Nahar Industries

The Shop

Future Group

Welspun India

Shades of India

Himmatsingka Seide

Fabindia

 

Indian Terrain

Bharat Silks

AVH Exports

Jayshree Textiles

Shingora International Pvt. Ltd.

Globe Enterprises

 

Rateria Exports

 

Manish Arora

 

Mahajan Overseas

Portico

Grasim Industries Ltd.

Masaba Gupta

 

Mura Collective

 

Madura Fashion & Lifestyle

Mafatlal Industries Ltd.

Mangalam Arts

NSL Textiles

OBT Carpets

 

Pantaloons

 

Raymond's India Limited

Ratan Textiles

Reliance Brands Limited

Sabyasachi Couture

Shahi Exports

Shades of India

 

Siyaram Silk Mills

 

Synergy Lifestyles Pvt. Ltd.

Trident Industry

 

Textrade International

Vardhman Mills Ltd.

W (TCNS Clothing Pvt. Ltd.)
Average Salary
Depending on the brand, company and location, a textile design graduate can expect to earn anything between Rs.4.5-5 lakhs per annum.
Top colleges offering textile design programme (UG)
Textile design has increasingly been made a part of curriculum by top colleges. The top design institutes like NIFT have started to offer textile design in their programmes. Dr. Vijaya Deshmukh, Director, NIFT Jodhpur, shares, "We have launched four new design courses from July 2016 onwards that include textile design as well."
Some of the most sought-after colleges offering undergraduate degree in textile design are as follows-
The course is designed to produce dynamic professionals, who embrace the newer challenges, opportunities and technologies to produce creative and responsible solutions in the field of textile design. If you have an artistic and creative personality, then textile design can be a great choice for you.
Also Read:
Know all about Accessory Design
What is NIFT Means cum Merit Financial Assistance Scheme?
Get real-time alerts on exam & colleges at your fingertips with Careers360 App!
Click Here to Install or Give a missed call on 08080944727 to get app link.
Stay tuned to design.careers360.com for latest updates, news and feature articles on Fashion & Design.