Type of Fashion Designing Courses in India
Type of Fashion Designing Course in India - Fashion design is an art which applies to the designing of esthetic clothing and accessories. It gets its influence from social and cultural attitudes and is diverse from time to place. A fashion designer must be aware of the fashion trends and know the customers taste. Accordingly they can design a costume or accessories for the target audience. A fashion designer may work for a fashion house or they can work alone or as a collaboration. Well if we went back to the ancient time, the practice of fashion designing has started a long way back. We can take the example of designing clothes worn by the royal family. If you have a good taste in fashion with appropriate colours, texture, fabric and of course shape then definitely you can opt fashion designer as a career. And if you are thinking about whether it is a right choice for you then yes it is if you are creative and talented. Always listen to your heart and do what you want.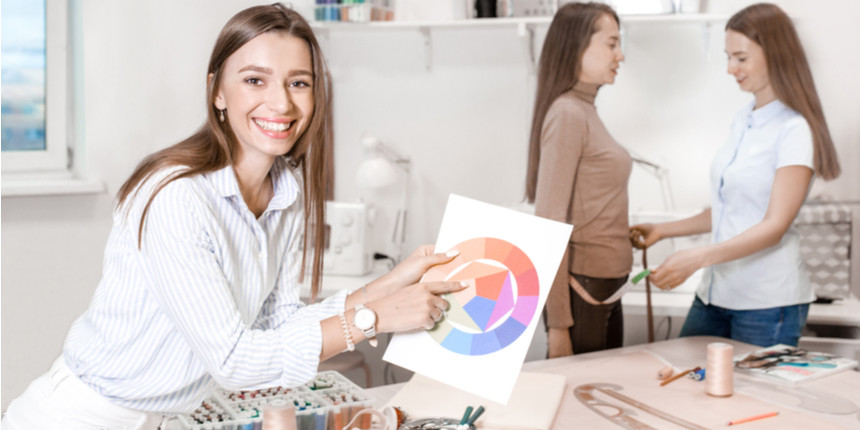 To become a successful fashion designer you may not need a degree but still I recommend you to enroll in a premiere fashion designer college. Getting trained from a reputed institute will aid you to work in a more professional way as you will learn the art of creative as well as merchandising. You will be trained with professional skills which are indeed very mandatory while dealing with the clients. Learning fashion designing is not all about stitching and making aesthetic clothes or accessories. If you are good and interested in technical and management then there is an option which you can opt according to your passion. Every individual has different talents and capabilities. You just need to invest your abilities in the right place. Careers360 brings here the type of fashion designing course in India.
Various Type of Designing Course in Fashion domain in India
B.Sc in Fashion and Apparel Designing

B.Sc in Fashion Business and Retail Management

B.Sc in Lifestyle and Accessories Design

B.Des in Fashion Design

B.Des in Knitwear Design

B.Des in Fashion Communication

B.Des in Accessory Design

B.Des in Apparel Production

B.Des in Leather Design

B.Des in Textile Design

B.A Honours in Communication Design

B.A Honours Fashion Styling and Image Design

B.A Honours in Jewellery Design

M.Sc in Fashion Design
If you want to do a diploma in fashion designing, then you don't need to worry. Apart from the undergraduate and postgraduate courses in fashion design there are various diploma courses in fashion designing. Type of fashion designing course in India are as follows.
Diploma in Fashion Designing

Diploma in Fashion Communication

Diploma in Apparel Merchandising

Advanced Diploma in Fashion Designing
How You Can Get Admission in a Fashion Designing Institute
To get an admission in fashion designing course you can appear in various design entrance tests which are conducted to offer admission in the design domain. Under national, university level there are certain entrance tests which are conducted every year by the concerned authorities. These entrance tests are conducted to offer admission in undergraduate and postgraduate courses to the eligible candidates in different design programmes. Aspiring students can appear in such an entrance examination to consider admission in their dream courses. The list of entrance exams conducted in India for offering admission in the design domains are as follows.
Tops Fashion Designing Institute in India
National Institute of Fashion technology

National Institute of Design

UPES Dehradun
These are few of the institutes where you can matriculate for fashion designing courses in India. You can also enroll in some other prominent institutes where you can get the best learning. Aspirants must note that the fee structure may vary depending on the institute and the course you applied for.
Career Option for Fashion Design
Most of the questions that usually arise in our mind is what to do after getting a degree? Yes it happens with everyone including me. Well no worries, the fashion industry is rapidly progressing in today's time in comparison to the olden days. Indian fashion design has gained its popularity not only in the country but also overseas. People are now more conscious of fashion and therefore the need of fashion designers has increased. So there is a lot of scope for fashion design and few are mentioned below.
Fashion designers

Fashion Stylist

Textile designers

Fashion Cosmetics

Jewellery designers

Footwear designers

Retail managements

Buyer and Merchandiser

Fashion Model
There are plenty of opportunities for the aspiring designers. Moreover the demand for designer wear in the market has reached the roof. Aspirants enhance your enthusiasm and passion in the design domain if you want to become an eminent fashion designer. Most importantly, the portfolio is the backbone of every designer. Portfolio is the way where you can showcase your creativity. Aspirants you can start thinking outside the box and prepare an artistic portfolio that can astonish your target audience.
Questions related to NIFT Entrance Exam
Showing 1646 out of 1646 Questions
National Institute of Fashion Technology Entrance Examination (NIFT Entrance Exam)