CEED Preparation Tips - 10 Do's and Don'ts for CEED 2021
10 Do's and Dont's For CEED 2021 - Indian Institute of Technology, Bombay conducts CEED every year to offer admission to the design aspirants in a postgraduate courses. It is important for the candidates to get familiarise with all the important points which form part of 10 do's and don'ts for CEED before the exam. Students must not afford to make any mistake prior to the exam as well as on the day of the exam else all their hard work will go in vain. Careers360 brings here 10 do's and don'ts for CEED 2021 which candidates must keep in mind so that they do not make any mistake. At the same time, candidates are advised to go through the CEED exam pattern to know all the parameters of the entrance test. IIT Bombay will conduct CEED 2021 in the third week of January. Read the complete article to know all about 10 do's and don'ts for CEED 2021.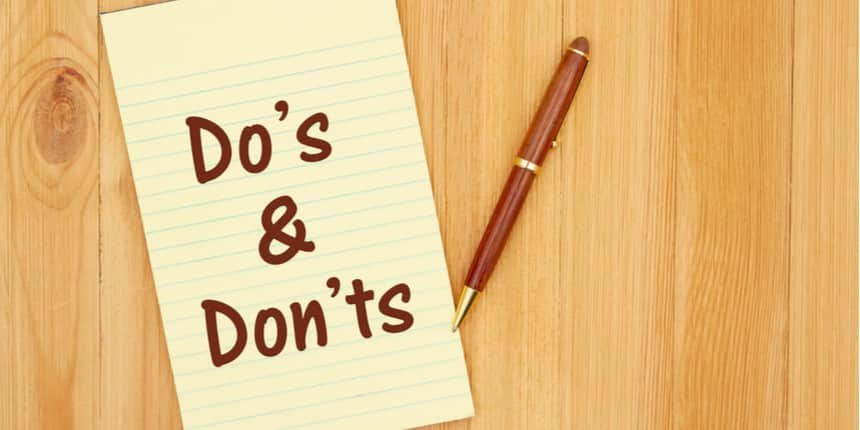 10 Do's for CEED 2021
Have a proper time management during your preparation - Time management is one of the important aspects for success. Aspirants must set a timetable and schedule properly on how much time to spend for what topics and follow it strictly.

Practice sketching - Practice initially simple sketching minding proportions, shape, size and line quality. Practice everyday design and creative exercises.

Prepare for visualization and observation in the right way - You should know how to create videos and animation. Furthermore, for questions related to geometric objects, it is good to display your skills pertaining to imagination and visualization.

Solve CEED sample papers - Candidates must practice the previous year question papers and participate in a mock test. Solving the CEED 2021 sample paper will help the students to get familiar with the type of question asked in the exam.

Stress on reasoning tests - As part A includes analytical and logical reasoning section, it is important for the candidates to know the tricks to solve the reasoning questions like puzzles and other problems.

Improve your general awareness - Aspirants must ensure that they keep abreast of both national and international news. Also, it is imperative to be aware of environmental and social awareness as it has a separate section in the examination.

Carry your CEED 2021 Admit Card - Test-takers must carry their CEED admit card 2021 along with a valid identity card to the exam centre. Test takers have to ensure that the photograph and signature which is printed on their admit card is legible. None of the candidates will be allowed to enter the CEED exam centres without the admit card.

Identity proof - The candidate must bring a valid photo identity proof (original) along with the admit card to the CEED exam centre. Candidates will not be permitted inside the examination centre without a proper identity proof (college issued identity card, driving license, passport, PAN card, Voter ID, Aadhaar card or printed e-Aadhar card).

Reporting time - Candidates must report at the CEED exam centre on time along with a colour printout of the admit card. This is required in case to record the biometric information (thumb impression and photograph) before appearing for the examination.

Stationery - Candidates must bring their own pencils, poster colours, sketch pens and other drawing materials for the examination. Candidates must not bring any drawing sheets to the examination hall.
10 Don'ts For CEED 2021 Examination
Do not be more consumed in drawing techniques - Do not use expert drawing techniques like oil painting and other colouring techniques. Candidates must note that drawing does carry more marks. A simple narrow sketch with only pencil shades is recommended.

Do not overload your portfolio - Students are required to work on their portfolio right after the CEED exam. Rather than those having huge collections, try to make a quality portfolio.

Don't practice using pen and paper - Refrain from practising offline mock tests. You need to be well versed with online mode of examination. You need to understand and be comfortable with the online pattern.

Do not answer what is not asked in question - The most common and frequent mistake that candidates do is not reading and understanding the question. Most people do what is actually not asked in the question. So, read the question carefully at least twice and understand what actually they want us to do.

Do not forget to check the marks of the question before attempting - Questions carrying higher marks need to be attempted in-detail with all possible rough sketches, factors/perception (as asked in question) and detailed final solution. Marks may vary like 15, 20 ........ up to 50, and it's very essential to attempt questions based on marks.

Avoid giving extra shadings to the sketches from the very beginning - Candidates should prefer using more than two grades of pencil. Avoid giving extra shadings to the sketches from the very beginning. These you may take care after the completion of the exam and that too if time allows.

Do not get involved in bigoted practice - In case a candidate is found to be indulging in any sort of unfair means or practise inside the exam centre, his/her candidature would be cancelled immediately. Hence, make sure that you do not carry any paper or book along with other prohibited items inside the test lab

Do not sign the admit card prior to entering the centre - Candidates must sign on the admit card only in presence of the invigilator. Hence, signing prior to the entry would be considered invalid. Candidates must also ensure that their signature matches the printed signature, which they had uploaded while registering for the examination.

Do not speak with fellow test-takers inside the exam hall - The candidates should not involve in any type of conversation with the fellow test-takers. In case of any doubts, you must clarify from the invigilators or test centre officials.

No electronic gadgets - Students should not carry any electronic gadget, mobile phones or calculators to the exam hall. A list of forbidden items will be put up on the official website before the exam if there are additional items.
Frequently Asked Question (FAQs) - CEED Preparation Tips - 10 Do's and Don'ts for CEED 2021
Question: What should I carry to the CEED exam centres 2021?
Question: What are the items that candidates must not carry to the CEED 2021 exam centres?
Answer:
Candidates must not carry any electronic gadget and study, material to the CEED exam centres 2021.
Question: When will the authority conduct CEED entrance test?
Answer:
CEED 2021 will be held most likely in the third week of January.
Question: What is the importance of solving CEED 2021 sample paper?
Answer:
By solving the CEED sample paper 2021, students will get familiar with the type of questions asked in the entrance test and get rid of exam stress.
Questions related to CEED
Showing 167 out of 167 Questions