Crafting catalysts of change


When you think of fabrics, it's cotton, silk or polyester that comes to one's mind. Ever heard of fabric using waste chicken feathers? This innovation has won international acclaim for Indian Institute of Crafts and Design (IICD), Jaipur. "IICD's prime role in training designers has been towards utilising creativity and design skills for innovative solutions that show new ways of expressing the craft arts, using different materials," says Bhargav Mistry, Dean (Academics), IICD. There have been a number of crafts and design projects that have been undertaken by IICD, which offer remarkably creative design interventions. The Rajasthali Handicraft Emporium, Jaipur, and the crafts installations at the Chhatrapathi Shivaji International Airport, Mumbai, are other examples. In a world where globalization is everything, Indian Institute of Crafts & Design (IICD), Jaipur, is shaping a contemporary future for India's vibrant history of craft.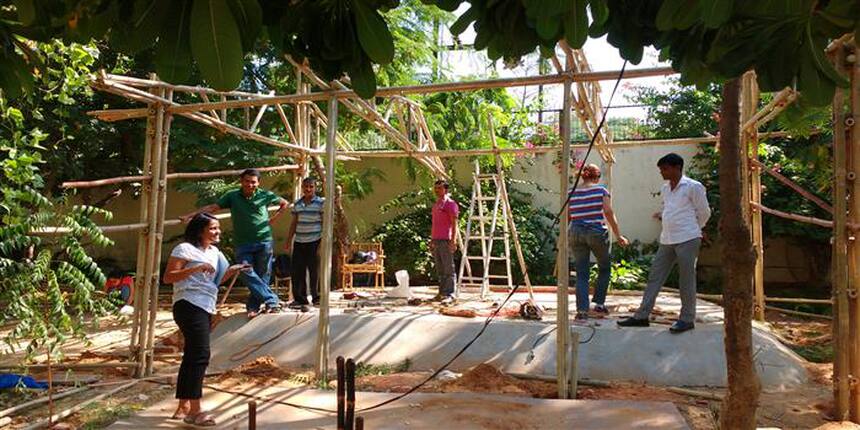 Unique institution in the field of craft design
IICD has been a pioneer in the field of craft design. The institute has been working towards the evolution of crafts and the crafts person in the contemporary socio-economic context. So a student at IICD is trained to bring about a significant positive change in the lives of those who are in the craft community, thereby contributing to the society and to the country. Beginning this year, students of IICD will be awarded degrees in Bachelor in Design and Master in Design in collaboration with The Central University of Rajasthan. This is a big step in acknowledging the tremendous work which has been done by IICD. Equipped with a degree, the students will have many avenues open to them from where they can make a successful career. 
Fast Facts
B.Des: Fired Material Design; Hand Material Design; Soft Material Design; Fashion Design
M.Des: Fired Material Design; Hand Material Design; Soft Material Design
Website: https://www.iicd.ac.in/
The institute is currently being managed by Ambuja Educational Institute (AEI) under a Public Private Partnership (PPP) model.  
Valuing tradition in the modern day
In the age where globalisation and western ideologies are all pervasive even in the Indian context, it's interesting to understand the ways in which a deeply traditionally-rooted education is valued by Indian students. "Yes, it's true that mass producible designs have to be simplistic in form, aesthetics and costs, and have to be largely and purely, utility oriented," says Prof. Mistry. "But at IICD, the students are made to be aware that the designs of objects that have evolved with tradition and culture, the methodologies are uniquely different. One needs to understand the way of life, the culture, the tradition, the needs, their economy, the people who make it and finally the consumers/buyers of these crafts, who decide the product's inherent crafts value. These items and their making are a way of life for the artisans involved. It is with this understanding, the students approach design solutions," he said. 
"They are taught to value tradition, add to its value with new ideas and methodologies and also make the process of creating craft products more friendly and easy. The larger impact of this is improved lifestyle and economy of the craftsmen," he concludes. Though the craft is age-old, technology is new-age. IICD bridges the gap between the past and the future, by creating a learning environment which is complete with technologies and equipment.  
Promoting Indian crafts
Just recently, IICD organised an international conference on 'Sustainability in Crafts and Design'. The institute welcomed participants from different parts of the country and the world over. At an 'Artisan's Panchayat' many senior master craftsmen gathered in an informal 'baithak' along with students, faculty, speakers, dignitaries, visitors and industrialists. They all expressed their opinions, ideas and suggestions for future developments in this field. There was a live demonstration of artisans and their crafts, which was open to all visitors. 
The 'Ajrakh' exhibition was displayed and explained by the master craftsman. All this left an indelible impression in not only the local participants and the audience but also among the international speakers and participants. 
IICD also has tie-ups with universities abroad for exchange programs in education. These include Plymouth College of Arts, UK and Adelaide College of Arts, Australia. Recently, IICD has also bagged the Best Crafts Academy Award, mainly for its contribution in promoting Indian crafts internationally. Alumni of IICD have gone on to work in export houses or become entrepreneurs, developing and marketing phenomenal designs that make a mark not only in the country but across the globe. Students are taught to value tradition, add to its value with new ideas and methodologies and make the process of creating craft products more friendly and easy. This improves artisan's lifestyle.